Hancrafted Lampshades
Many of my fabrics are sourced from far flung places and especially the Ikat fabrics are hand woven and dyed. The suppliers are often local artisans and smaller outlets. At the same time, I am also on the lookout for antique, vintage or recycled natural hand crafted and beautiful materials, which I enjoy bringing back to life. Not only do these fabrics look stunning, you can be sure, that every piece I create, is unique and not manifactured in larger quantities.
If you have any questions regarding the featured lampshades or are interested in two of the same pattern or different sizes, please quote the name given to your selected lampshade and contact me on:
Email: [email protected]
Mob: +44 7510 843233
I can also offer a bespoke lampshade service, with a fabric of your choice or find sutable fabrics, which work with colours, furniture and decoration of your home.

To compliment my lampshades, I have selected a small number of decorative cushions, especially Ikats and Suzanis from Uzbekistan and Turkey, which I have added to my collection.
When choosing fabrics for my lampshades and cushions, I am looking for quality pieces which are either unique and one offs, or have very limited availability. My aim is to add something beautiful to a room, which one doesn't see elsewhere.
Shipping: I can ship my products to any address within the UK, Scotland and Northern Ireland. Costs depend on size and quantity of lampshades and cushions and will be confirmed prior to payment.

International Sipping: Depending on the country, I might be able to arrange shipment, subject to quotes and destination country.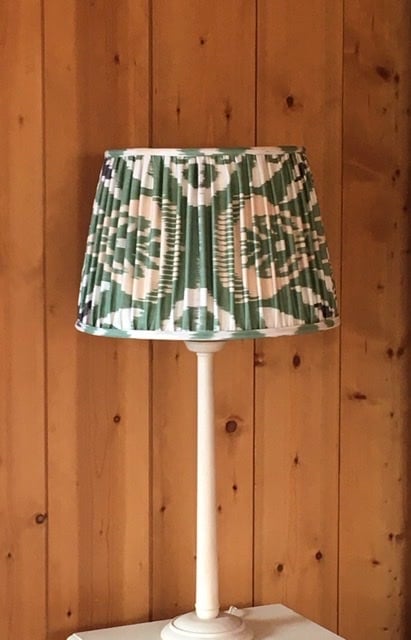 Florentine: Ikat fabric from Uzbekistan (16" Lampshade) £180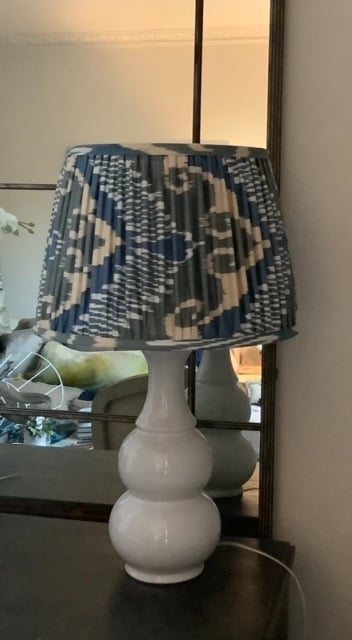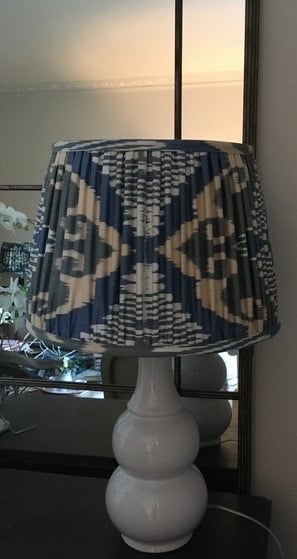 Jimmy: Ikat fabric from Uzbekistan (16" Lampshade) £180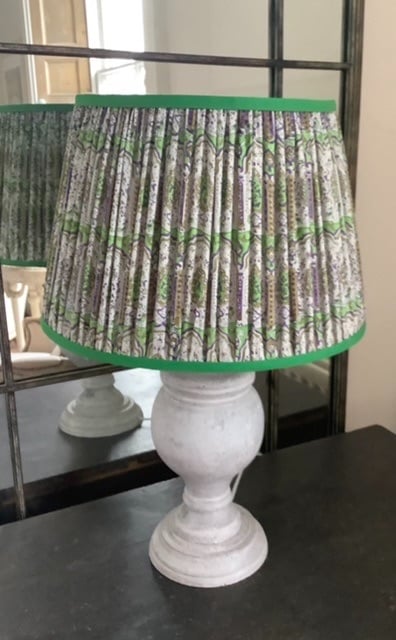 Cat: Vintage Indian Silk Sari (14" Lampshade) £150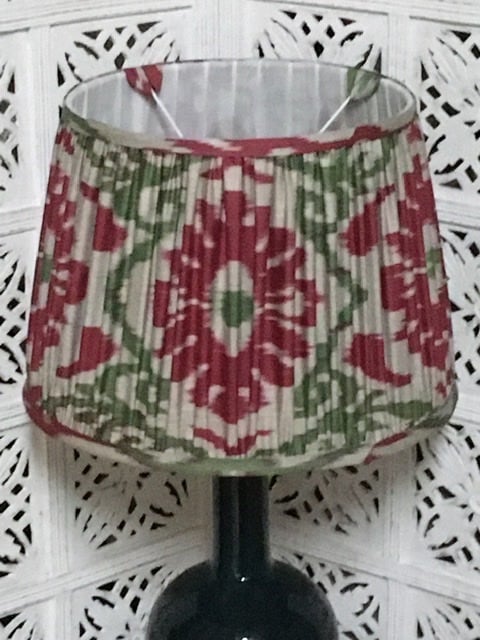 Mathonex: Ikat fabric from Uzbekistan (18" Lampshade): £220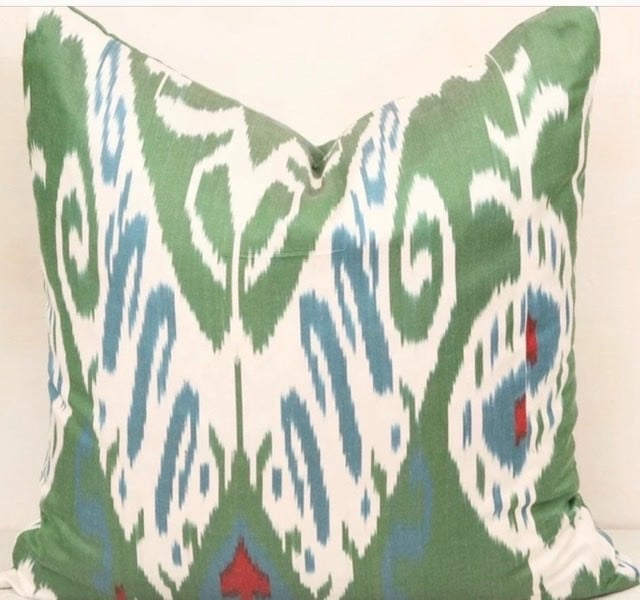 Ikat cushion cover from Uzbekistan, £45 each (2 cushion covers available) (Cushion inner pad can be supplied for an additional £10 per cushion)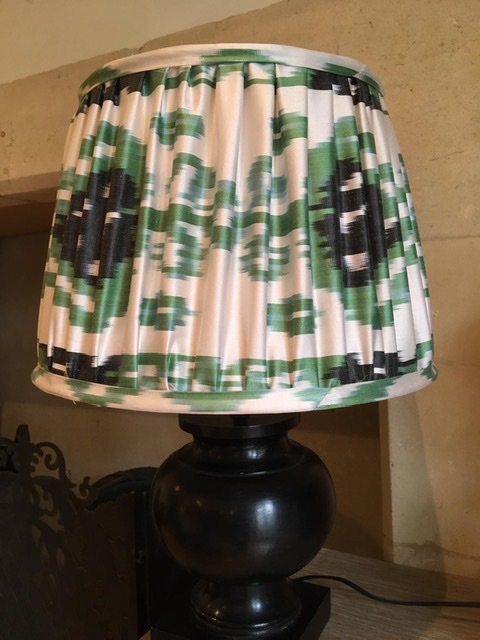 Quentin: Ikat fabric from Uzbekistan (16" Lampshade): £180 (Sold)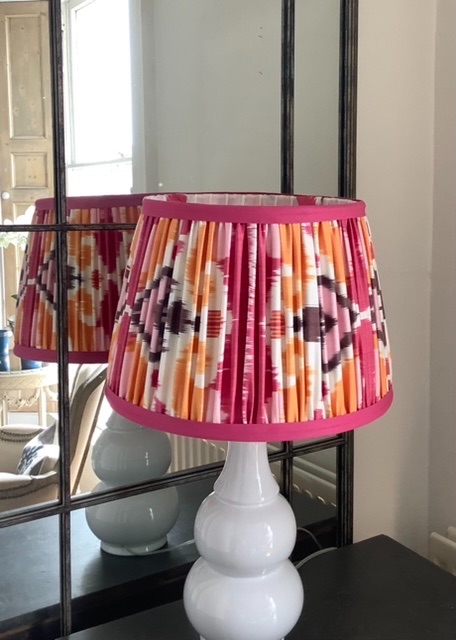 John: Ikat fabric from Uzbekistan (16" Lampshade) £180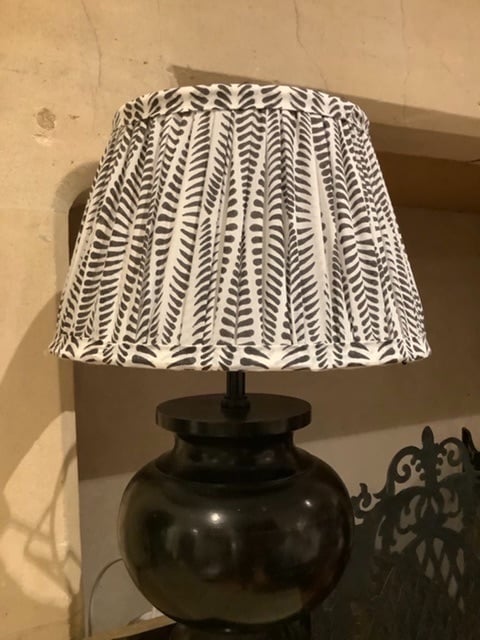 Agnes: Ikat blockprint fabric from India (14" Lampshade) £150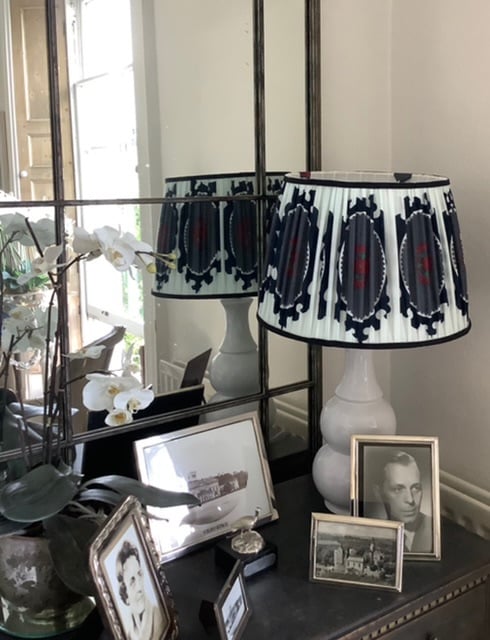 Jasper: Cotton Suzani print fabric from Turkey, (16" Lampshade) £180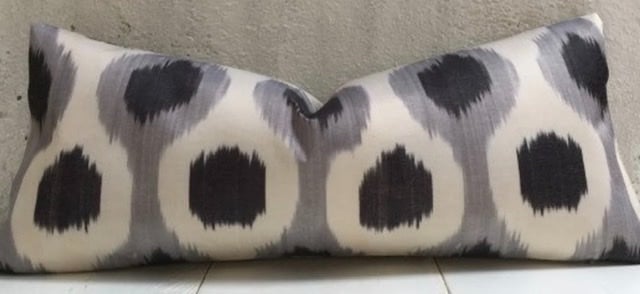 Silk Ikat cushion with cotton backing from Turkey, 10" x 24", £59 (cushion cover only)
(Cushion inner pad can be supplied for an additional £10)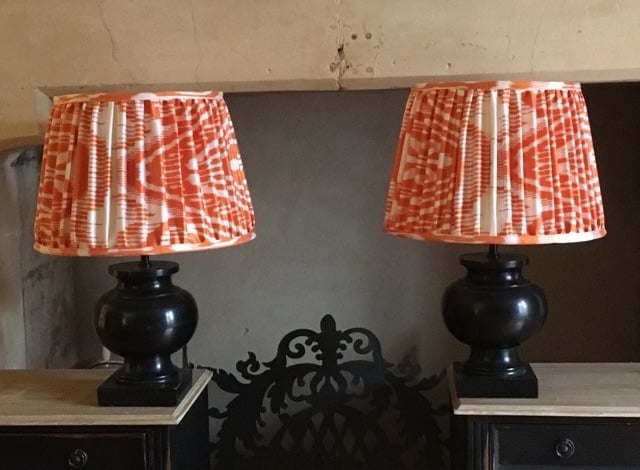 Catriona: Ikat fabric from Uzbekistan (16" Lampshades): £180 each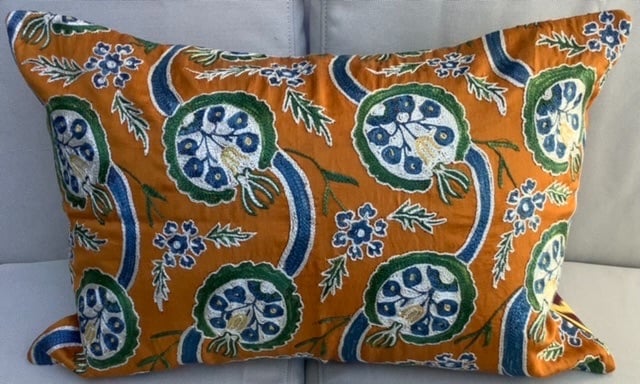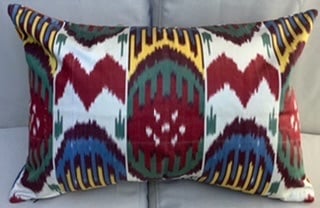 Silk embroided Suzani on silk cushion with Ikat backing 58cm x 40cm. £130 (1 cushion available) (Cushion pad not included, but can be supplied for a further £10)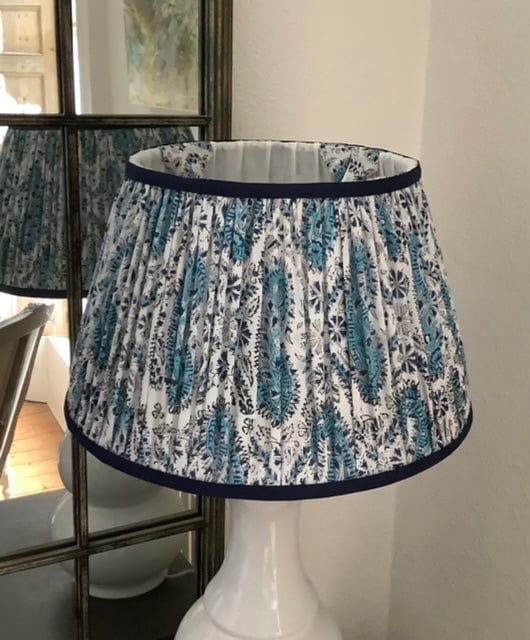 Lou Lou: Indian hand block fabric (12" Lampshade) £120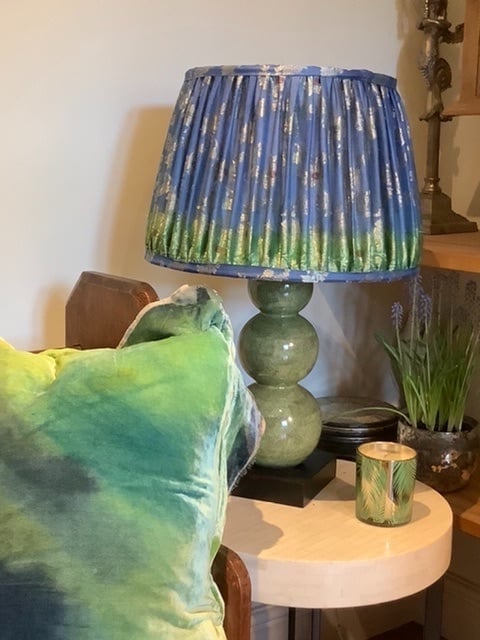 Sophie: Vintage sari fabric from India (16" Lampshade) £180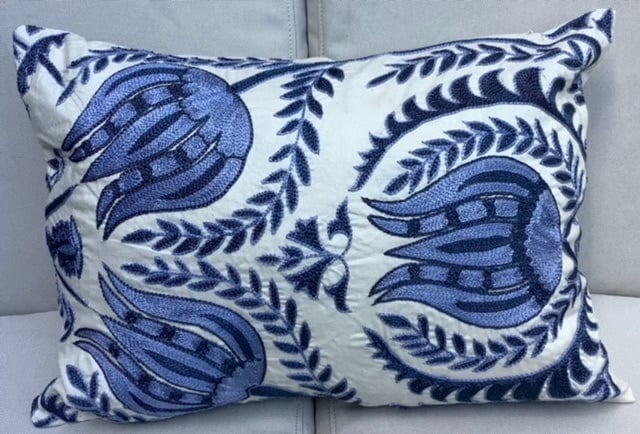 Silk Suzani embroidery on cotton cushion with ivory cotton backing 57cm x 42cm. £95 (1 cushion available) (Cushion pad not included but can be supplied for a further £10)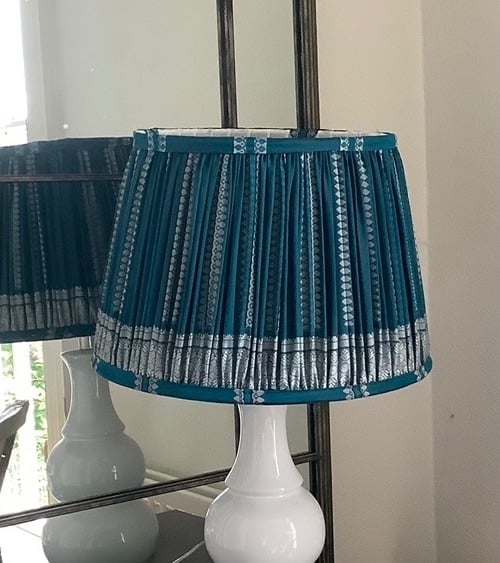 Susan: Vintage silk sari fabric from India (16" Lampshade) £180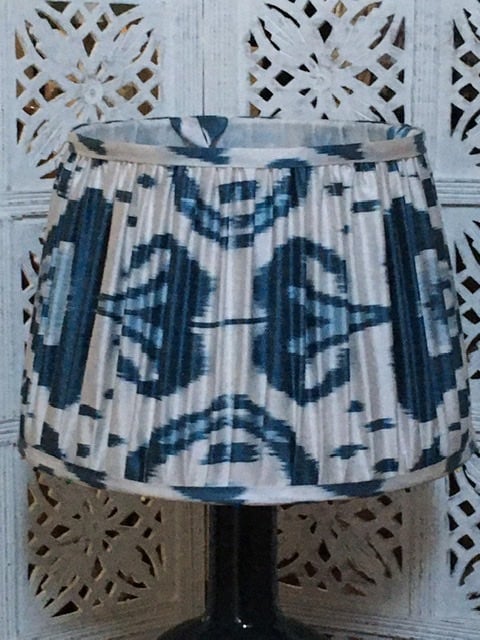 Florence: Ikat fabric from Uzbekistan. (16" lampshade): £180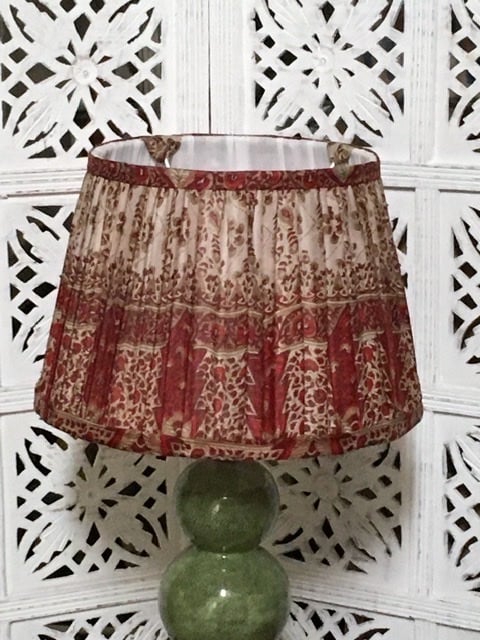 Richie: Silk vintage Sari fabric from India (14" Lampshade): £150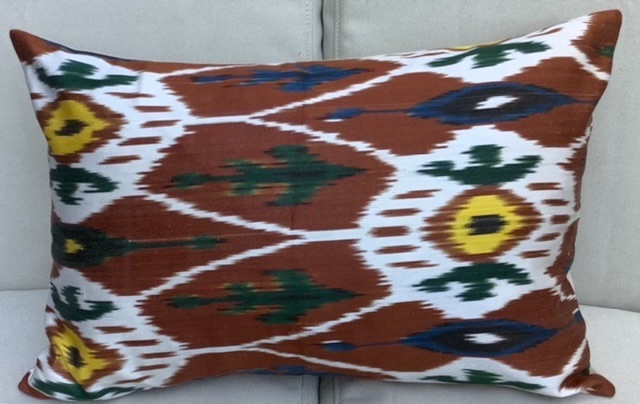 Silk Ikat cushion with beige cotton backing 56cm x 38cm £55each (2 cushions available) (Cushion pads are not included but can be supplied for a further £10 each)


Karen: Silk Ikat fabric from Uzbekistan (12" Lampshade) £120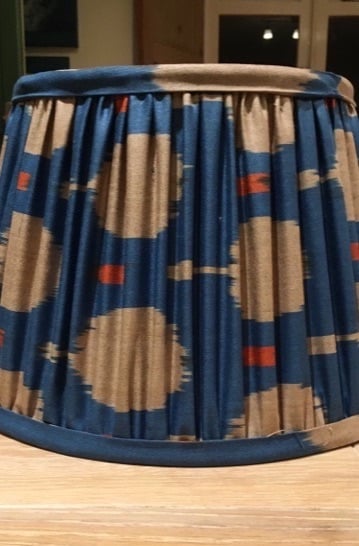 Kate: Ikat fabric from Uzbekistan (14" Lampshade): £150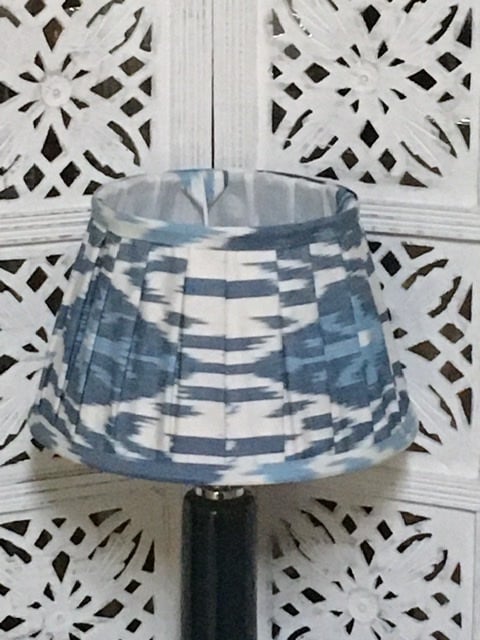 Max: Cotton Ikat fabric from Uzbekistan (12" Lampshade) £120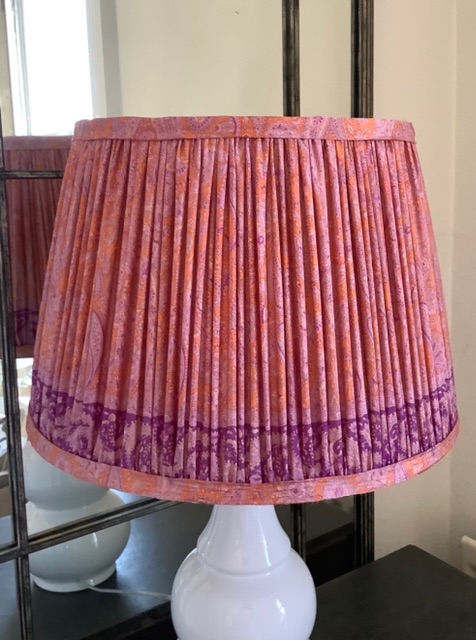 Marina: Vintage silk sari fabric from India (16" Lampshade) £180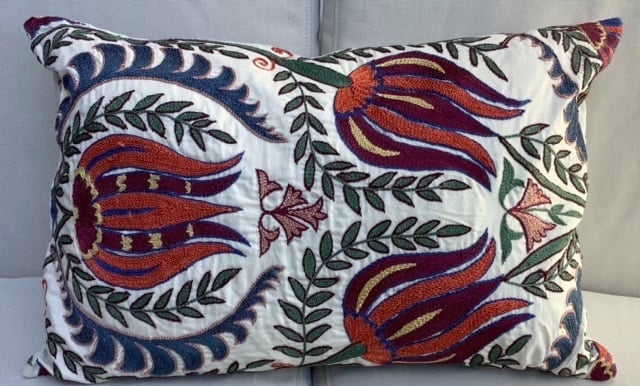 Silk Suzani embroidery on cotton cushion with ivory cotton backing 61cm x 42cm. £95. (1 cushion available) (Cushion pad not included but can be supplied for a further £10)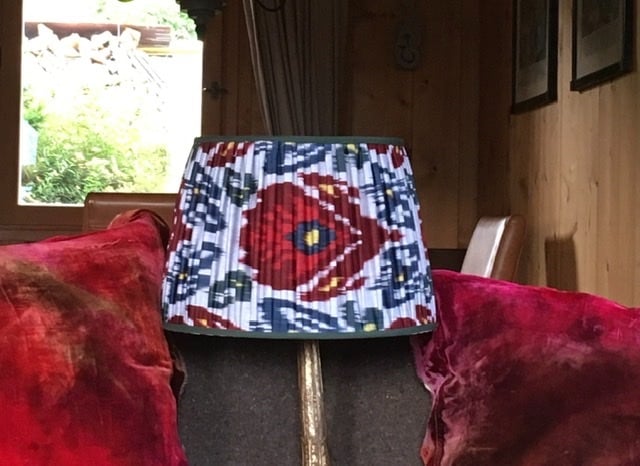 Pansee: Cotton Ikat fratricidal from Uzbekistan (16" Lampshade) £180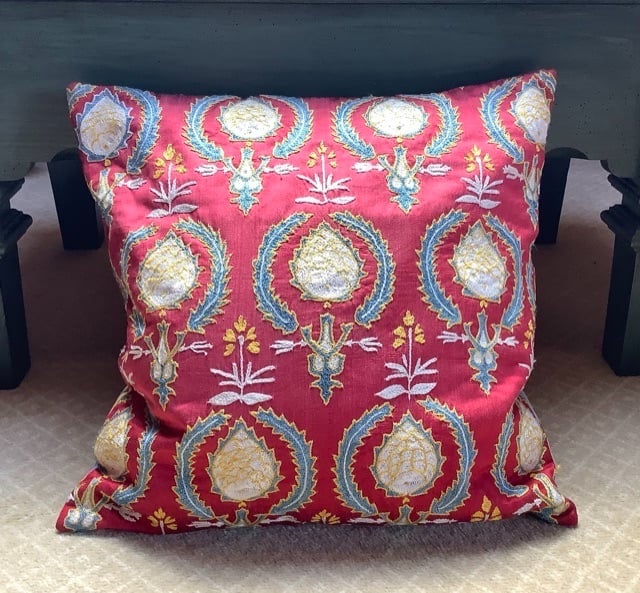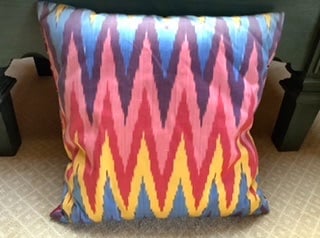 Silk Suzani embroidery on silk cushion with Ikat backing, £95 (1 cushion available)
(Cushion pad not included but can be supplied for a further £10)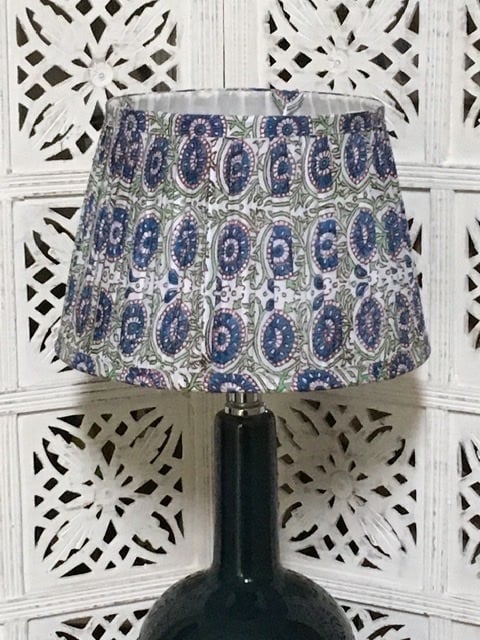 Rosie: Cotton blockprint fabric from India (14" Lampshade); £150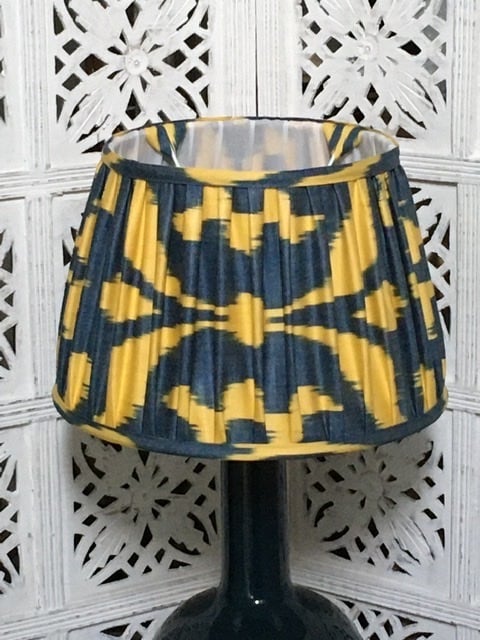 Kiev: Ikat fabric from Uzbekistan (14" Lampshade): £150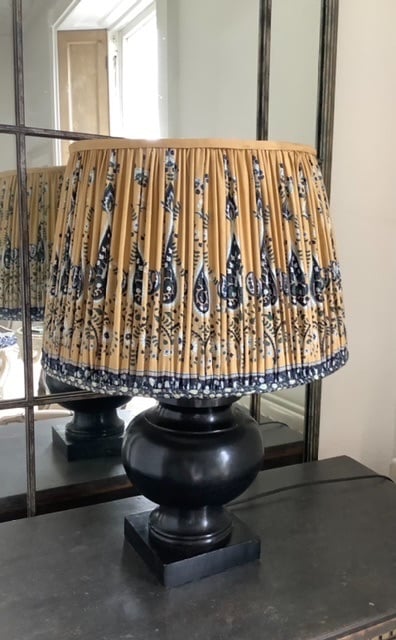 Isabell: Vintage Indian silk sari fabric (16" Lampshade) £180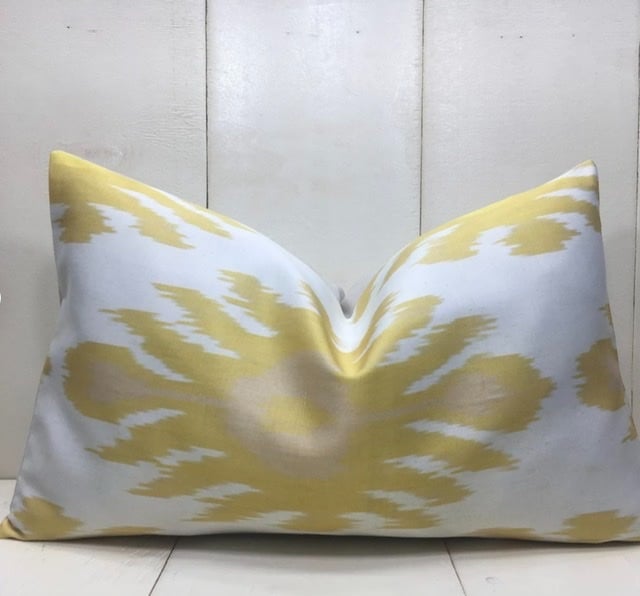 Silk Ikat cushion cover with cotton backing from Uzbekistan (31cm x 50cm), £55 (Cushion pad not included, but can be supplied for a further £10)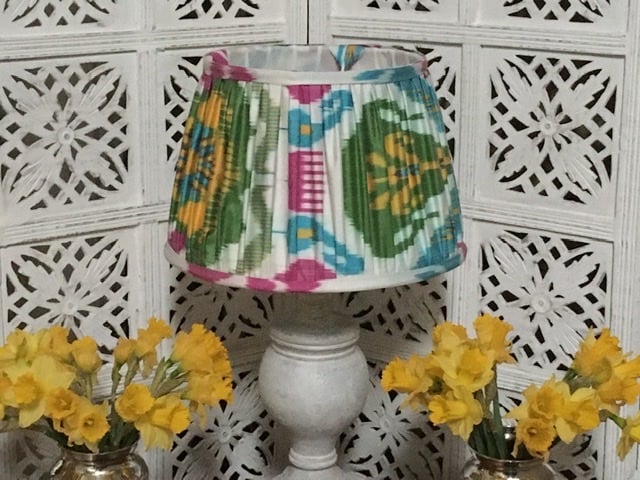 Mango: Ikat fabric from Uzbekistan (14" Lampshade): £150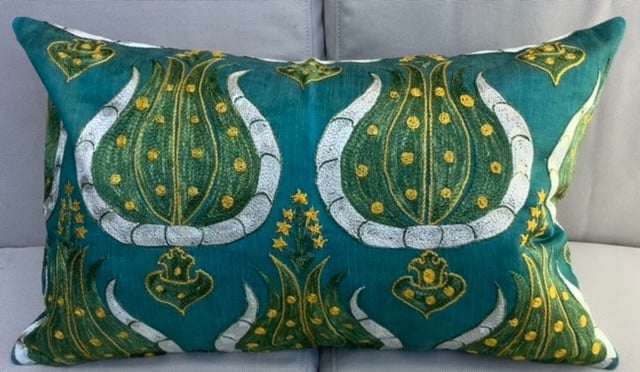 Silk Suzani embroidery on silk cushion with Ikat backing 39cm x 60cm. £130 (1 cushion available) (Cushion pad not included, but can be supplied for a further £10)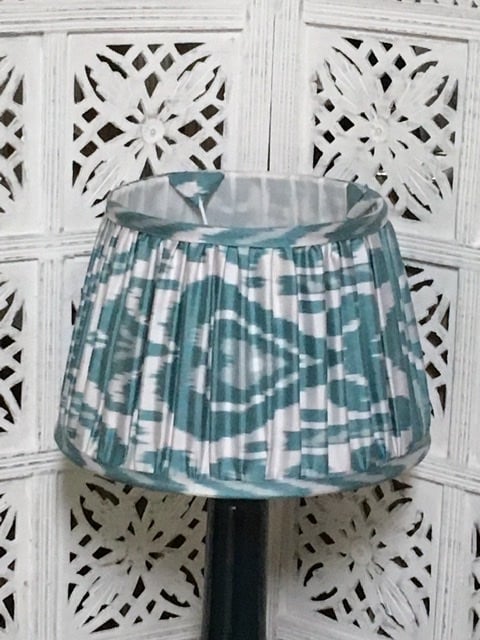 I
Marcus: Cotton/silk Ikat fabric from Uzbekistan (14" Lampshade) £150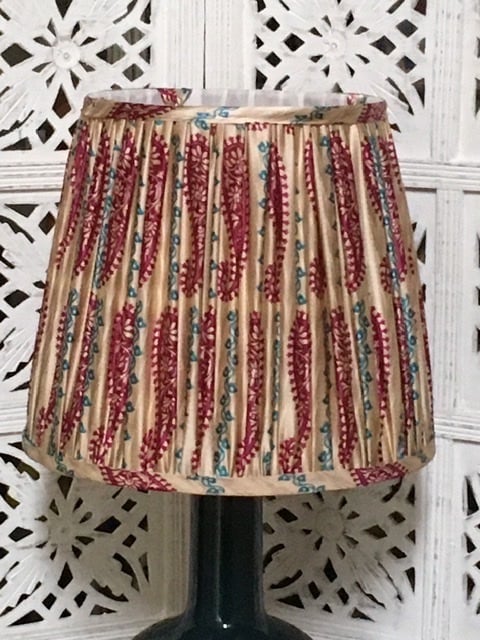 Leo: Vintage Sari Fabric from India: £180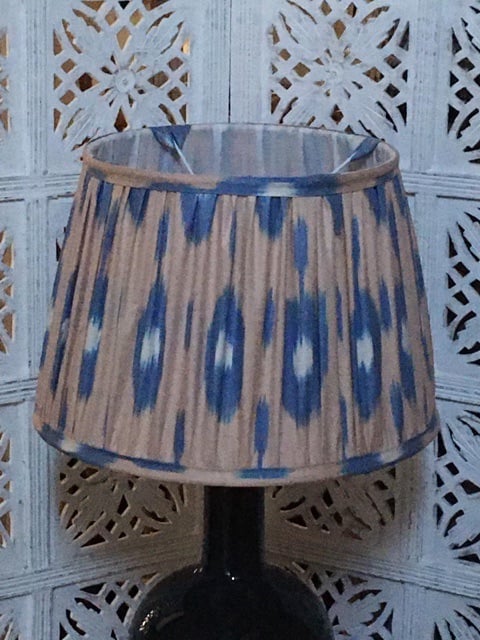 Malcolm: Ikat fabric from Uzbekistan (16" Lampshade: £180 (Sold but can be made to order)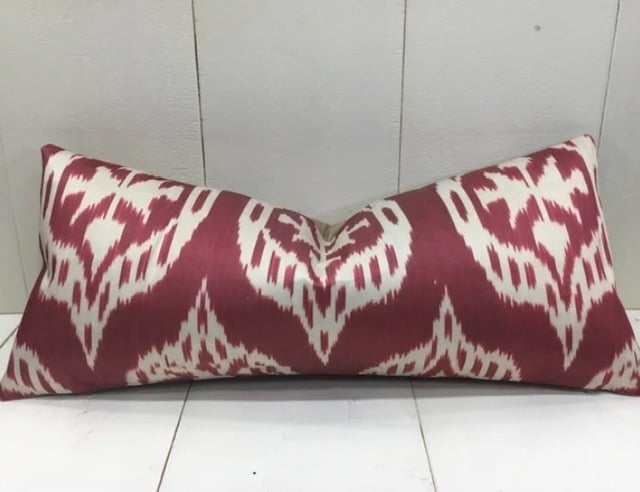 Handwoven Silk Ikat cushion 10" x 24", £59 each (2 cushions available) (Cushion pads not included, but can be supplied for a further £10)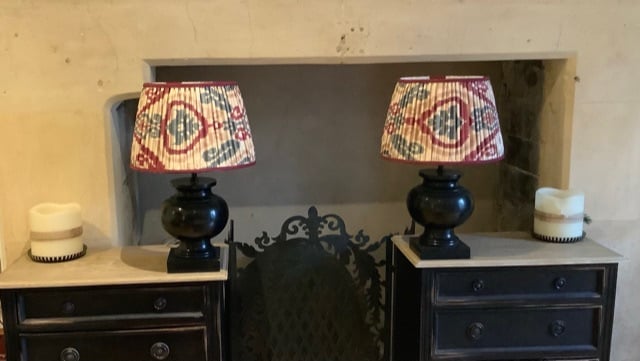 Georgie: Ikat fabric from Uzbekistan (14" Lampshade) £150 each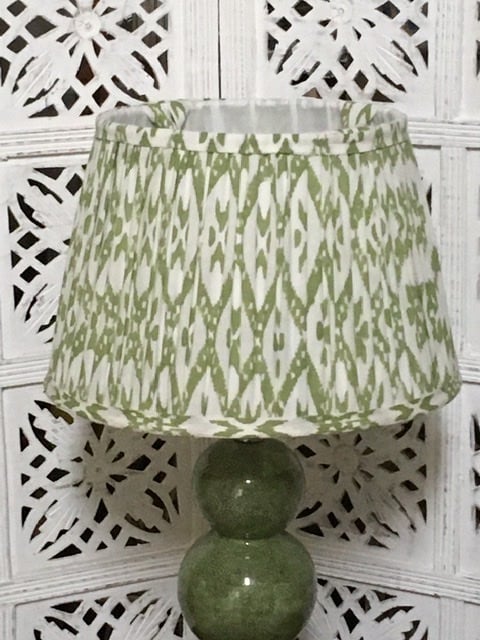 Jonathan: Cotton Ikat blockprint fabric from India (14" Lampshade) £150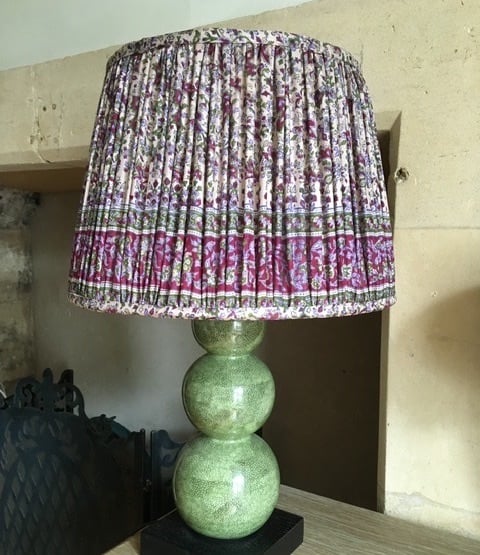 Izzy: Vintage silk sari fabric from India (16" Lampshade) £180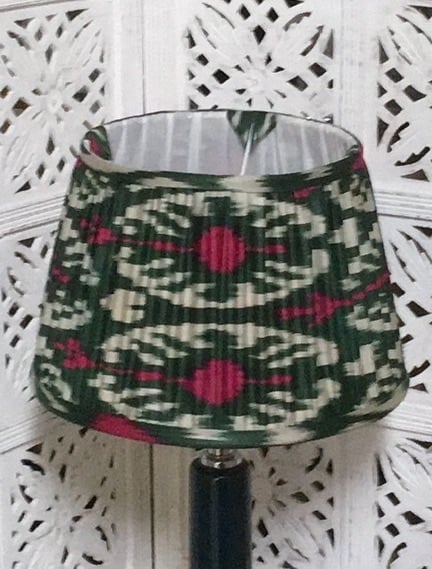 Samoens: Ikat fabric from Uzbekistan (14" Lampshade) £150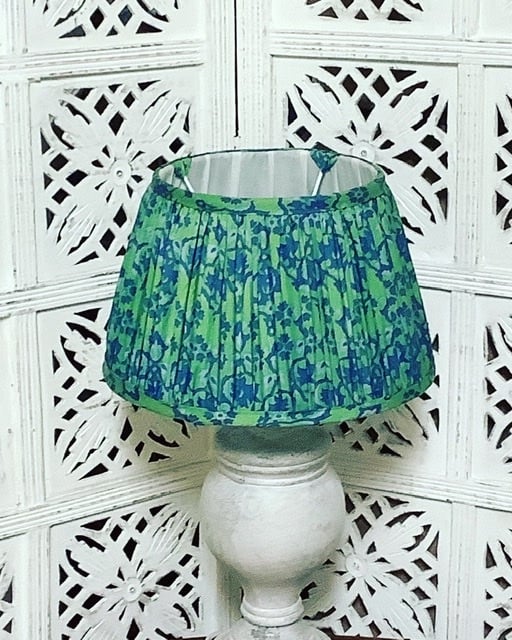 Joanna: Silk Sari fabric from India (12" Lampshade): £120 (Sold but can be made to order)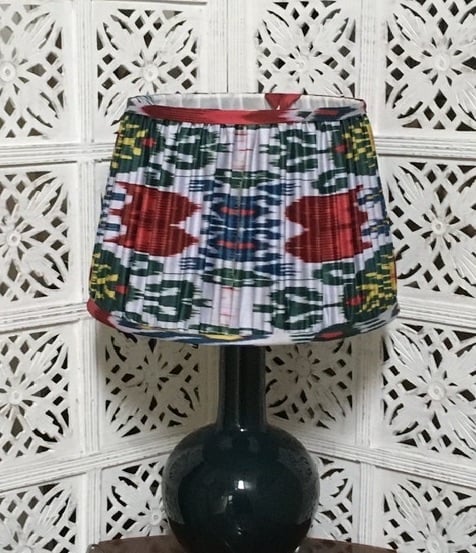 Victoria: Ikat fabric from Uzbekistan (16"Lampshade): £180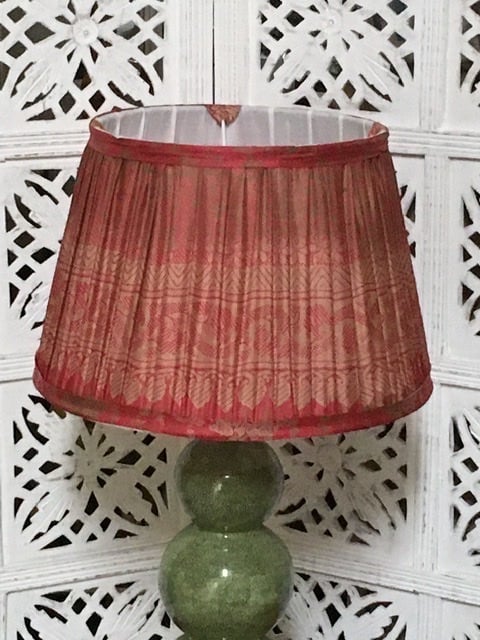 Bruton: Silk vintage Sari fabric from India (14" Lampshade): £150 (Sold)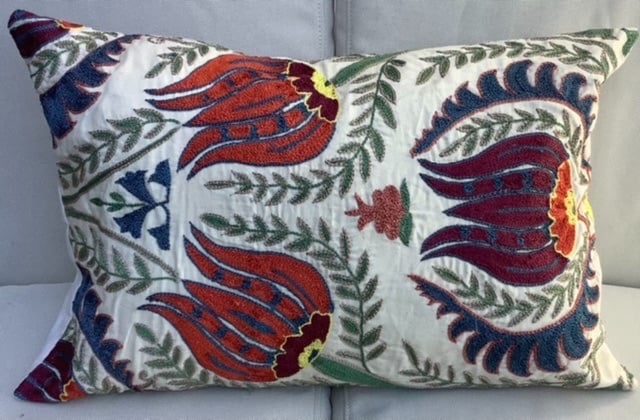 Silk Suzani embroidery on cotton cushion, with ivory cotton backing 61cm x 41cm. £95 (1 cushion available) (Cushion pad not included, but can be supplied for a further £10)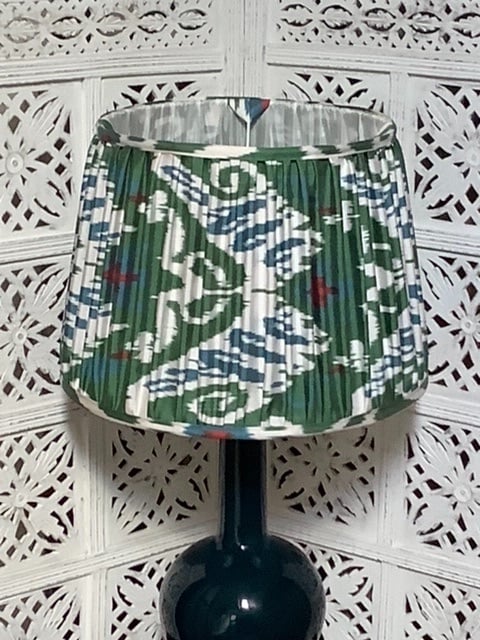 Wiggs: Siok Ikat fabric from Uzbekistan with silk lining (18" Lampshade): £250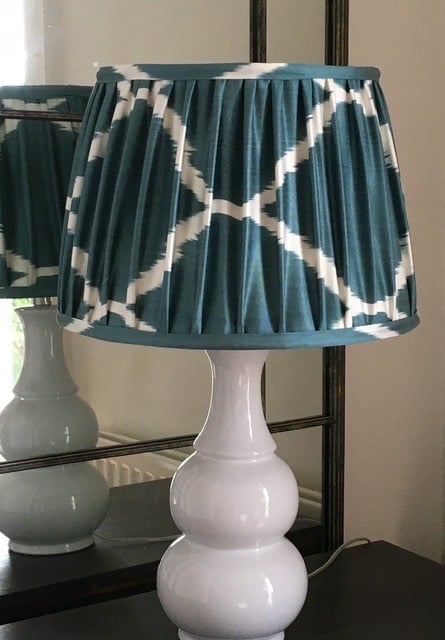 Bob: Silk Ikat fabric from Uzbekistan (14" Lampshade) £150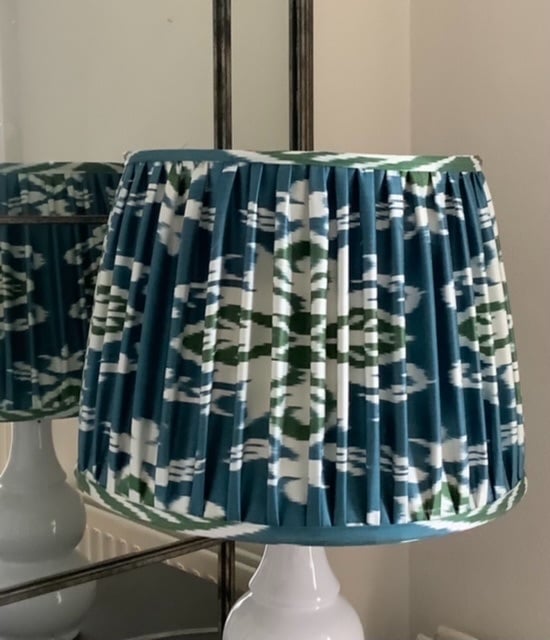 Valeska: Silk Ikat fabric from Uzbekistan with silk lining (18" Lampshade) £250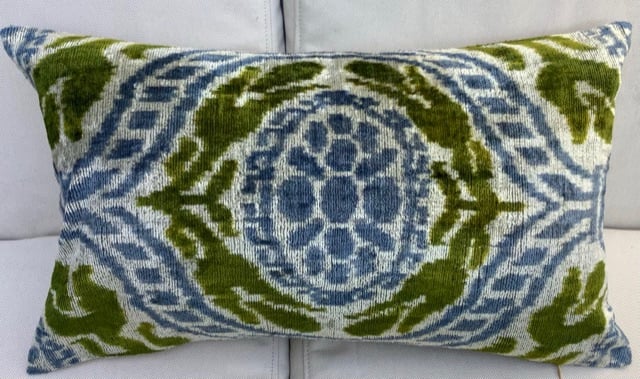 Velvet Ikat cushion on beige cotton backing 58cm x 35cm. £60 each (2 cushions available, one slightly darker) (Cushion pads not included, but can be supplied for a further £10 each)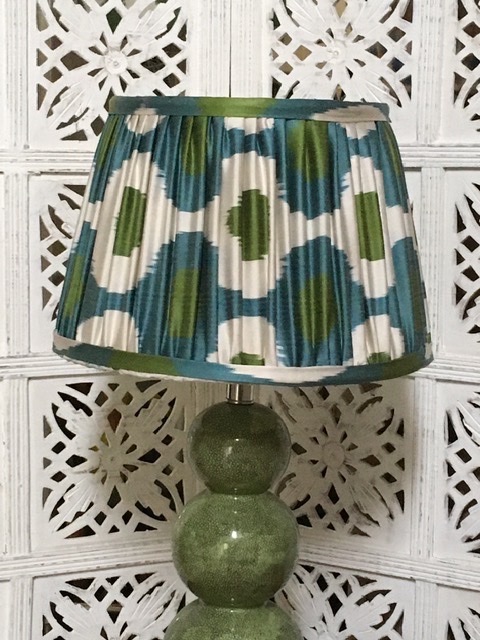 Felix: Cotton Ikat fabric from Turkey (14" Lampshade) £160 (Sold, but can be made to order)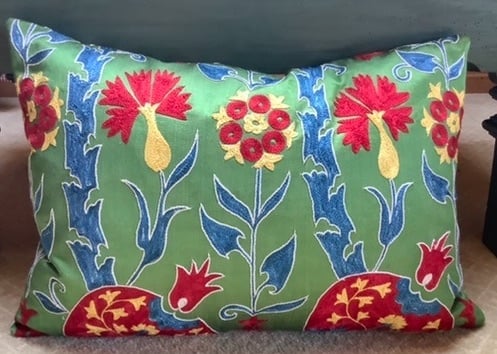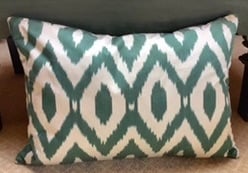 Silk Suzani embroidery on silk cushion with ikat backing, £120 (1 cushion available)
(cushion pad not included, but can be supplied for a further £10)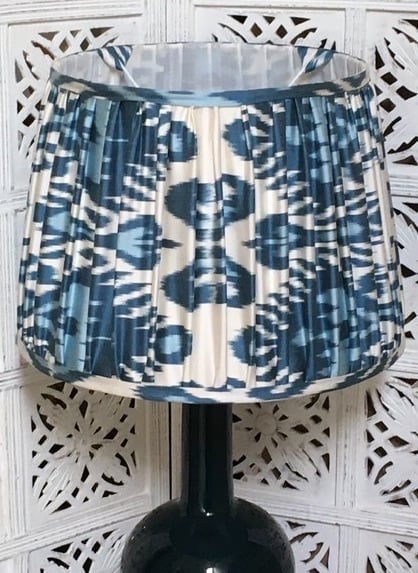 Dominique: Silk Ikat fabric from Uzbekistan (18" Lampshade) £220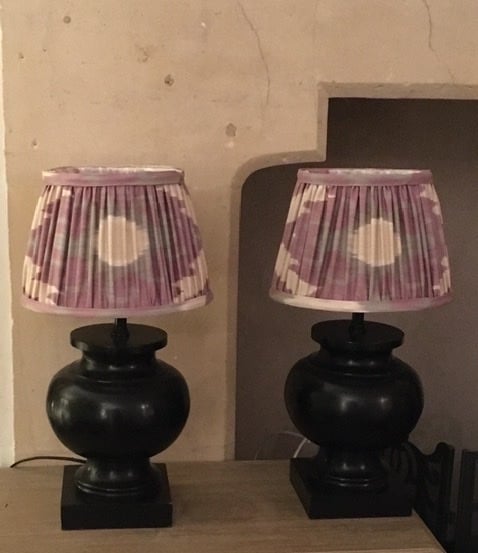 Emma: Ikat fabric from Uzbekistan (10" Lampshades): £100 each (Sold but can be made to order)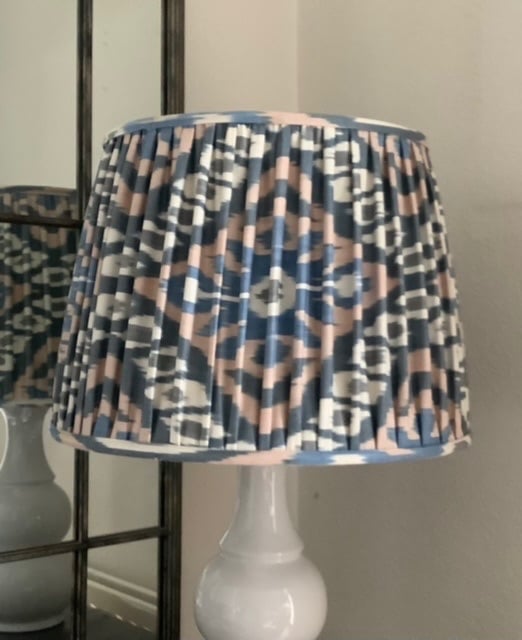 Sophie: Ikat fabric from Uzbekistan (18" Lampshade): £220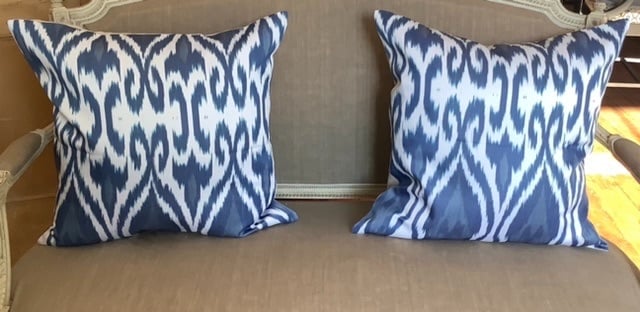 Silk Ikat cushion with beige cotton backing from Turkey 24" x 24", £65 each (cushion cover only) (Cushion inner pad can be supplied for an additional £12 each)