After many years of shades of white, grey and beige, colours are re-emerging on the interior design scene. With this in mind, my latest blog celebrates the return of a variety of hues to liven up your interiors.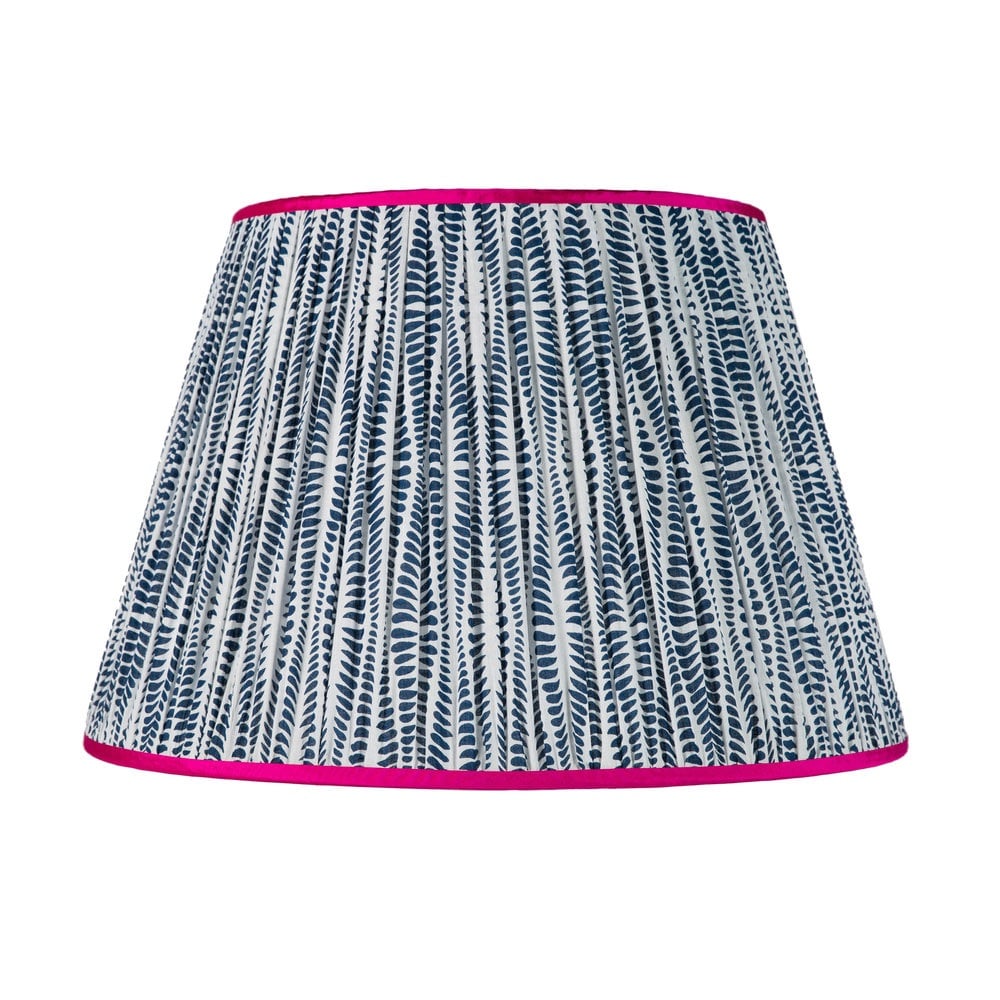 Kelling Design have launched a lovely collection of furniture and accessories for the home, adding a touch of colour to liven things up a bit, Ella Lampshade, from £150, www.kdloves.com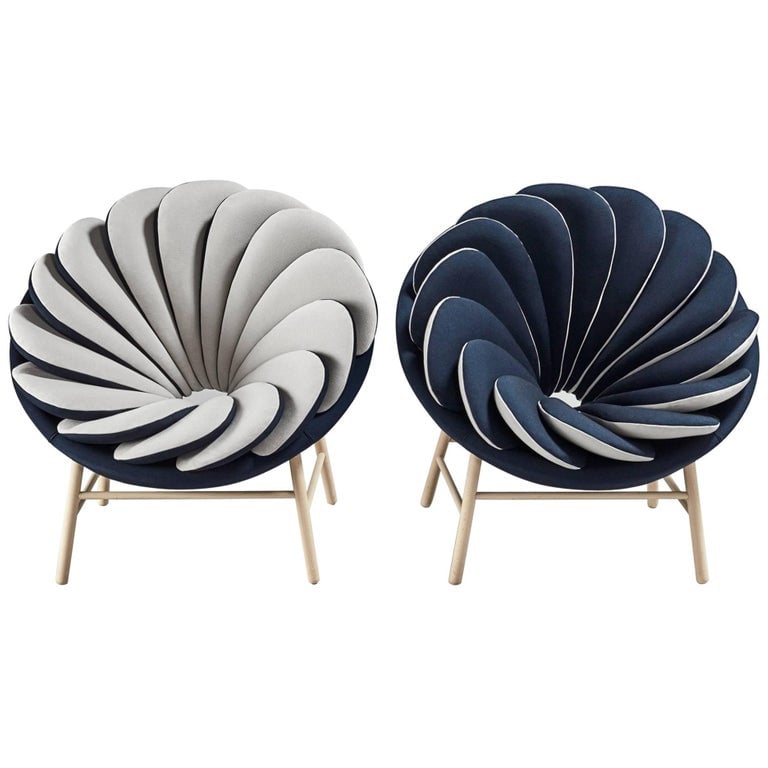 One can't but feel blooming marvellous when sitting in these stunning chairs, Pair of Quetzal Fauteuil by Mare Venot, £8031.13 (per set), https://www.1stdibs.co.uk/furniture/seating/armchairs/pair-of-quetzal-fauteuil-marc-venot/id-f_7774113/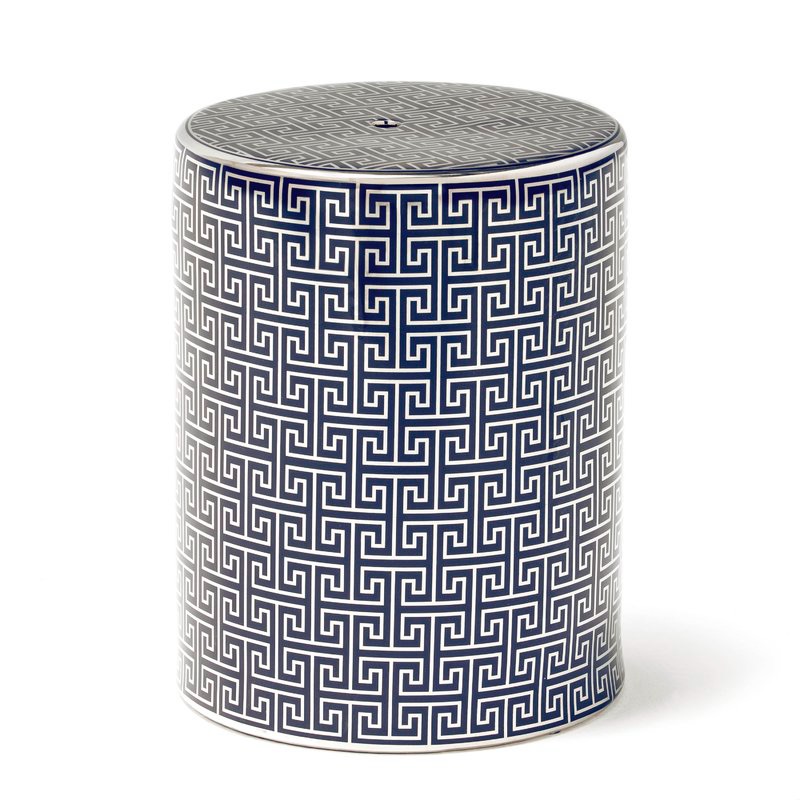 Greek Key design is seeing a revival and is used increasingly on textiles as well as furniture such as this decorative ceramic stool, Toney Stool, £242.99, www.wayfair.co.uk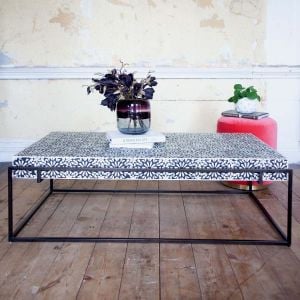 A lovely fusion between classic and contemporary is this bone inly coffee table with a sleek black iron frame, Miles Black and White Bone Inlay Coffee Table, £895, www.grahamandgreen.co.uk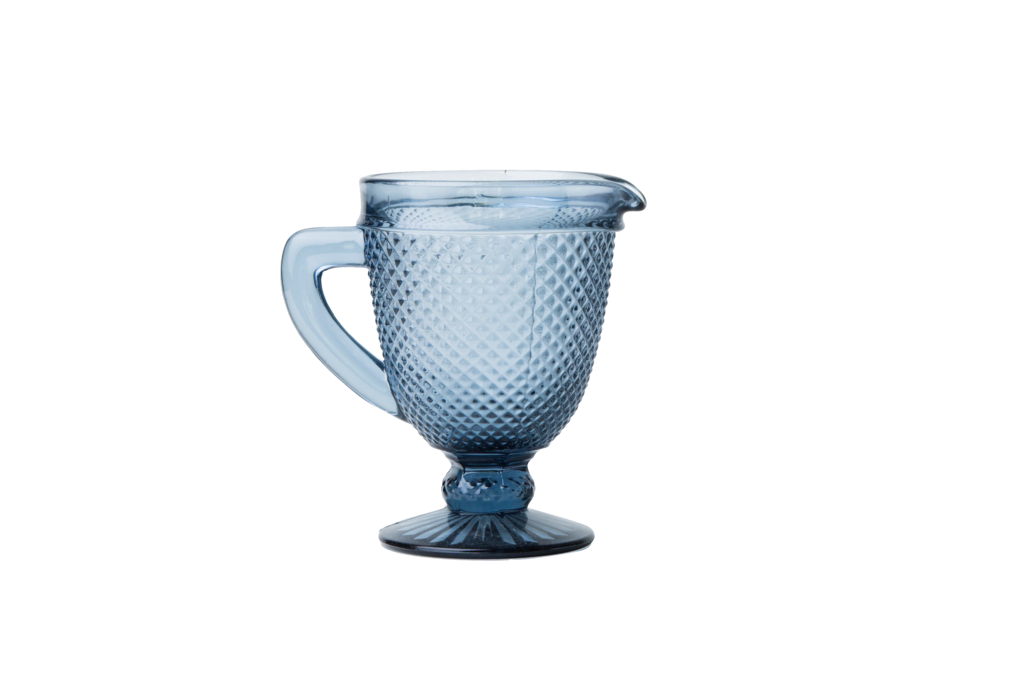 The striking look and feel of these Portuguese "biquinhos" or spiked glassware is true to the original hand-cut design of 1901 but nowadays produced by a more contemporary press method, Glass Pitcher, £45, www.polkra.com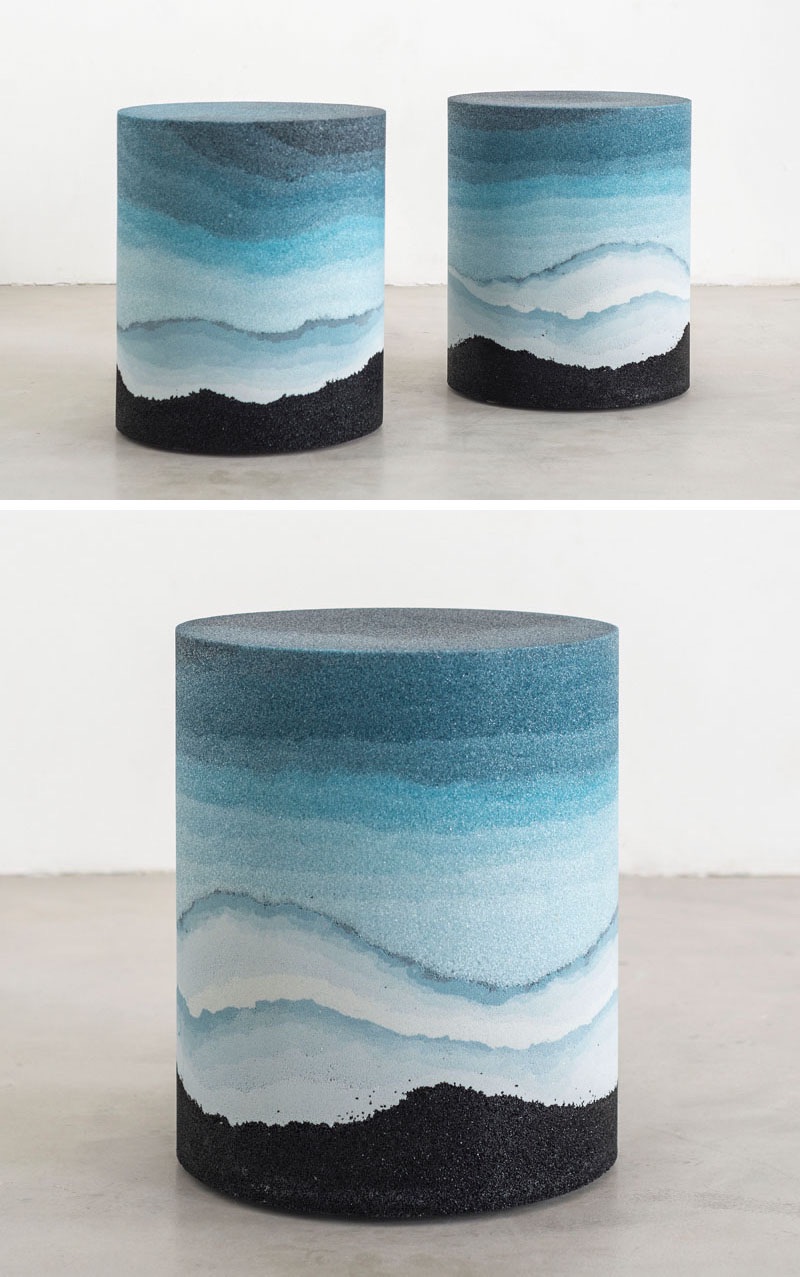 Artist and designer Fernando Mastrangelo has created the Escape Collection, pieces of furniture, that look like three-dimensional landscape paintings, using Silica, hand-dyed sand and powdered glass, The Drum, www.contemporist.com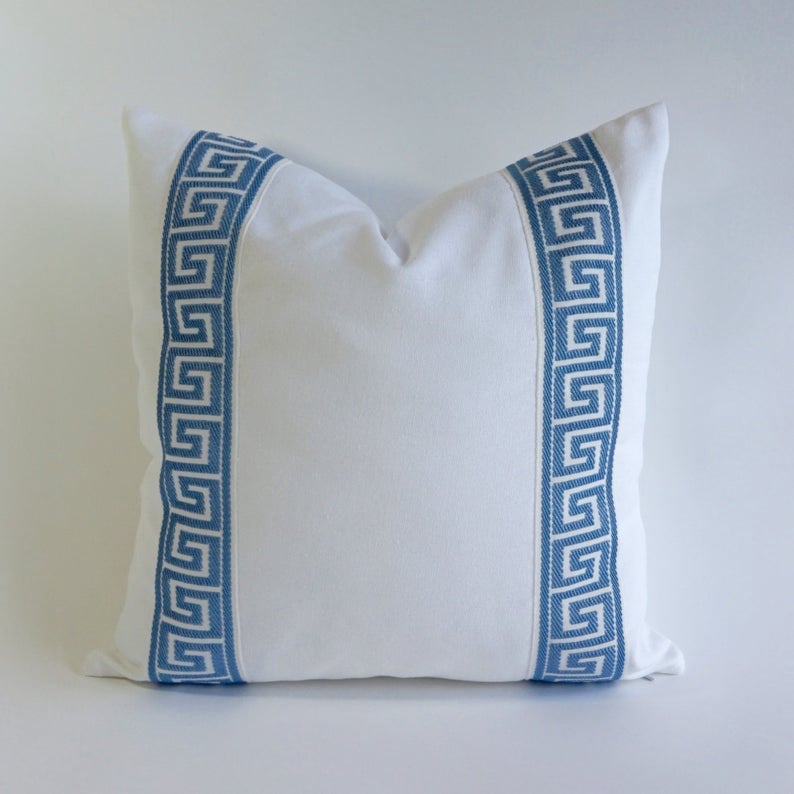 Create a fresh and crisp summer look, using these stunning white cushions with blue Greek Key ribbon borders, £57.09, https://www.etsy.com/uk/listing/464750167/decorative-pillow-cover-cotton-pure?ref=user_profile
Relax in style and put your legs up on this very decorative chair and stool, Salterini Greek Key White Chair and Ottoman, £2083.55, www.1stdibs.co.uk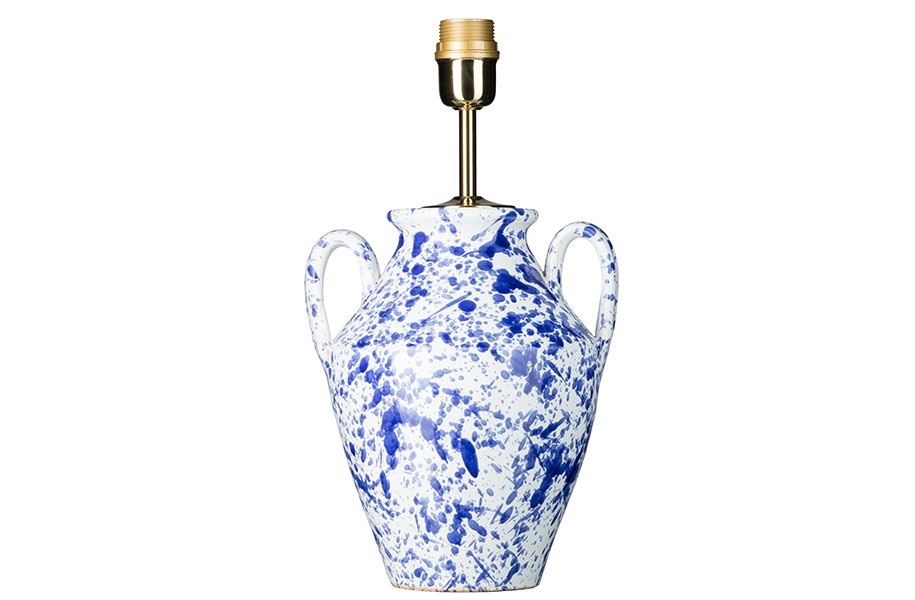 I spotted this decorative lamp, which is a perfect choice, if your room is in need of a seasonal summer update, Pedro Lamp Base, EUROS 250, www.casalopez.com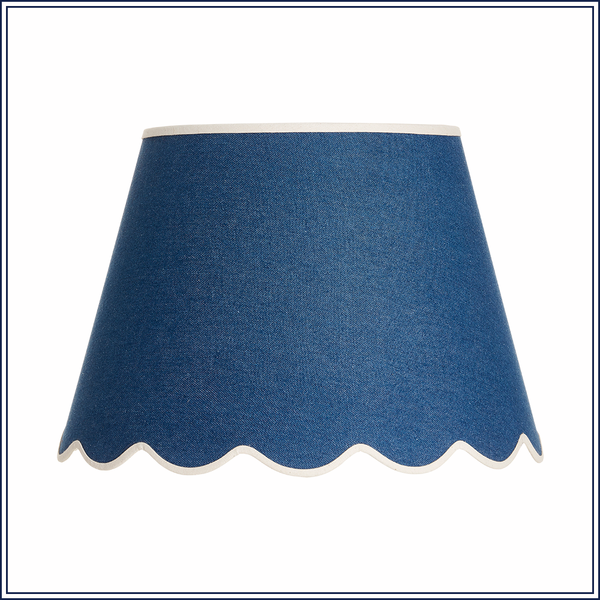 Another perfect choice for creating a crisp summer look is this decorative indigo blue lampshade with its scalloped finish, Raffia Scallop Lampshade Denim, from £132, www.matildagoad.com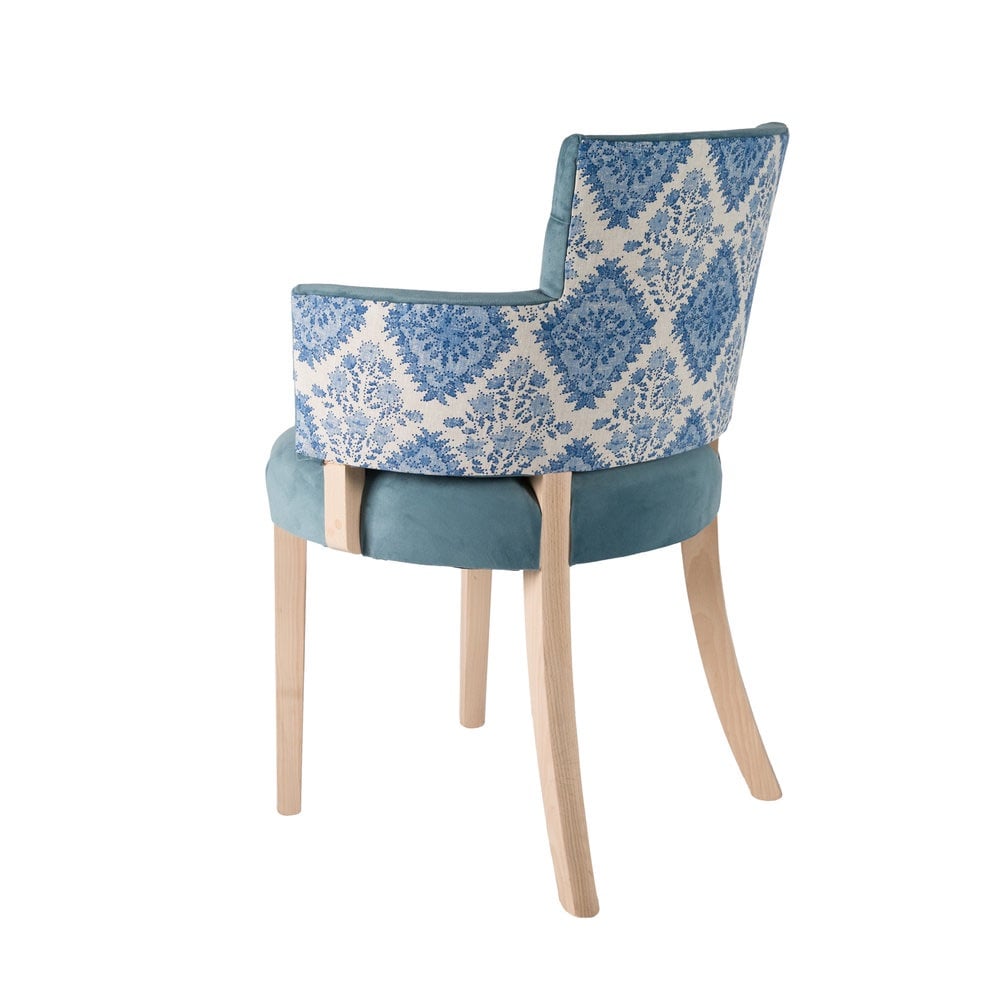 By using two different fabrics, this chair creates a lovely statement piece in your living or even bedroom, The Kelling Chair, £900, www.kdloves.com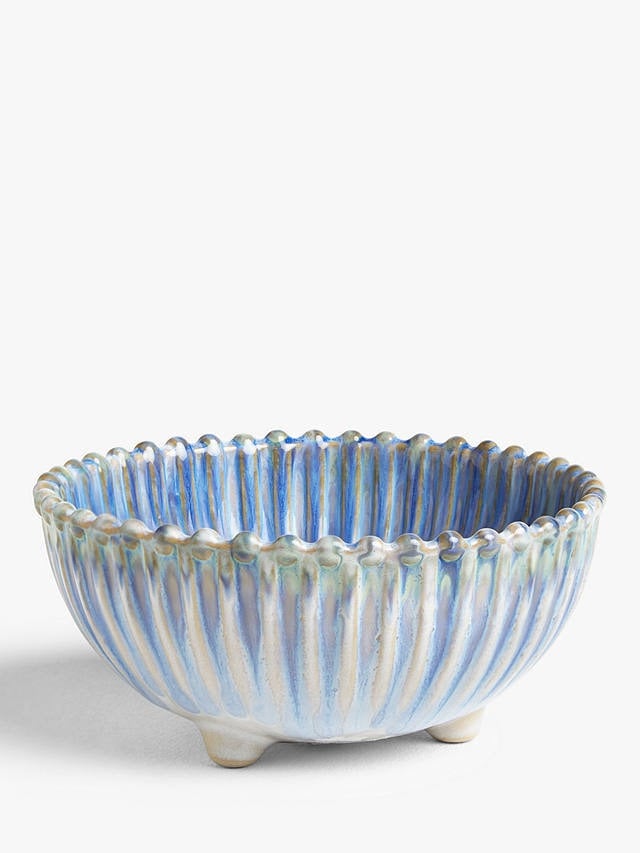 This versatile bowl lends itself beautifully to summer entertaining, Shore Bowl Blue/White, www.johnlewis.com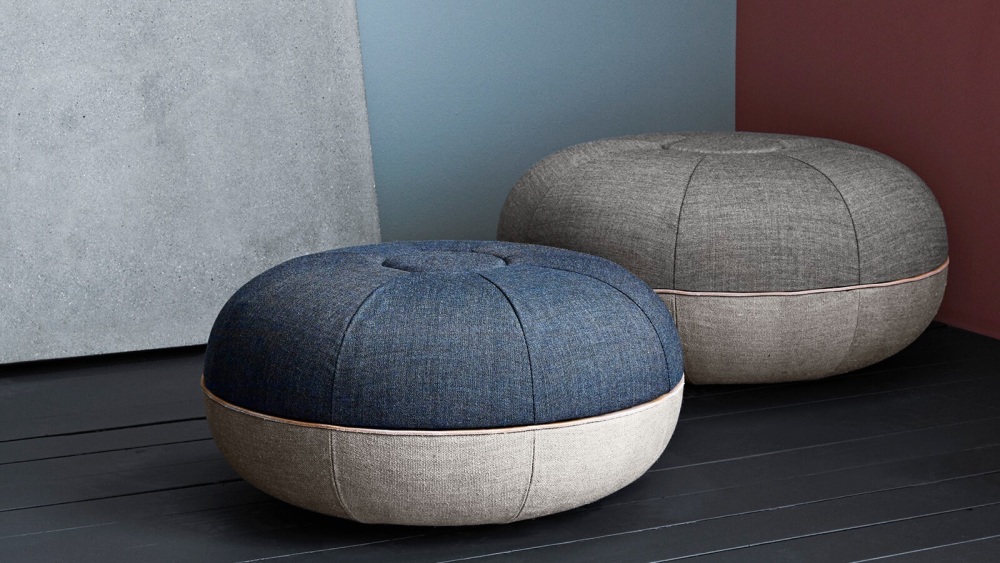 Scandinavian simplicity is key here to this timeless and chic pouffe, which can easily be moved around rooms, to create additional seating, Cecile Manz Fritz Hansen Sakura Pouffe, www.laboutiquedanoise.com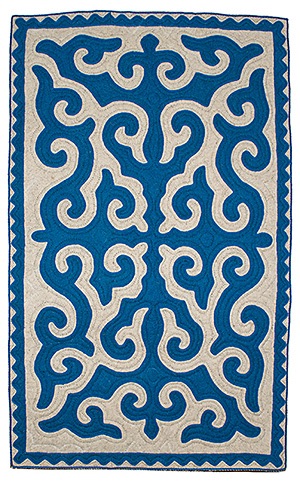 These rugs made of felt, provide interesting patterns and unusual texture and come in different sizes, colours and patterns, No.2248, www.feltrugs.co.uk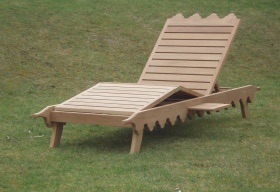 Given this time of year, I am always on the lookout for decorative garden furniture, which stand out from the usual selection which is on offer and love the finishing touches on this sun lounger, Indian Lattice Sunlounger, www.andrewcrace.com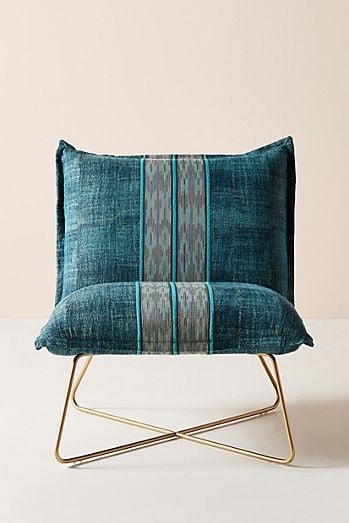 One of my top picks for a relaxed chair, which is the modern version of the 18th century slipper chair, originally used by women with tight-laced corsets to put on their shoes. Luckily, no need for those anymore but nowadays just a comfortable chair to relax on, Relaxed Slipper Chair (Style No: 4528376530120), www.anthropologie.com/en-gb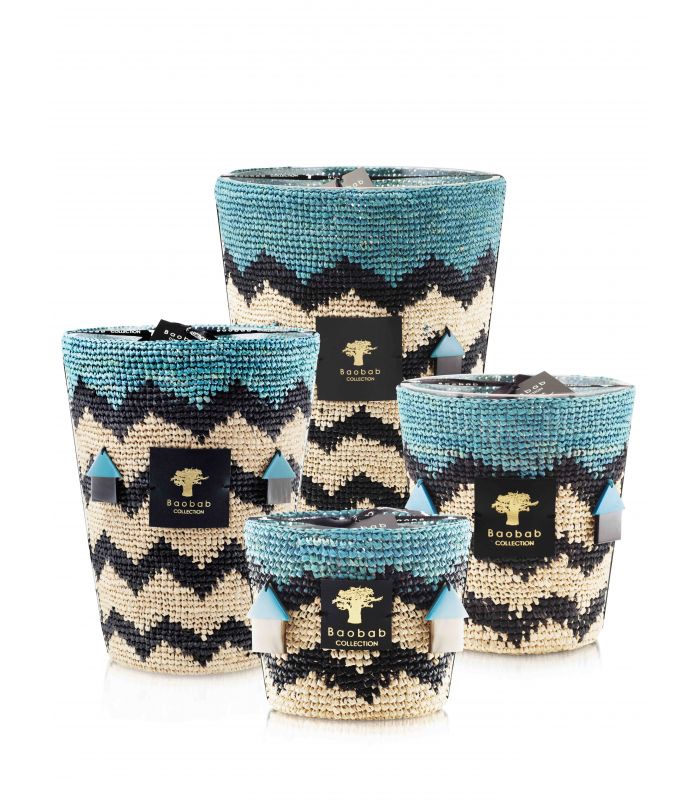 Out of Africa are these Muzi decorative candle holders, bearing the name of the chief of the Ndebele tribe, who settled around Pretoria in 1600, Trano Muzi Candles, www.baobabcollection.com/en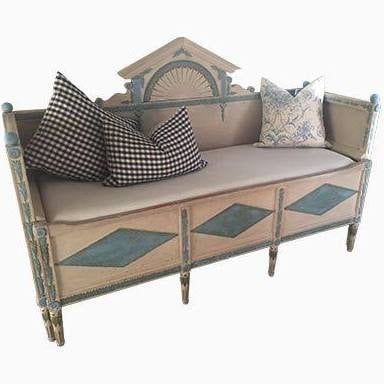 Transform your hallway or living space with this very eye-catching and beautifully painted Gustavian Bench, Swedish Gustavian Bench 1880s, £2220, www.pamono.co.uk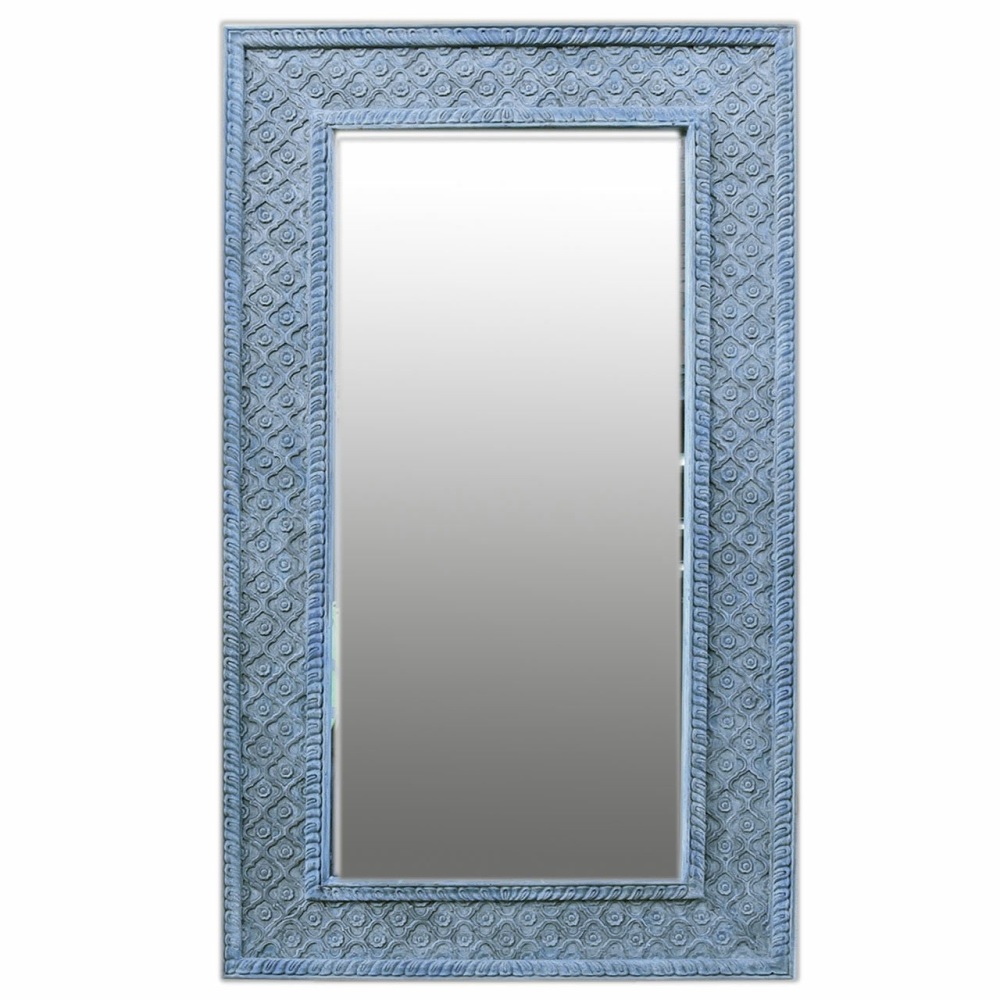 Add some spice to your walls with this decorative mirror, Carved Mango Wood Mughal Design Mirror, £695, www.indigo-uk.com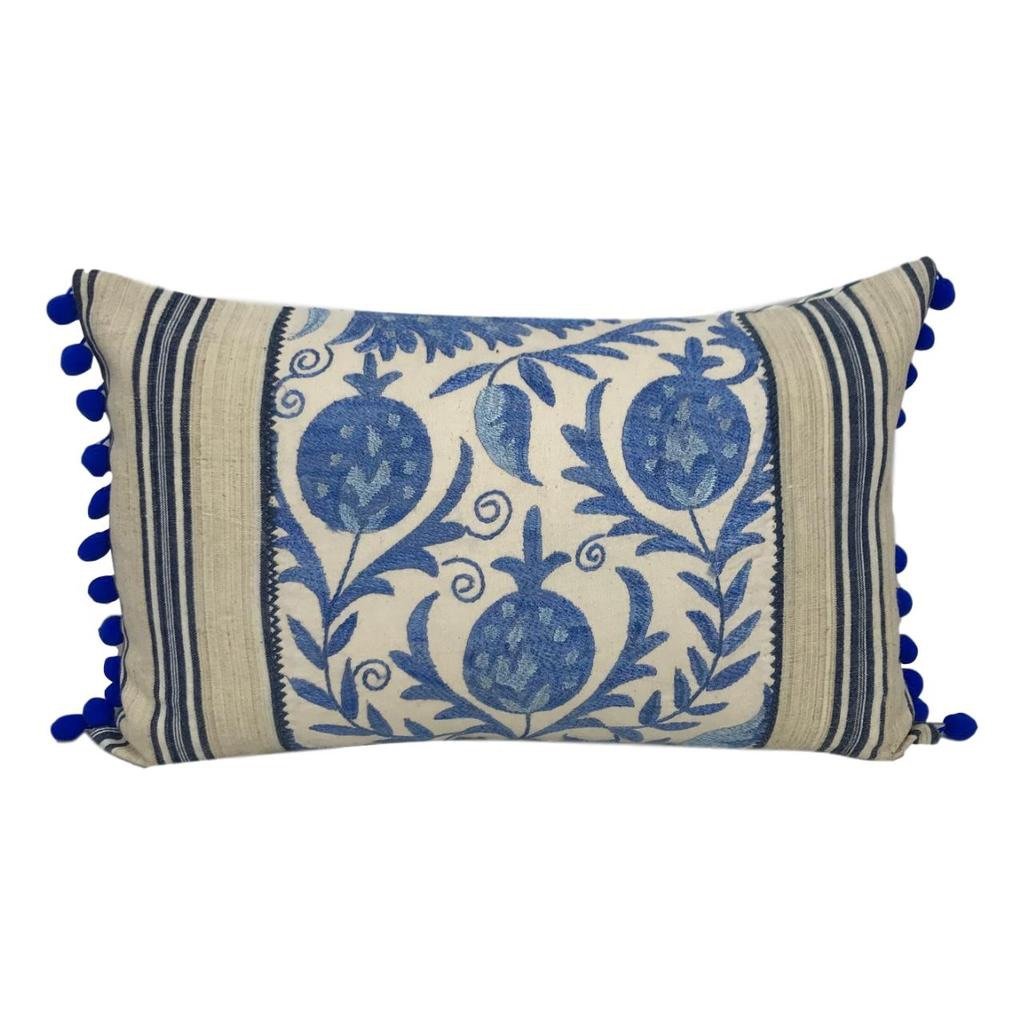 Give your sofa or chair a new mini makeover with these very eye-catching cushions, suzani/Ikat Double Sided Cushion Cover with Pom Poms / Blue, £75, www.mylittlewish.com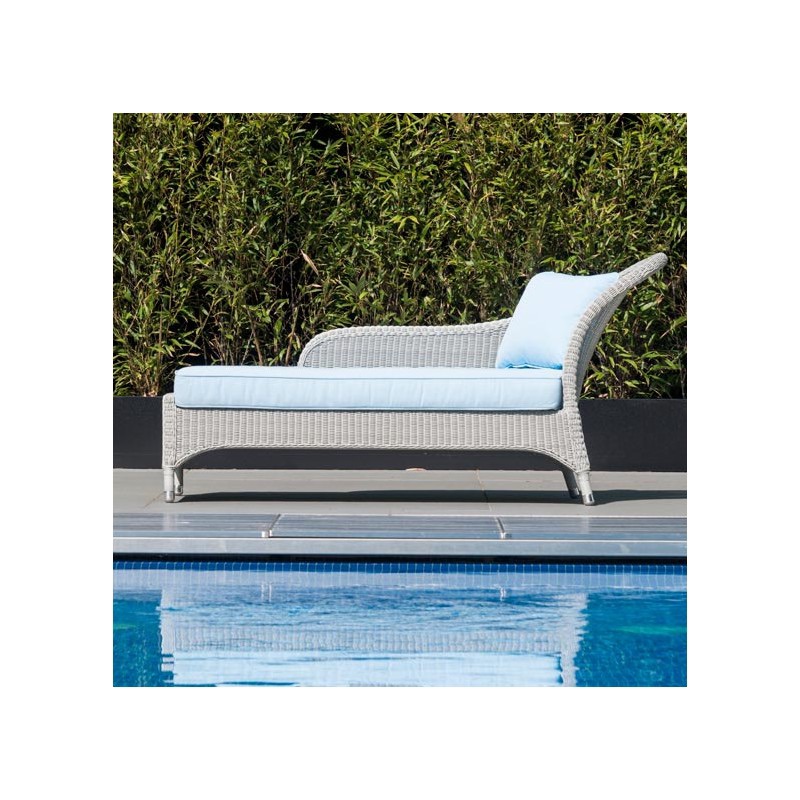 Sit back and relax by the pool or in your garden with this stylish Chaise, Alexander Rose Classic Chaise Lounge with Classic Blue Cushions, £809.10, www.gardenfurnitureandinteriors.co.uk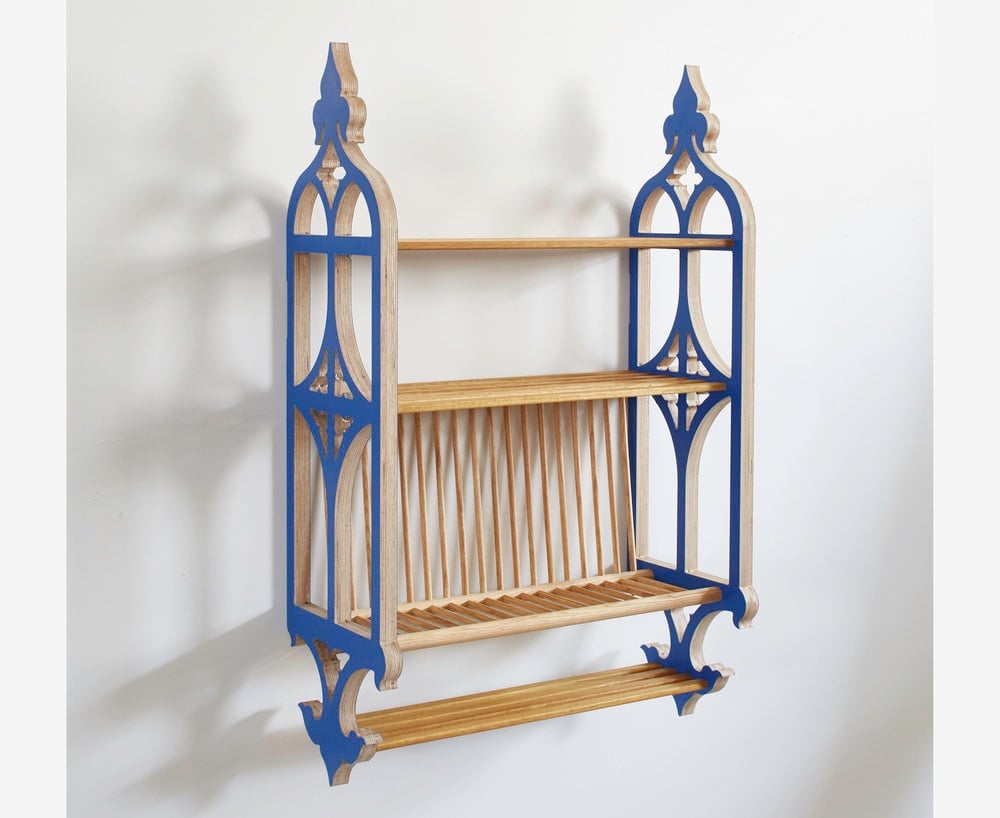 Create a feature in your kitchen with this decorative Gothic Plate Rack, which comes in different sizes, Gothic Plate Rack with Formica, £635, www.cosmofry.com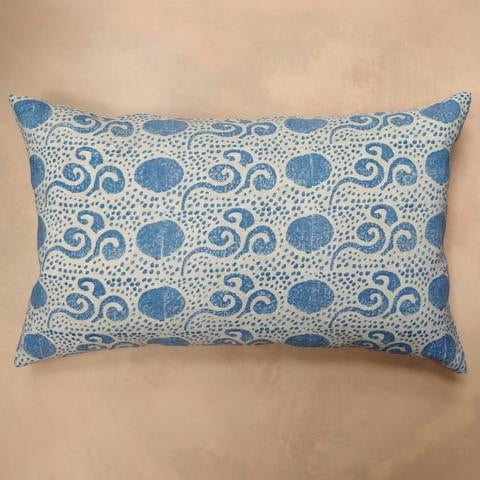 Cushions are always an easy way to give your room a new feel, without having to spend a fortune. This is another cushion which would add something new and fresh to you living space, China Blue Open Chinese Cloud Cushion, £95, www.tobiasandtheangel.com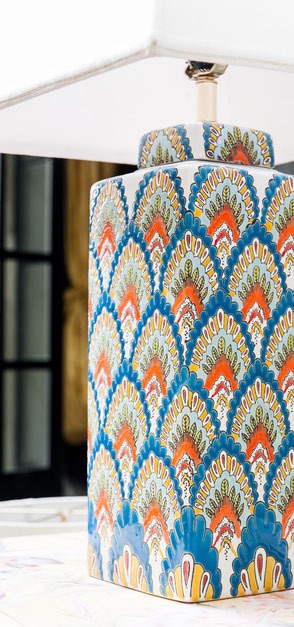 Create a visible centrepiece on you side tables with this colourful lamp, EUROS 270, www.mai-lampen.de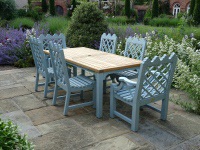 Give your outside entertaining space a touch of the East with these garden chairs, which come in different colours, Indian Lattice chairs, www.andrewcrace.com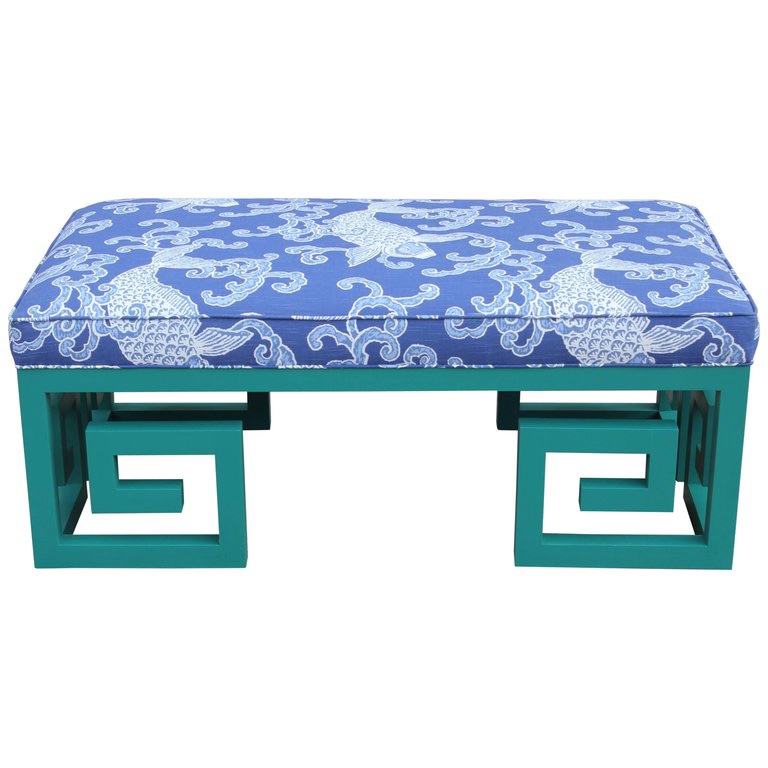 This unusual stool is custom made, so you can choose your preferred finishes, Custom Teal Blue Greek Key Bench with Blue Koi Fish Fabric, £2025.27, www.1stdibs.com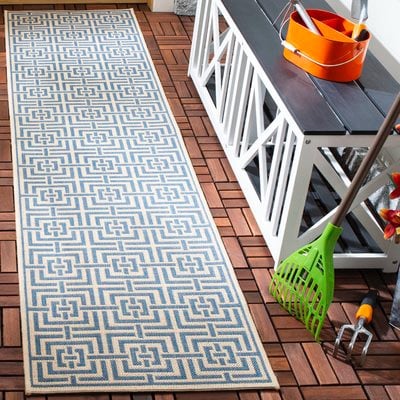 Outdoor rugs have long been hugely popular in the US and are now gradually being offered by companies here in the UK. This decorative outdoor rug comes in a number of shapes in sizes, Jovani Cream/Blue Rug, www.wayfair.co.uk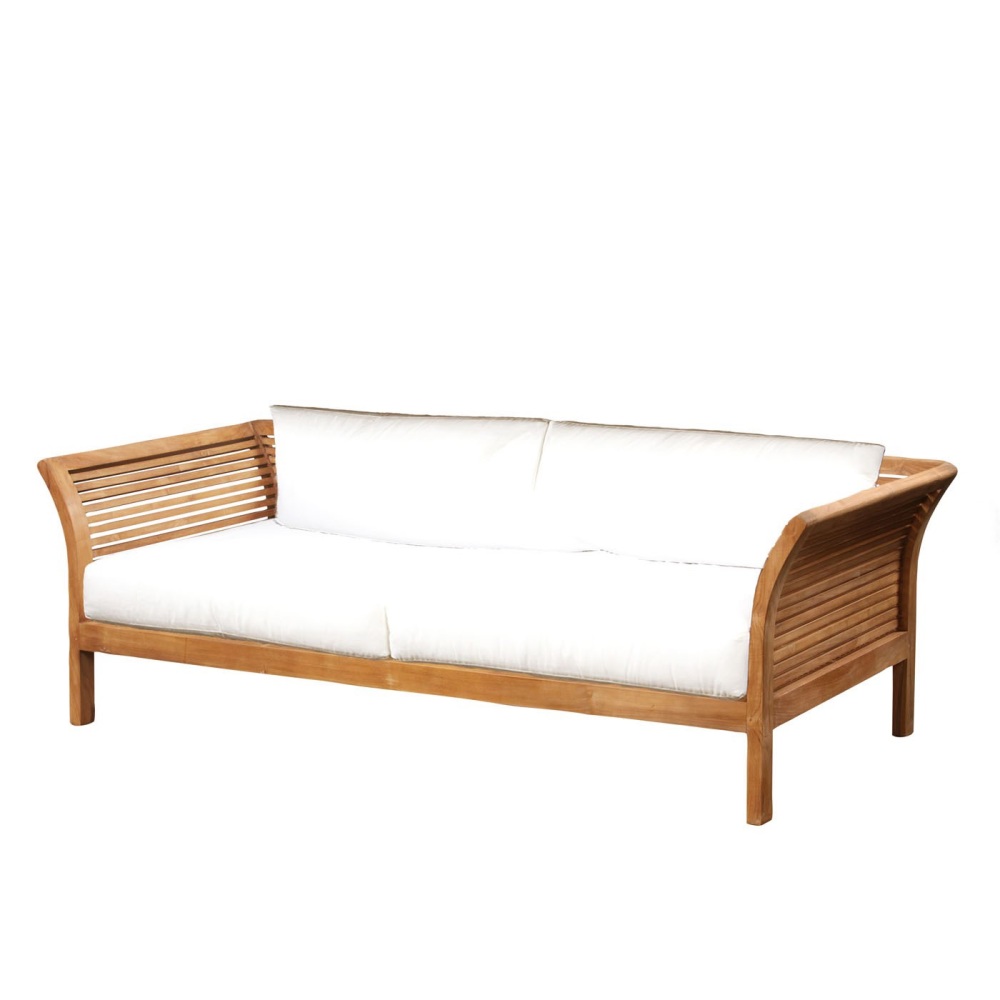 For the cool and timeless look, this garden bench is one of my top picks. It works with almost every interiors and exteriors and looks incredibly comfortable, Primrose Garden Sofa, £2330, www.raftfurniture.co.uk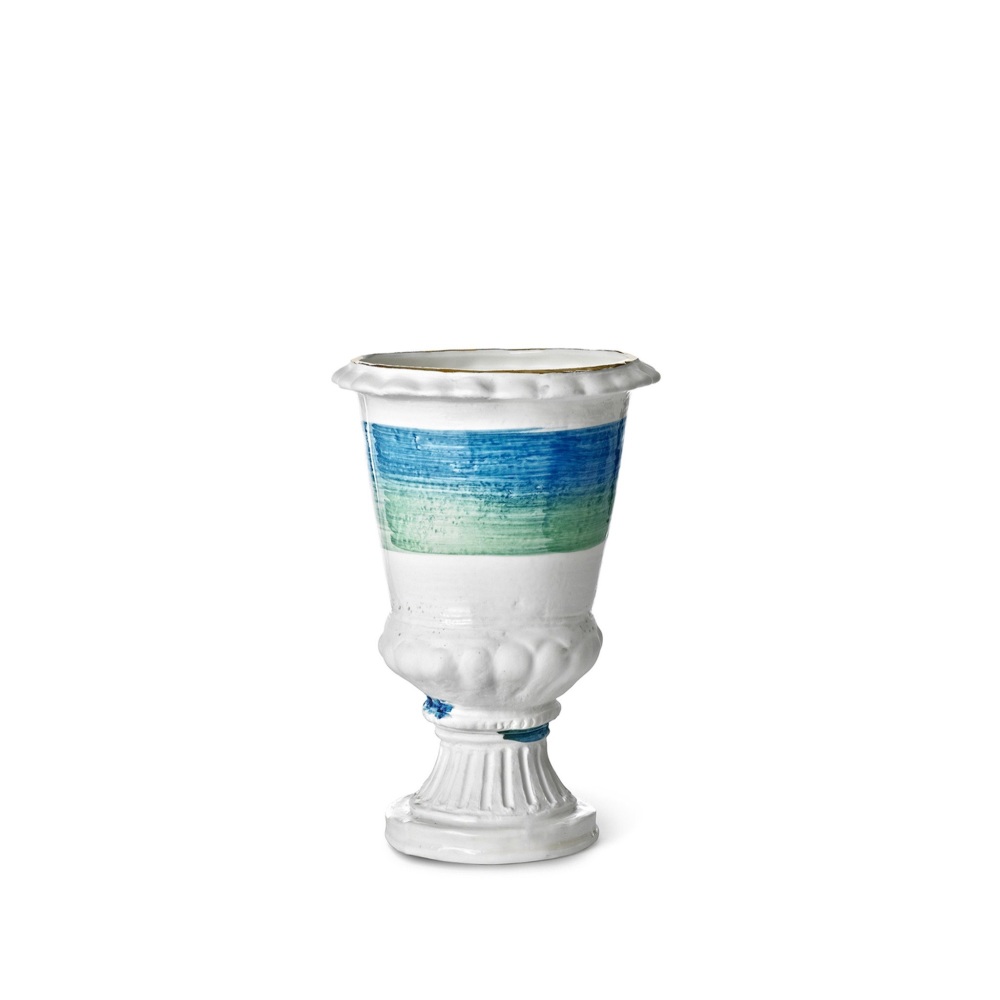 This beautiful handmade vase is slip cast using fine bone china and hand decorated with vibrant blue and green colours and 22 carat gold lustre edging, Handmade Fine Bone China Table Vase in Blue and Green, £360, www.summerillandbishop.com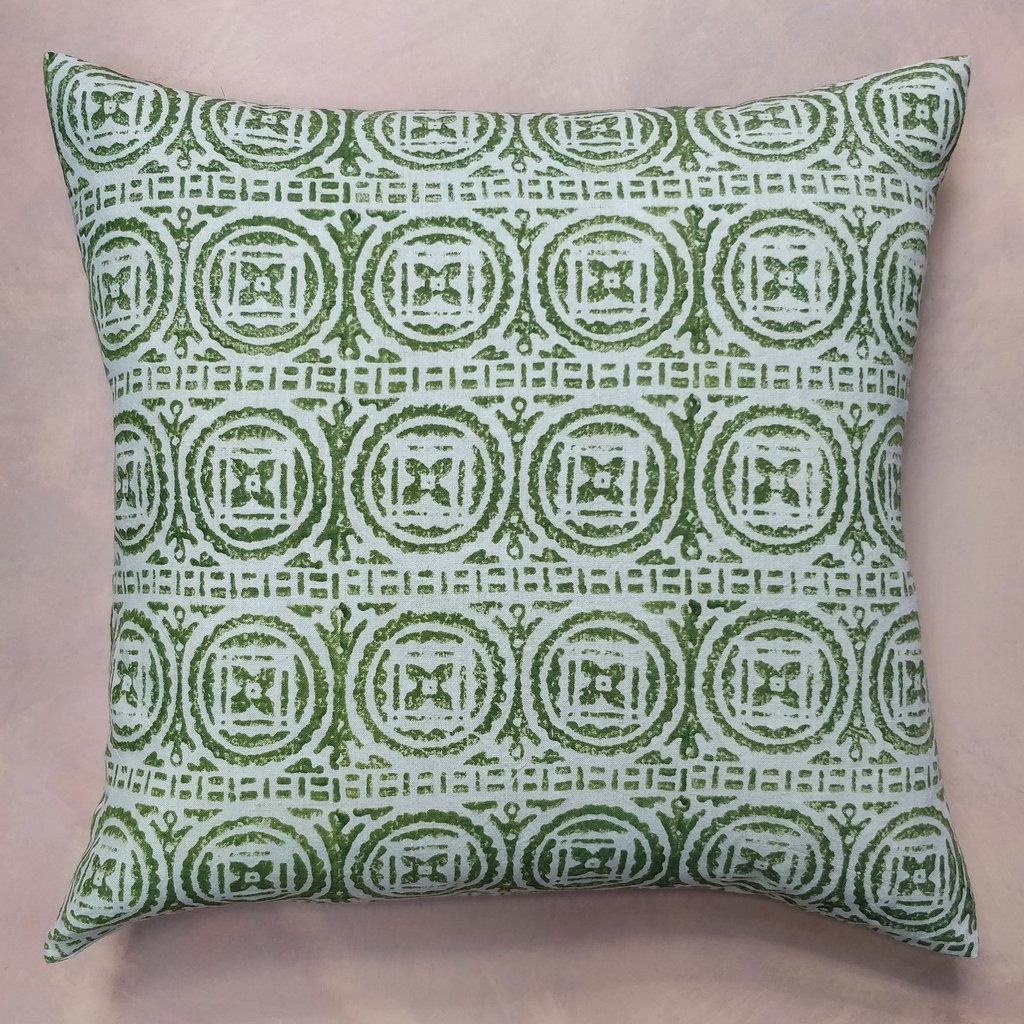 Absolutely love this hand block printed linen with its wonderfully timeless pattern, Elf Leg Green Chute Cushion, £95, www.tobiasandtheangel.com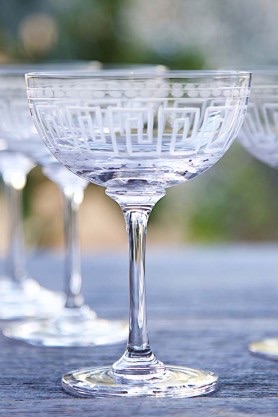 Even glassware is now featuring the re-emerging Greek key pattern, which looks fantastic. Each glass is hand blown and hand engraved, Champagne Saucers - Greek Key, £72, www.rockettstgeorge.co.uk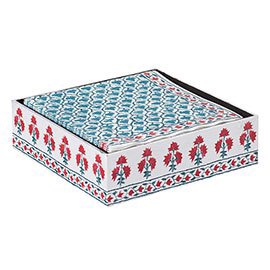 No need to hide away your napkins. They provide a useful as well as lovely way, to keep your paper napkins tidy and in place, Khopala Napkin Box, £20, www.oka.com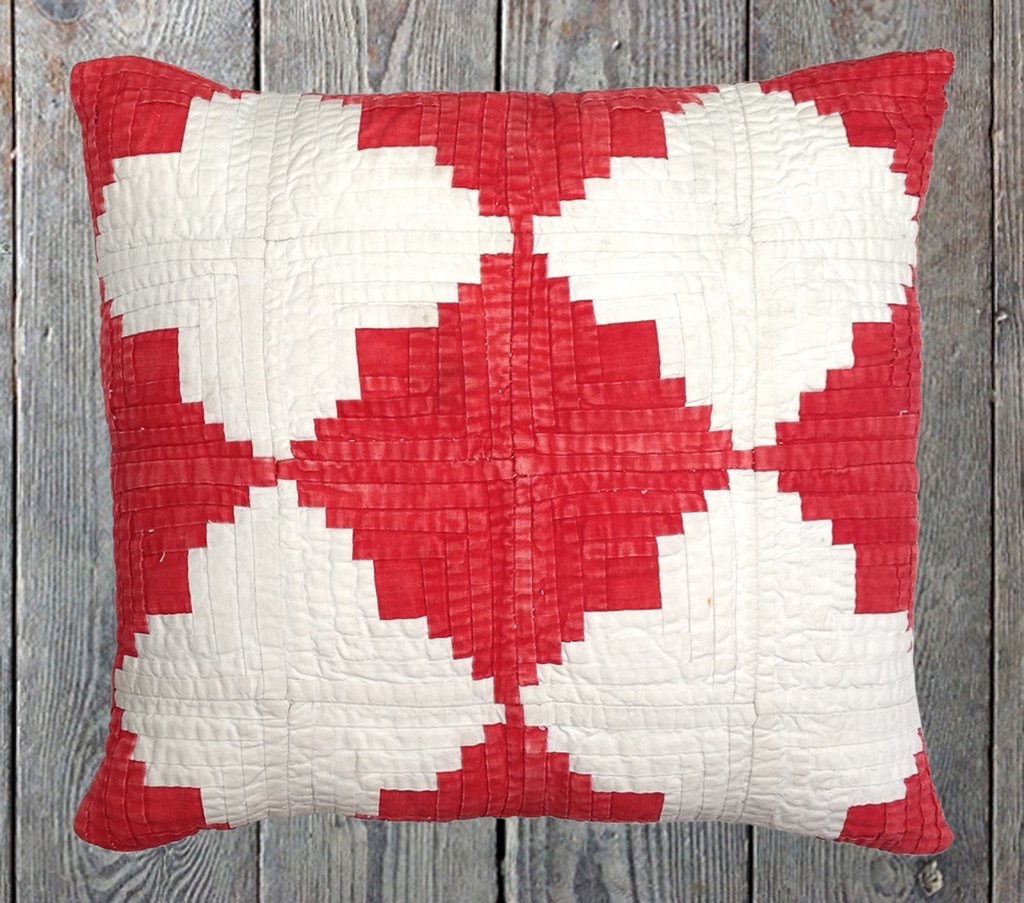 One can't fail to overlook the strong and eye-catching pattern on this decorative cushion, Log Cabin Quilt Cushion, www.tobiasandtheangel.com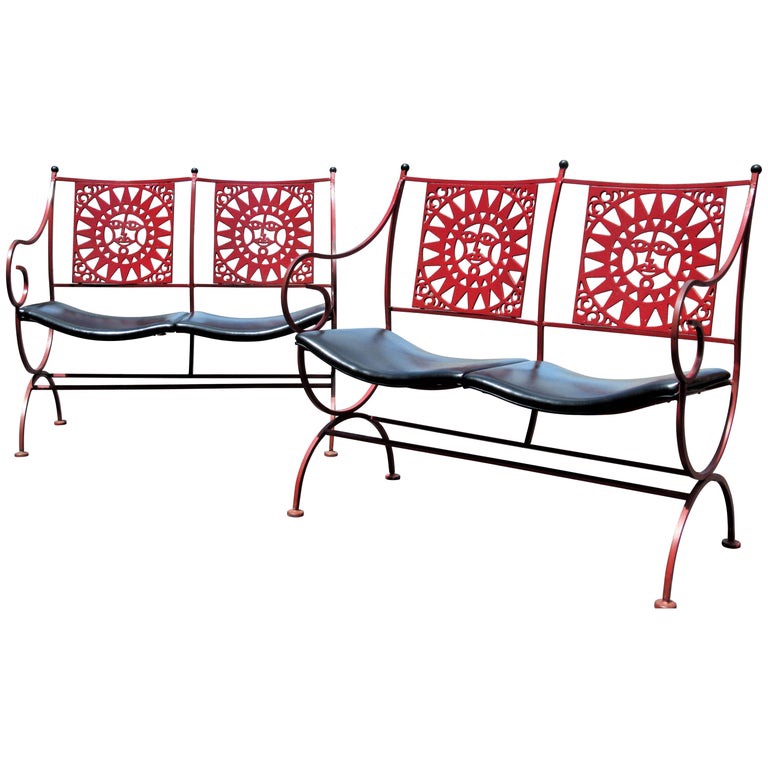 These vintage benches are a perfect match for lovers of something with a difference, Arthur Umanoff Pair of Mayan Two Seat Bench Settees, £2960.33, https://www.1stdibs.co.uk/furniture/building-garden/garden-furniture/pair-of-mayan-two-seat-bench-settees-arthur-umanoff/id-f_15127241/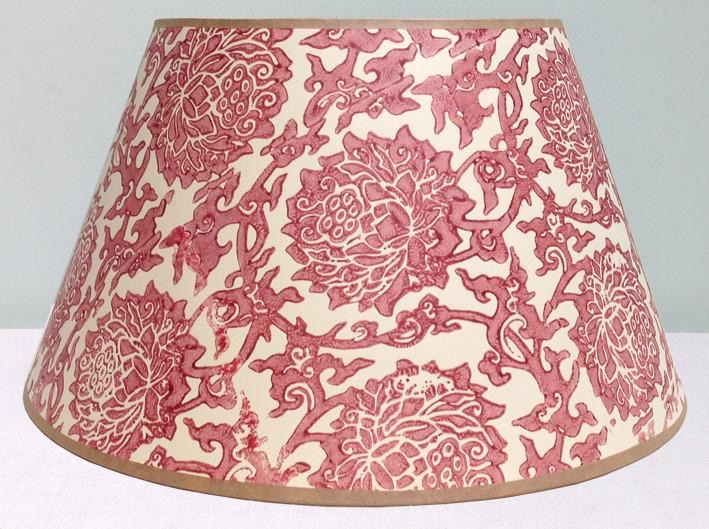 In full bloom is this very pretty floral lampshade, Peony Lampshade, www.tobiasandtheangel.com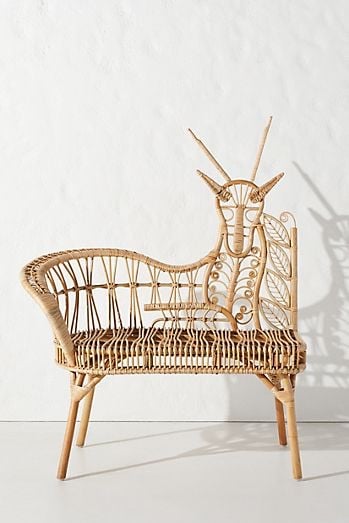 Make a statement in your living room or conservatory with this springbok shaped seat. Use it on its own or alternatively, it comes in a lefthand and righthand side which can be pushed together to a 'double' springbok seat, Springbok Rattan Bench, www.anthropologie.com/en-gb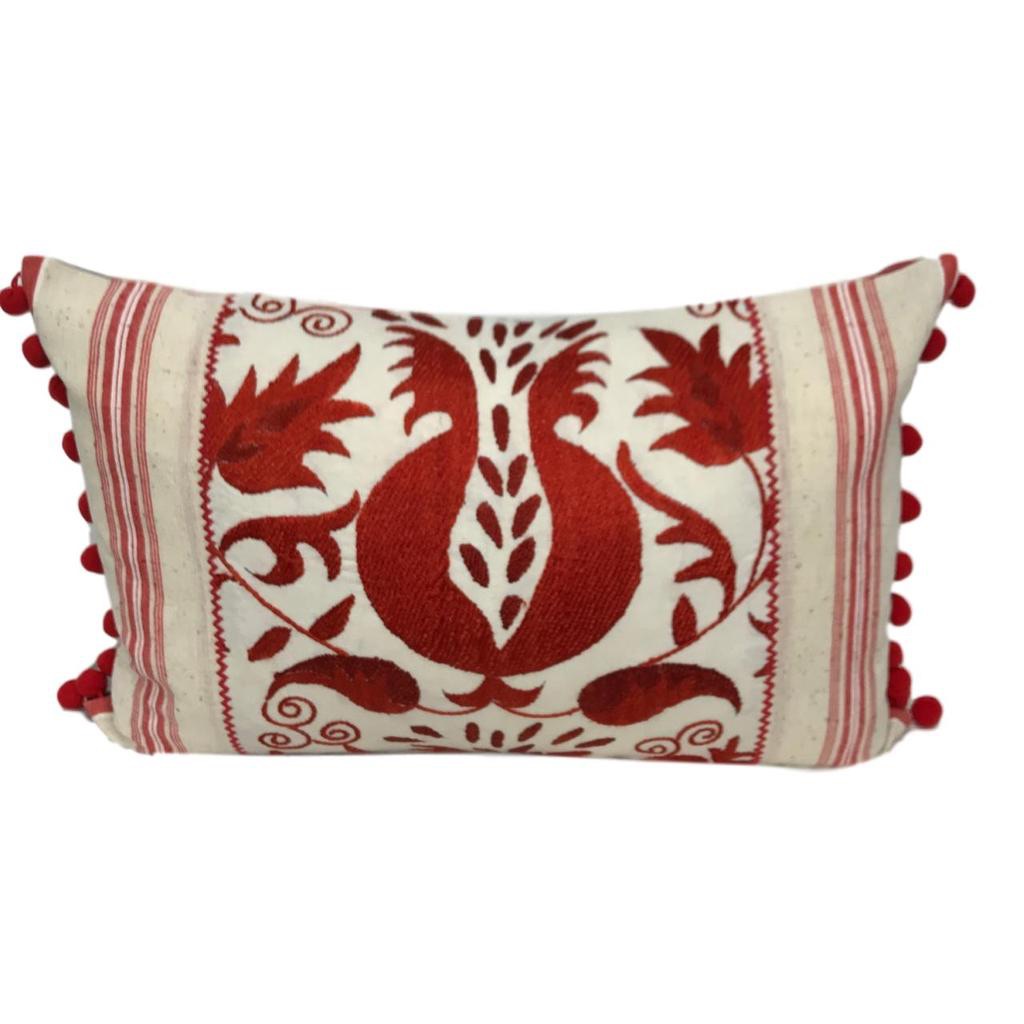 This wonderfully vibrant red suzani cushion looks fantastic when paired with neutral colours, Suzani/Ikat Double Sided Cushion Cover with Pom Poms - Red, £75, www.mylittlewish.com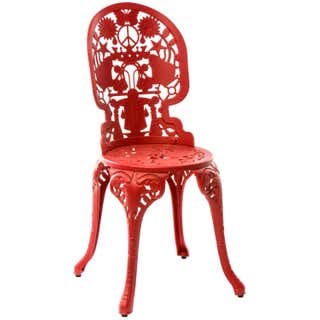 Seletti never fails to impress with its bold colours and imaginative designs as this garden chair is best proof, Seletti Aluminium Armchair 'Industry Garden Furniture' Red, £221.56, www.1stdibs.co.uk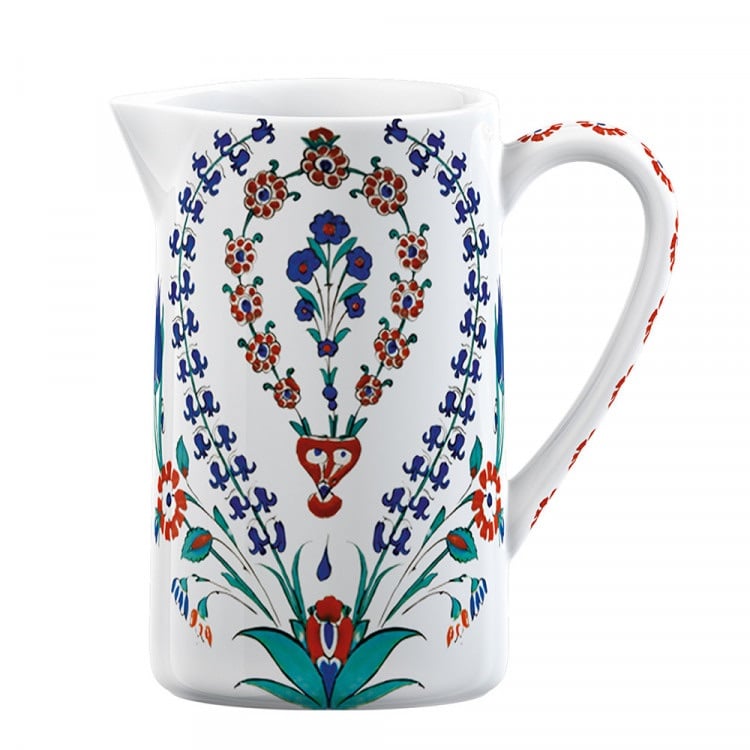 Add a little moorish touch to your dining table with this Iznik design jug from the V&A collection, Victoria & Albert Iznik Hyacinth Jug, £16.99, www.trendyhome.co.uk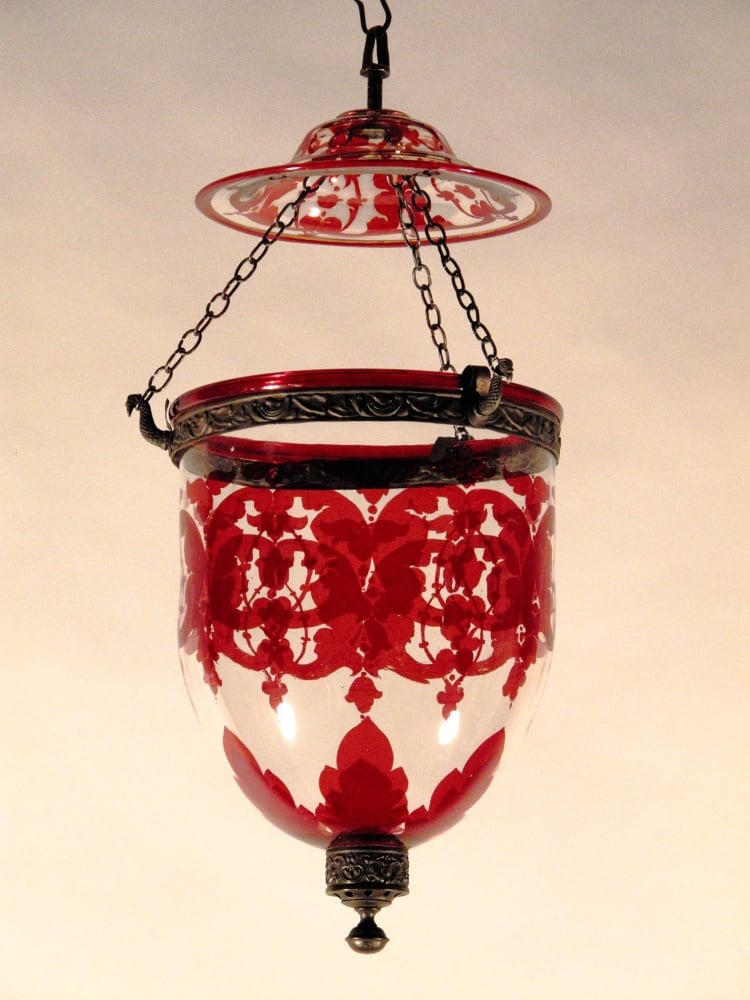 This quite unique hand blown glass lamp is assumed to be from Murano, Italy. Although these hanging lamps were particularly popular with Indian Maharajas, they tended to be of European origin, Rare Cranberry Glass Hundi Lamp (from an Indian Palace), £895, www.indigo-uk.com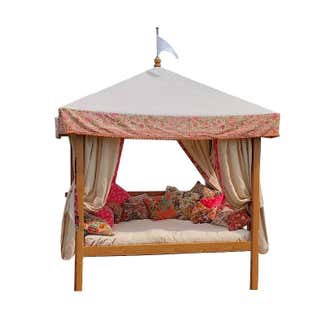 Who would not want to sit back and relax on this dreamy and wonderful daybed which comes made-to-order, Sunbeam Jackie Daybed in Oak with Canvas and Heritage Fabric Canopy, https://www.1stdibs.co.uk/furniture/seating/day-beds/daybed-oak-canvas-heritage-fabric-canopy-sunbeam-jackie/id-f_4740703/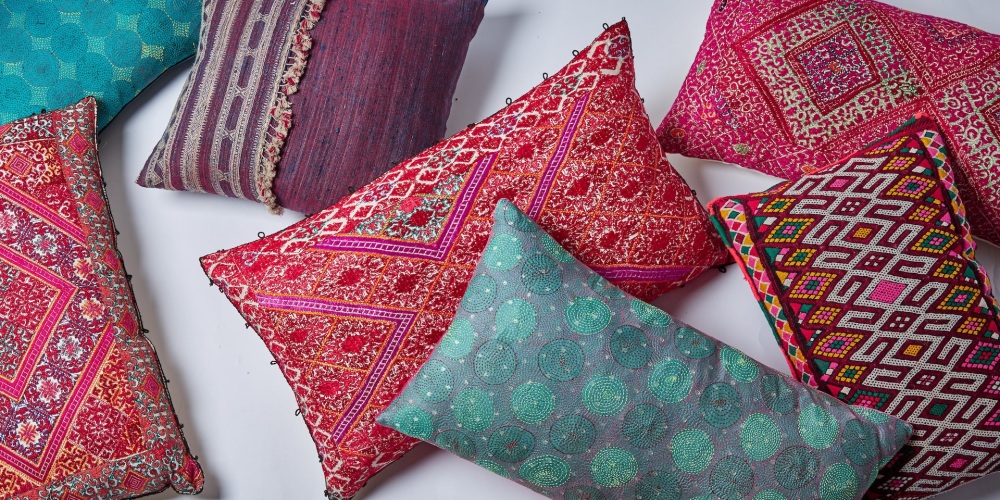 One could have a lot of fun, mixing and matching this colourful display of beautifully hand made cushions from India. www.cheskie.co.uk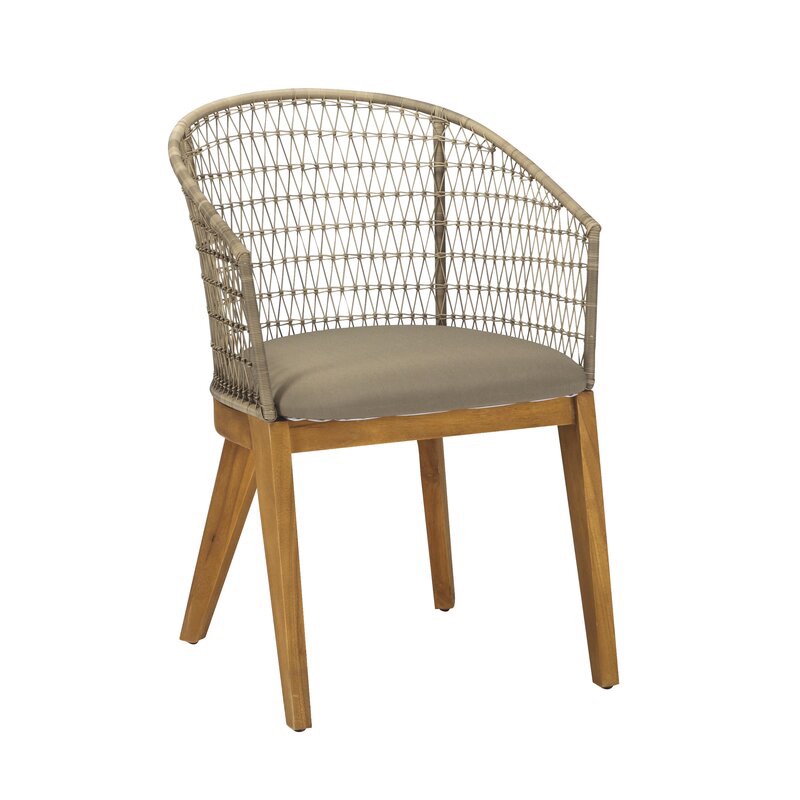 This sleek and stylish looking garden chair looks just right, wether put next to more traditional or contemporary furniture, Kaylynn Garden Chair, www.wayfair.co.uk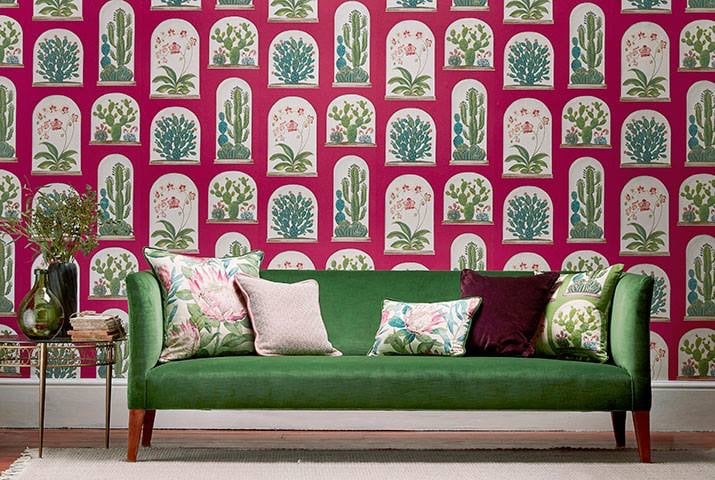 For lovers of colour and plants, this wallpaper will provide a very vibrant backdrop and lends itself perfectly as a feature wall, Sanderson Terrariums Rhodenra Multi Wallpaper, £79 (per roll), www.stylelibrary.com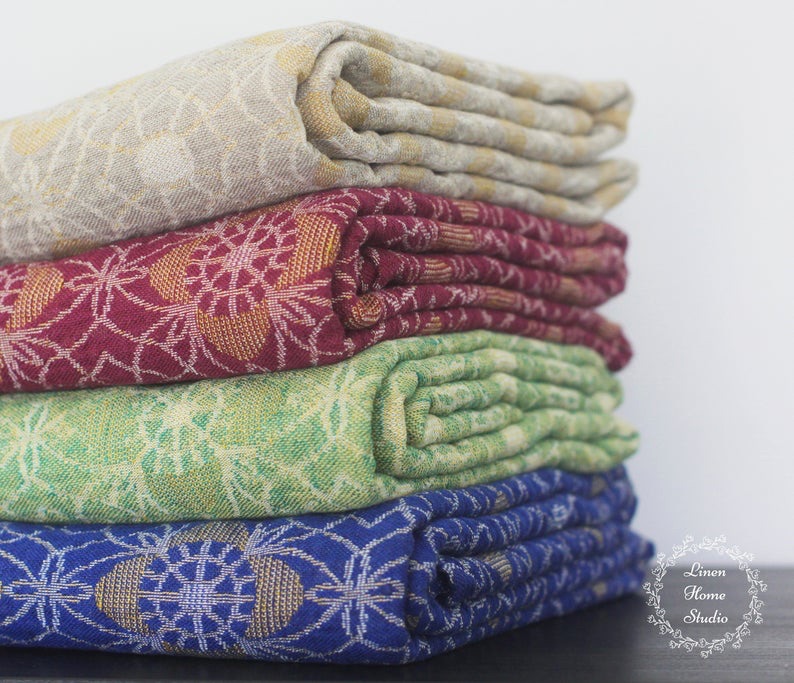 Give your sofa a little makeover with one of thee decorative linen throws, Floral Linen Throw Blanket, £62.36, https://www.etsy.com/uk/listing/681372024/floral-linen-throw-blanket-51-x-78?ref=hp_rf-1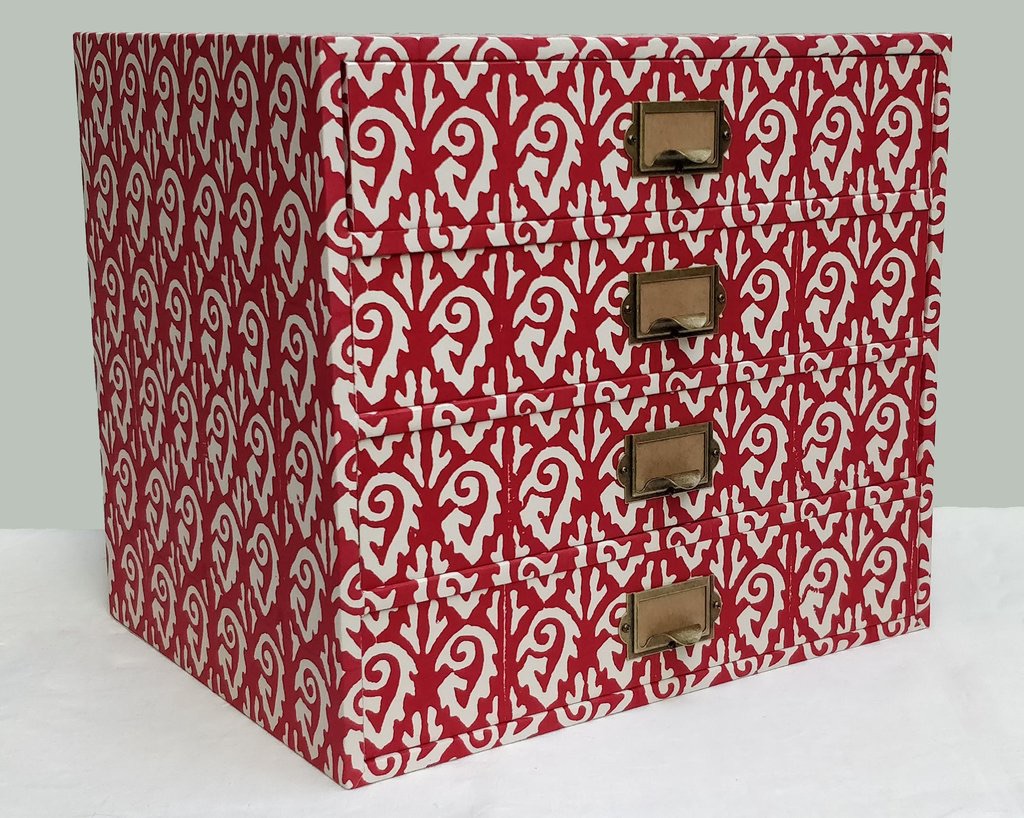 If papers are piling up on your desk, this stylish filing drawer will make a decluttering project far more appealing, Red Chute Drawers, www.tobiasandtheangel.com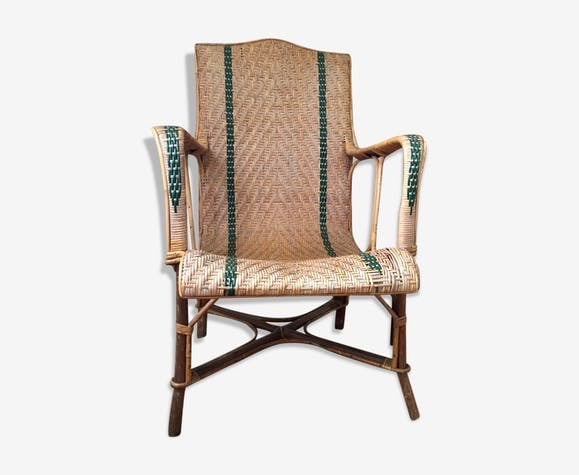 Sit back and relax on this eye catching vintage armchair, Wicker Armchair, £117, www.selency.co.uk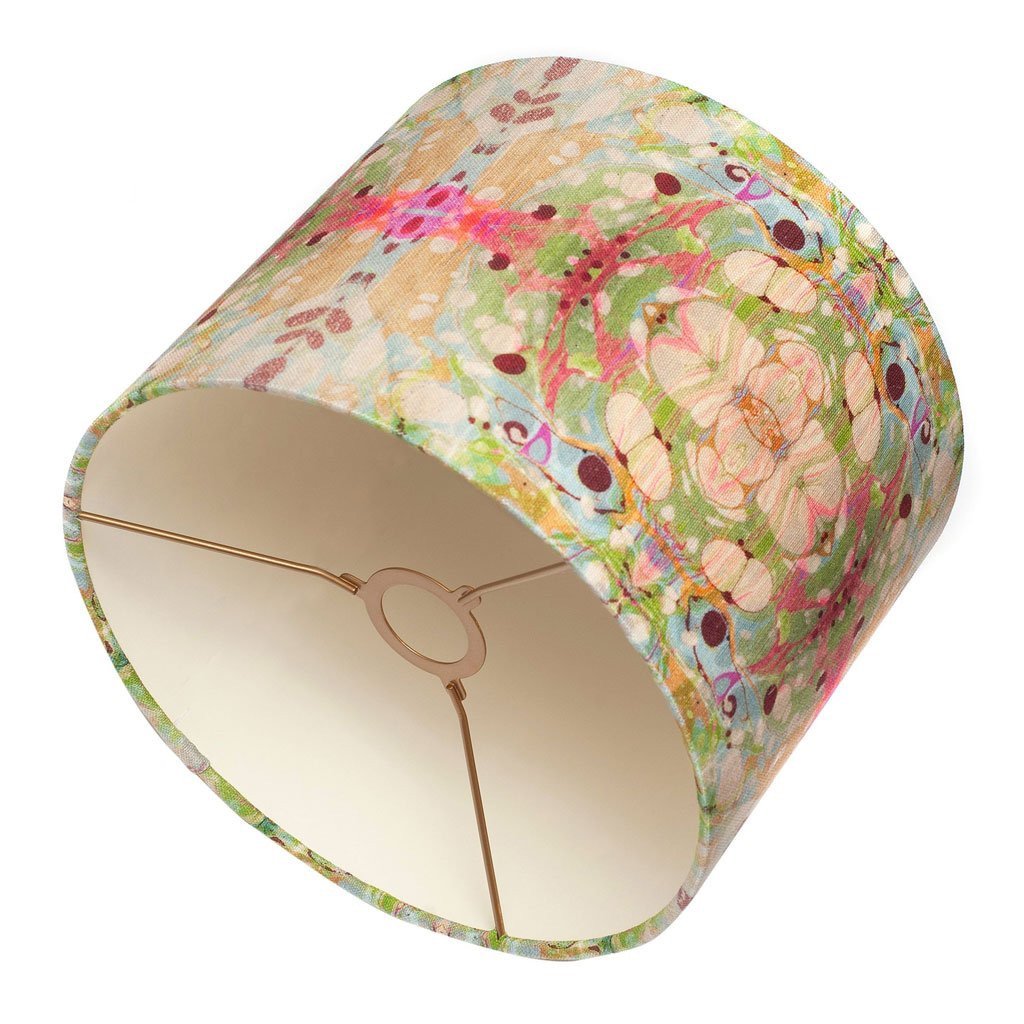 Update your living space and add a touch of colour with this bright linen lampshade, Beige/Pink/Purple Kaleidoscope Linen Lampshade, £155, www.susi-bellamy.com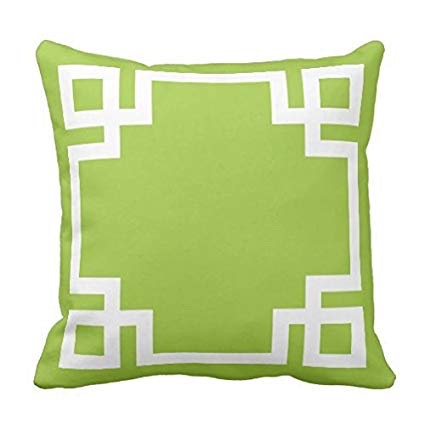 For a fresh summer look, this lime green cushion is a great choice. It can be personalised by adding your preferred initials, Lime Green White Greek Key Cushion, £30.85, www.zazzle.co.uk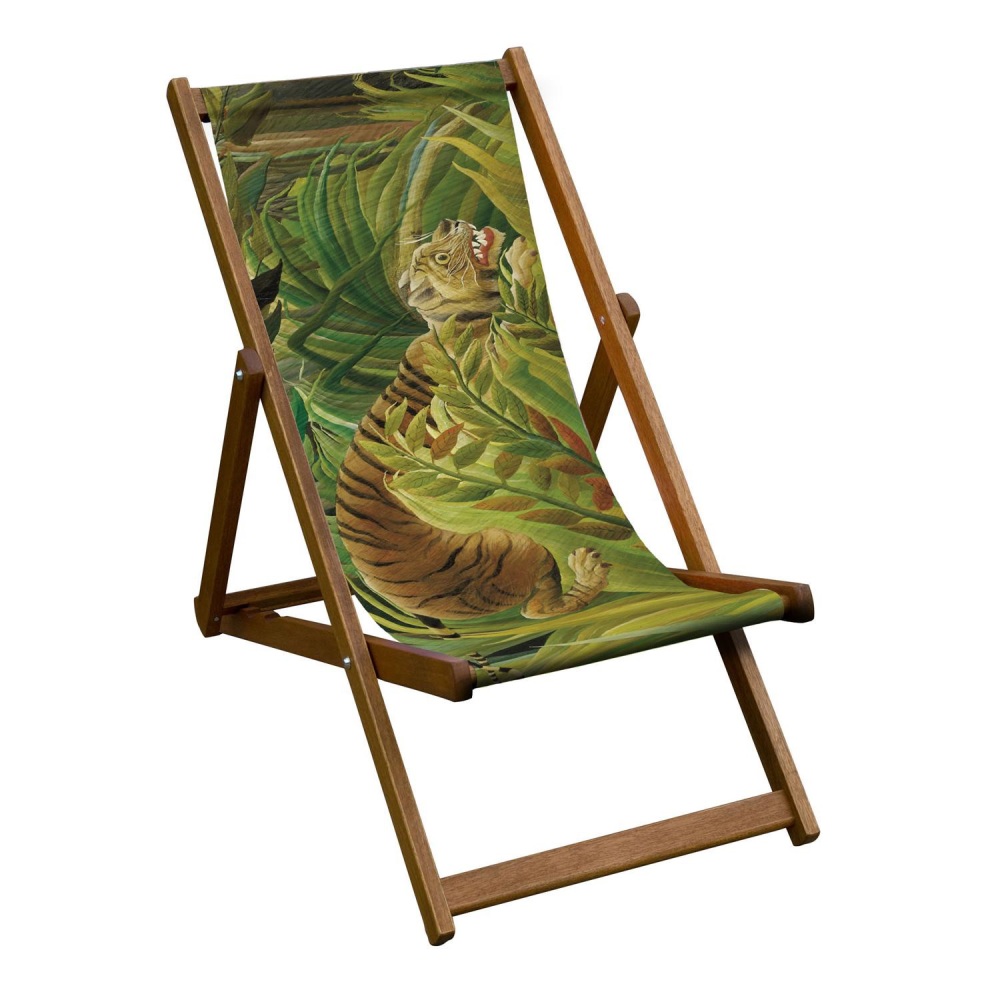 Art can not just be enjoyed on the wall but in many other ways too. This deck chair is one of a collection produced for the National Art Gallery, using famous paintings as backdrop on weather protected cloth, Surprised Deck Chair, £120, www.nationalgallery.co.uk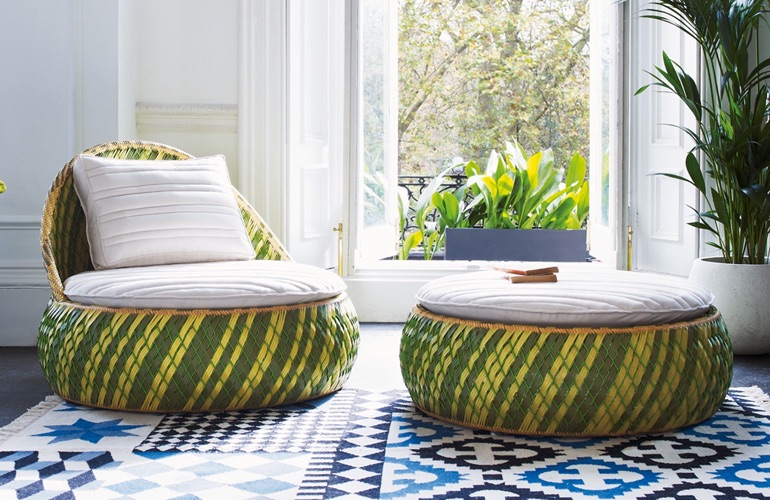 Enjoy the summer season in comfort on this generously sized chair and stool, which can also double up as coffee table, Dedon Dala Circula Chair and Stool, £1195, www.lpmarketplace.co.uk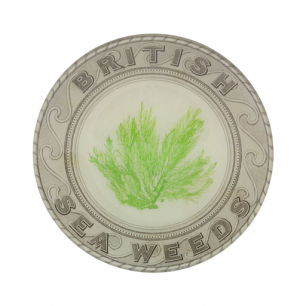 New York based artist John Derians creations are well known. He specialises in colourful and eccentric collages printed and pieced together in layers under glass, 7" British Seaweeds Lime by John Derian, £70, www.pentreath-hall.com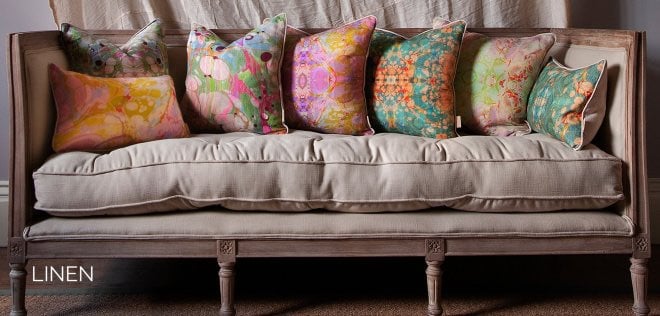 For an instant transformation of your sofa or armchair, these cushions with their vibrant colour display are one of my top picks, Kaleidoscope marbled cushions, from £80, www. susi-bellamy.com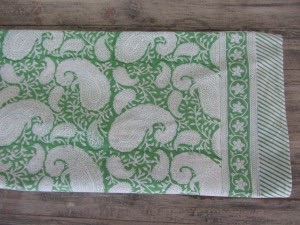 Add some fresh colour this summer, when entertaining your guests. Your food will look even more appealing when served on this pretty table cloth, Block print table cloth, available in different colours, patterns and sizes, www.sherwoodandbailey.co.uk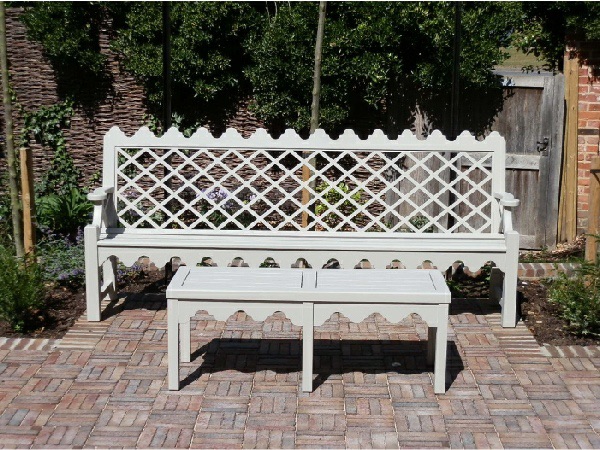 No need to wait for your Indian Summer if you like the exotic look. This stunning bench and table will no doubt give you that warm feeling all year round, Indian Lattice Bench and Table, www.andrewcrace.com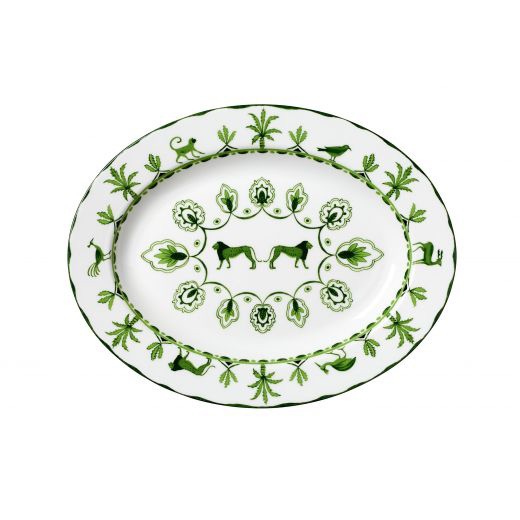 Entertain your guests in style with this stunning tableware. This platter is part of the 'Sutans Garden' dinner service which I have fallen in love with, Sultan's Garden Oval Platter, www.williamedwardshome.co.uk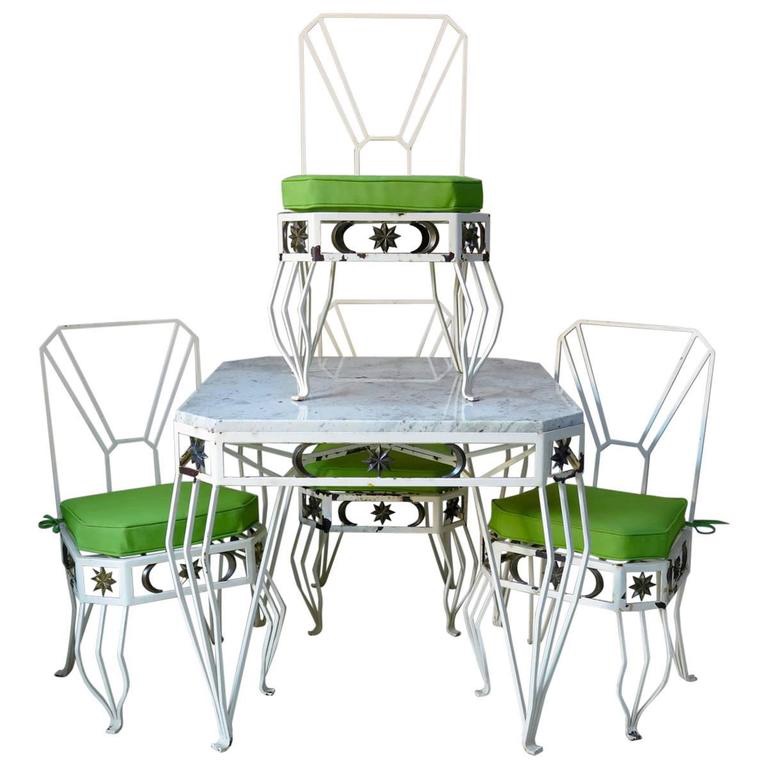 This one-of-a-kind iron dining set of cubist inspiration is beautifully made and an inspirational design, Unique French 1950s 'Star & Moon' Dining Set, £5658.30, https://www.1stdibs.co.uk/furniture/building-garden/garden-furniture/unique-french-1950s-star-moon-dining-set/id-f_6278423/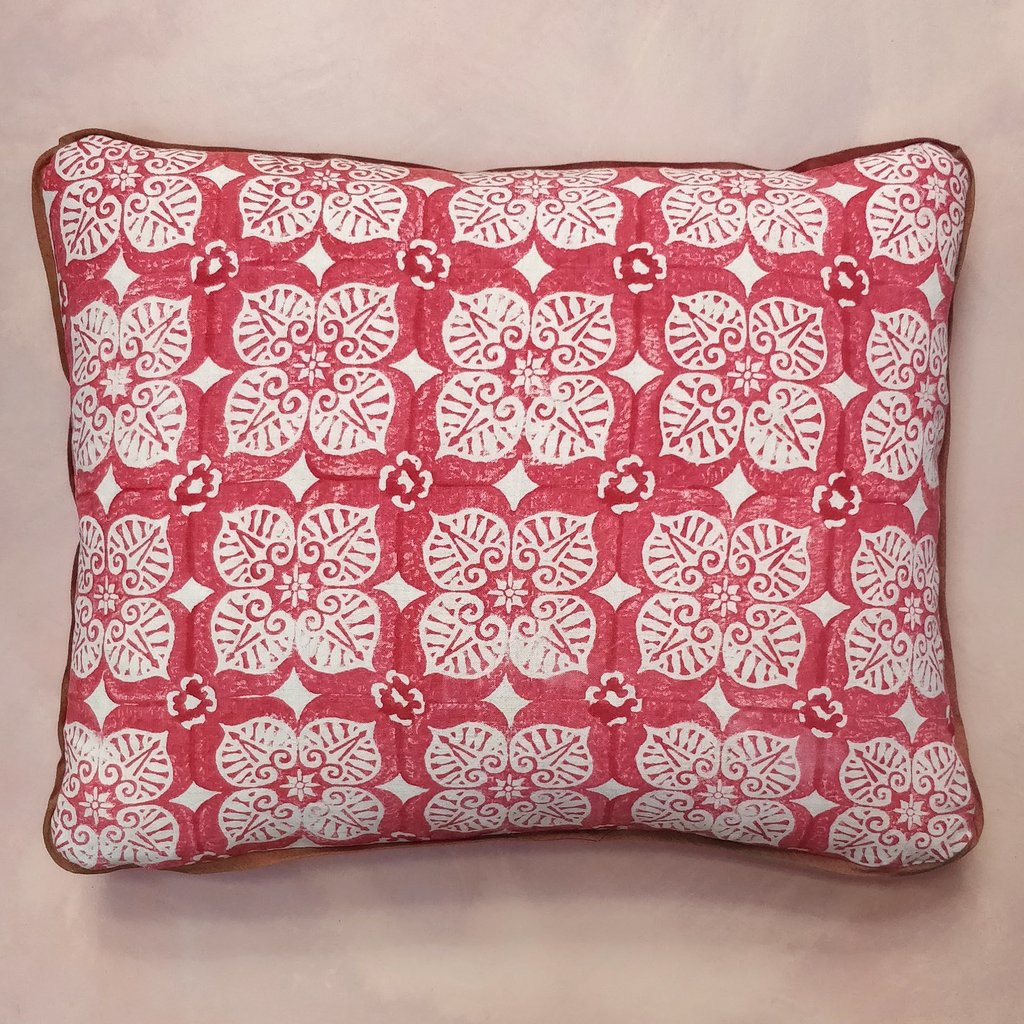 Being a lover of beautiful cushions, I am always on the lookout for something eye-catching. This lovely hand blocked design has caught my eye and am loving it! Red Purple Mix Blumen Cushion, www.tobiasandtheangel.com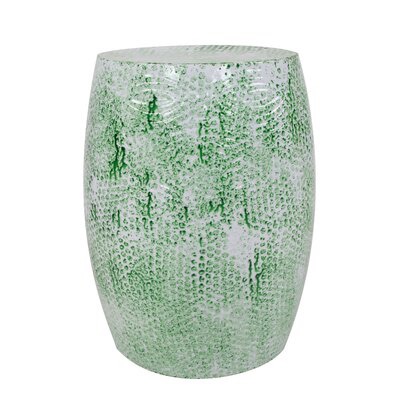 I am a great lover of ceramic stools, which are easy to move around and perfect for putting glasses down. They are hugely popular, quite good value and come in wonderful colours and designs, such as this leafy green stool, Kayoom Colombo Stool, £72.99, www.wayfair.co.uk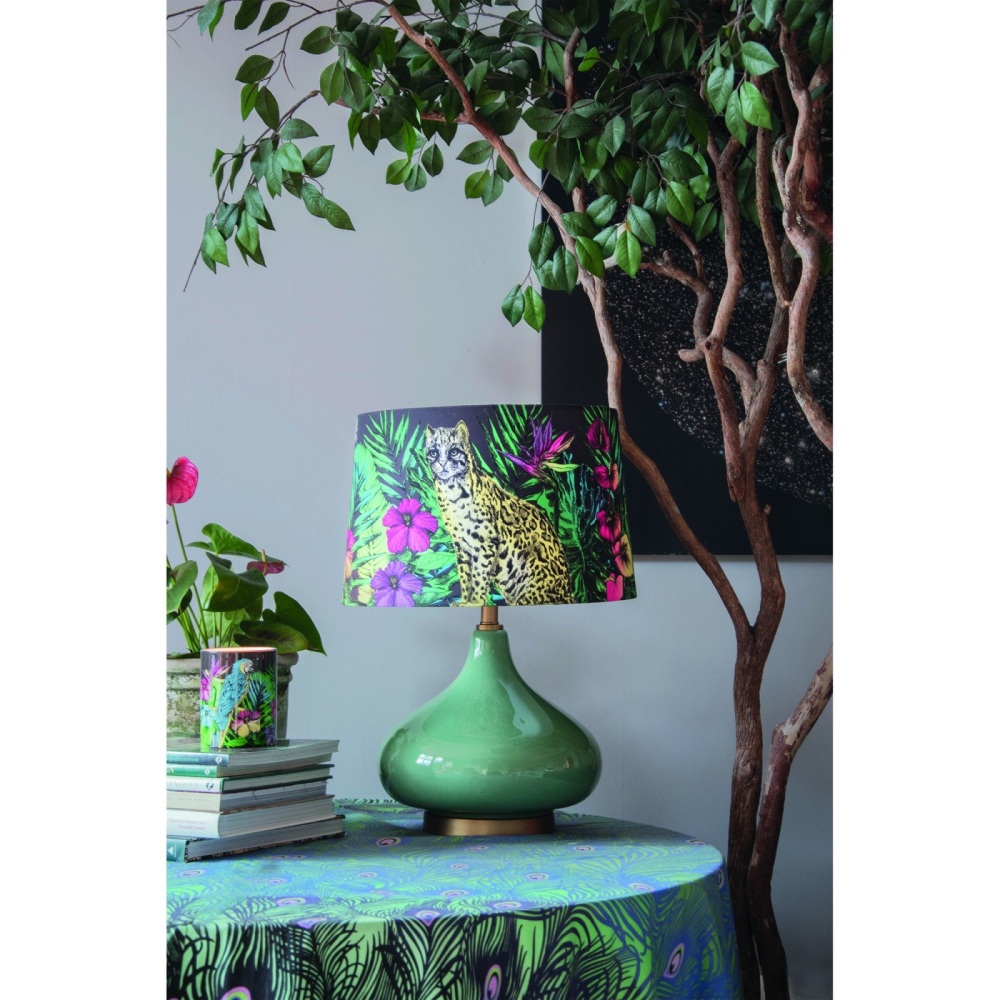 Take a walk on the wilde side with this table lamp and shade! If you want to make a statement in your living room, look no further, Matthew Williamson Midnight Jungle Lamp & Shade, via www.browellinteriors.com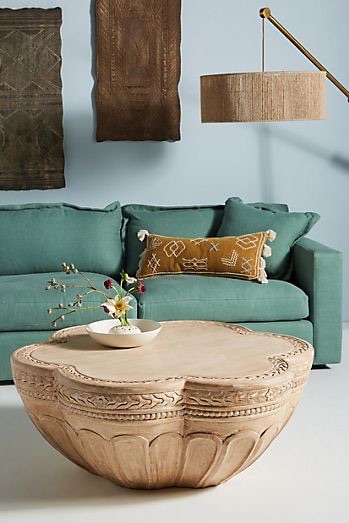 This hand carved wooden coffee table plays homage to traditional Indian motifs and blends in well with contemporary as well as more traditional interiors, Handcarved Cicely Coffee Table, www.anthropologie.com/en-gb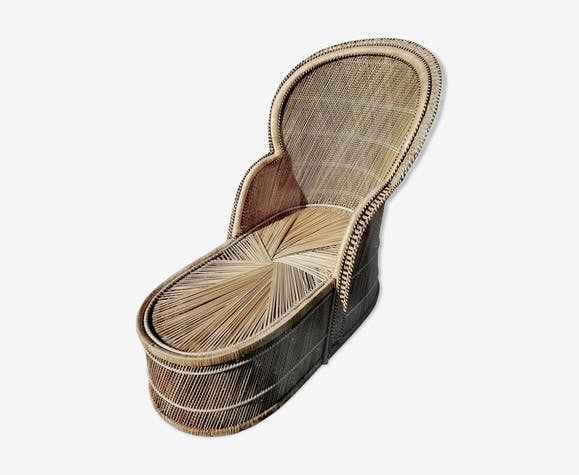 Enjoy your day out in the garden and relax on this comfortable looking vintage long chair, Emanuelle Long Chair, £251, www.selency.co.uk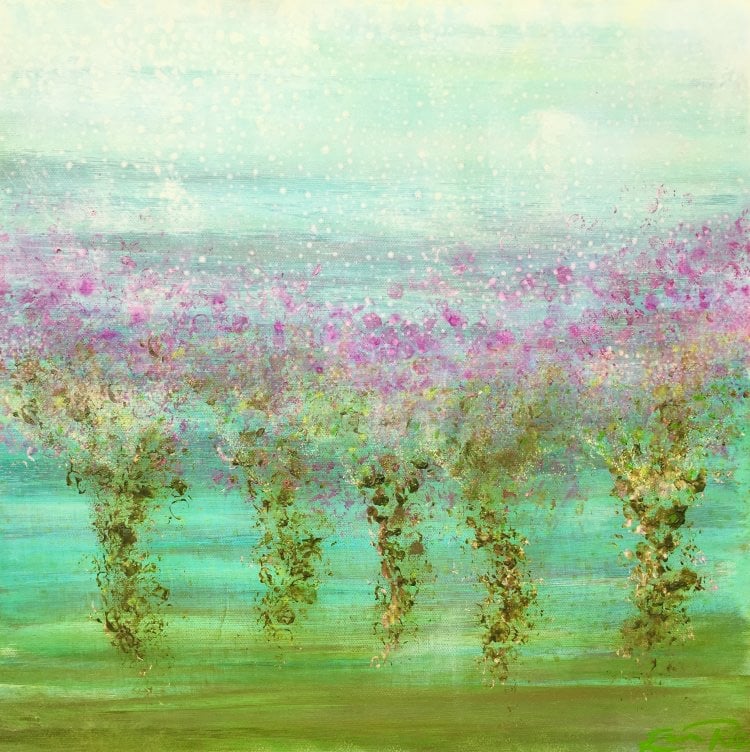 If you are still in need to get into the spirit of Summer, look no further and treat yourself to one of Baths best known artists, Emma Rose! Blossom, www.emmaroseartworks.com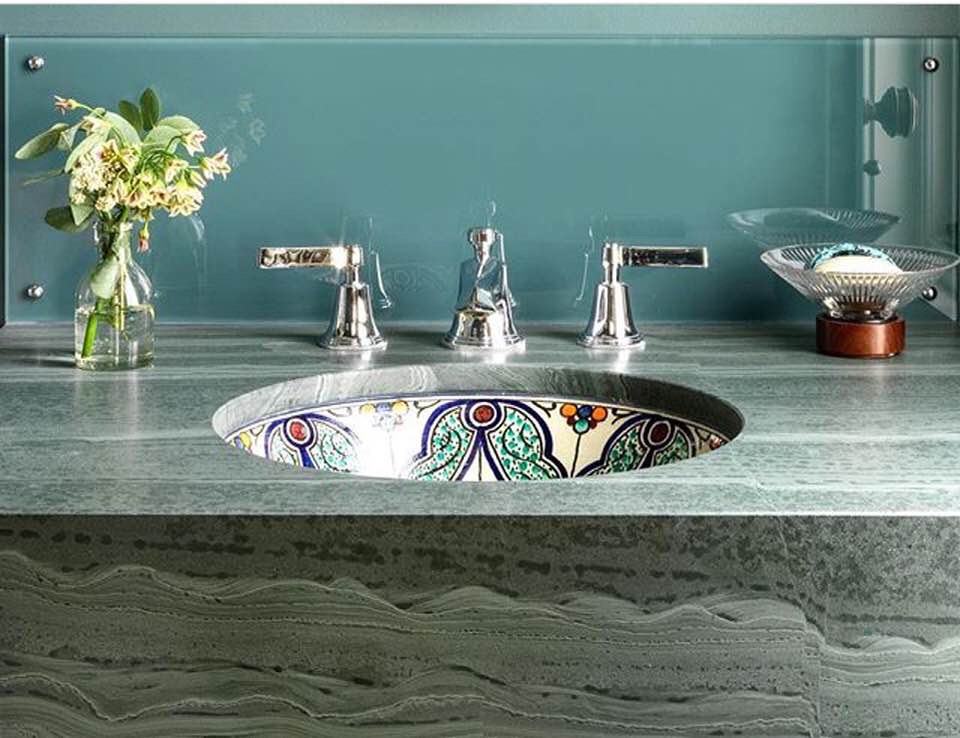 This is a beautiful example, how traditional and contemporary designs can be paired up beautifully. kandhdesign.co.uk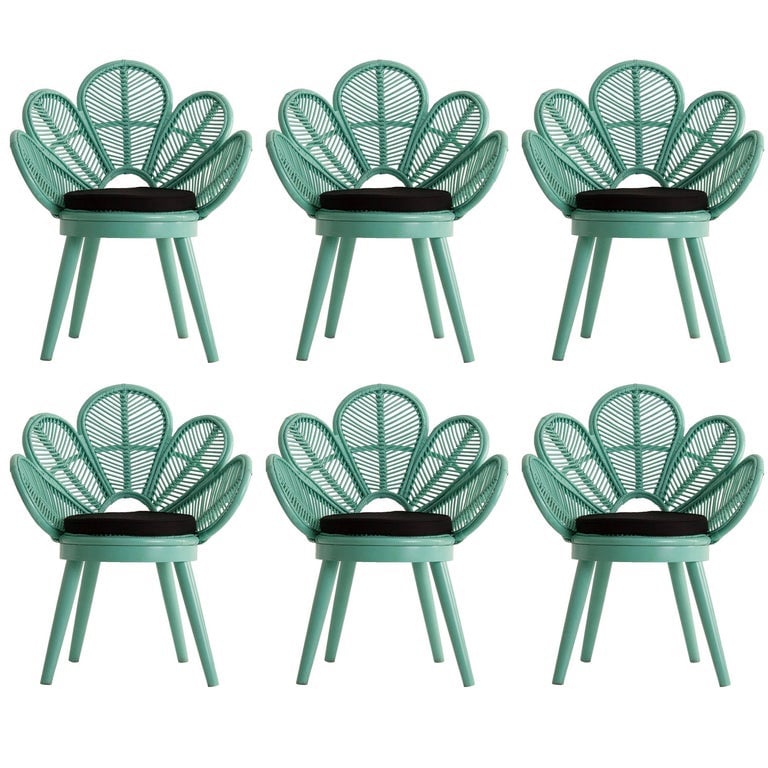 Add a different variety of plants to your outdoor space with these eye-catching garden chairs, Set of Six Rattan and Wooden Azure Lacquered Armchairs, £6926.85, https://www.1stdibs.co.uk/furniture/seating/chairs/set-of-six-rattan-wooden-azure-lacquered-armchairs/id-f_10972691/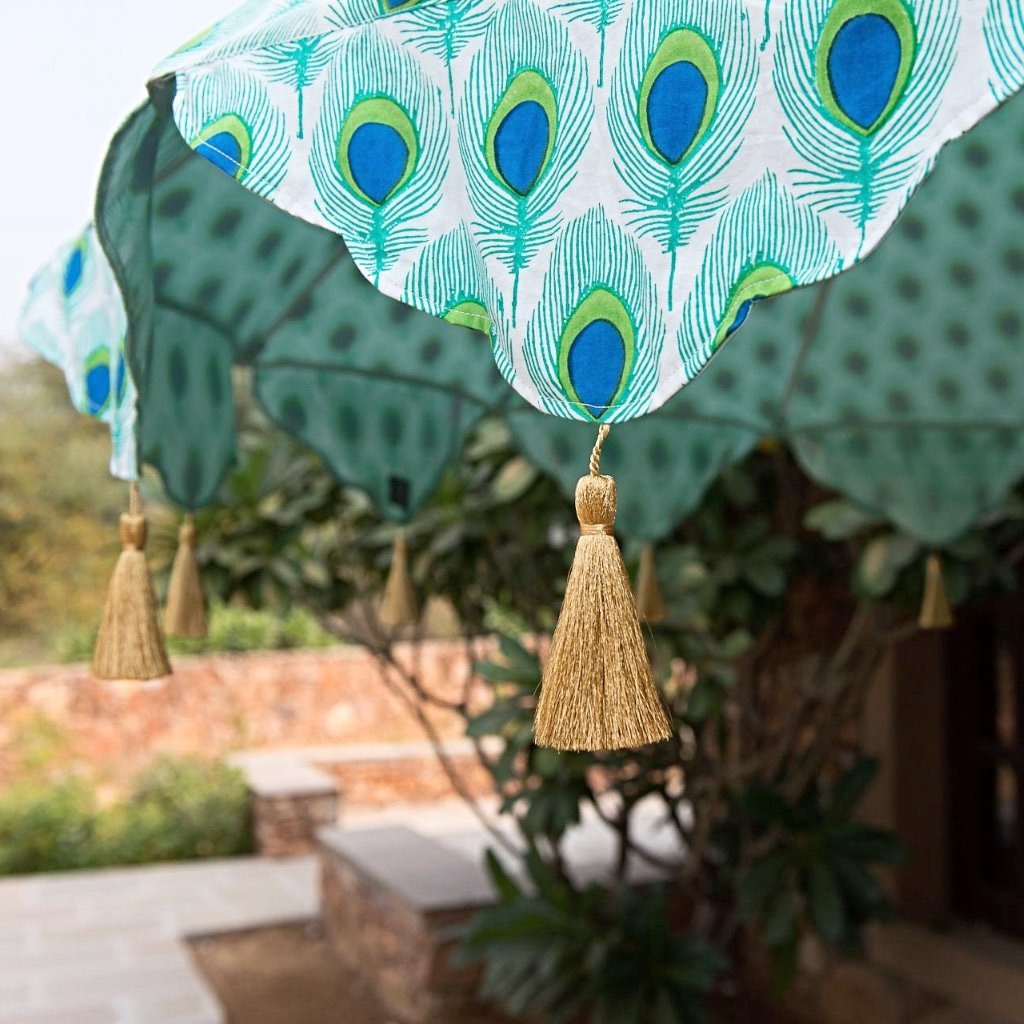 Hide from the midday sun and bring a touch of Indian Summer to your terrace, with this colourful hand block printed peacock pattern parasol, Marvin (2M), £315, www.eastlondonparasols.com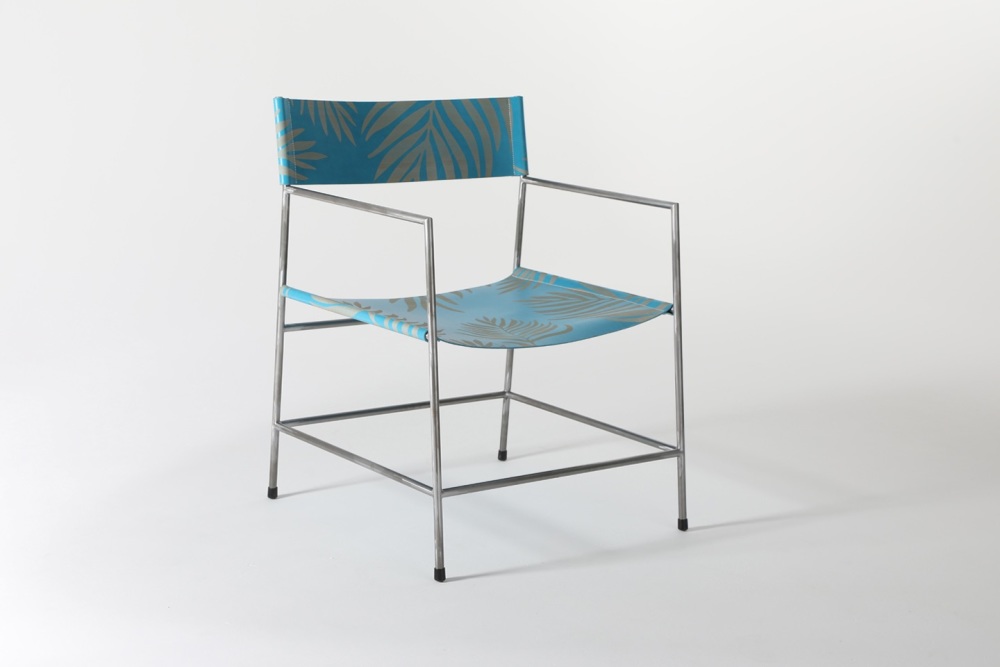 The No. 14 design is based on classic themes and contemporary elements, using eye-catching Italian leather with a delicate metal frame, No. 14, www.christian-watson.com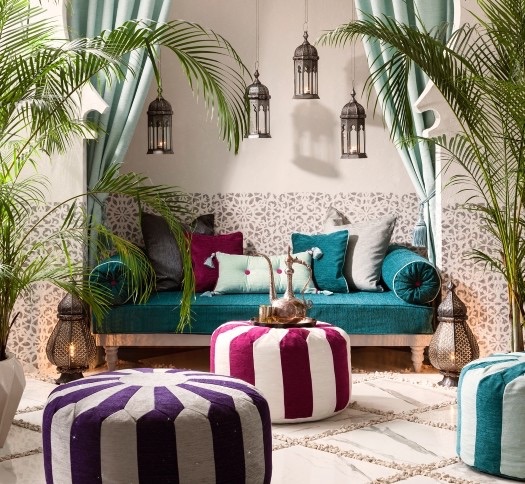 Inspired by the ambience of Moroccan medinas and souks, this fabric range offers a captivating collection of opulent chenille furnishings, available in a number of different colours, Jewel, www.extex.co..uk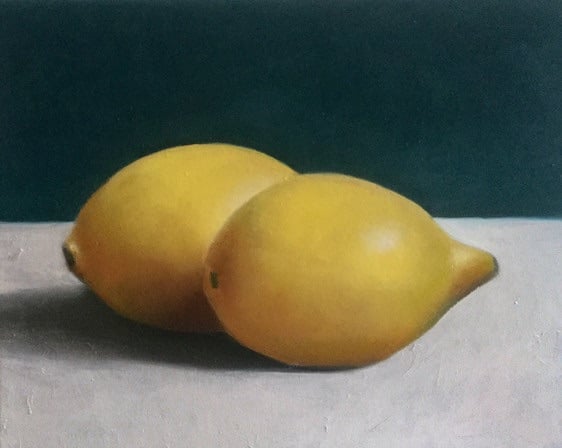 Living in Bath, I hugely enjoy the lively art scene this beautiful city has to offer. I have just spotted this stunning still life painted by local artist Agnes Pollock, Two Lemon, £275, www.agnespollock.com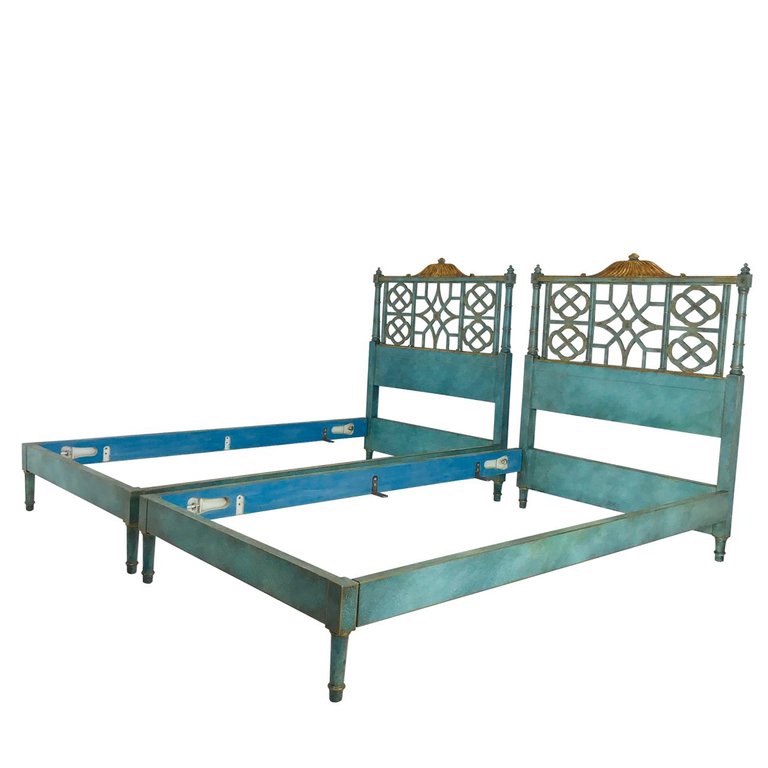 For a touch of Eastern glamour in your bedroom, these twin beds provide the perfect statement piece and starting point for an exotic makeover, Pair of Twin Chinoiserie Pagoda Beds By Kittinger, £3773.97, www.1stdibs.co.uk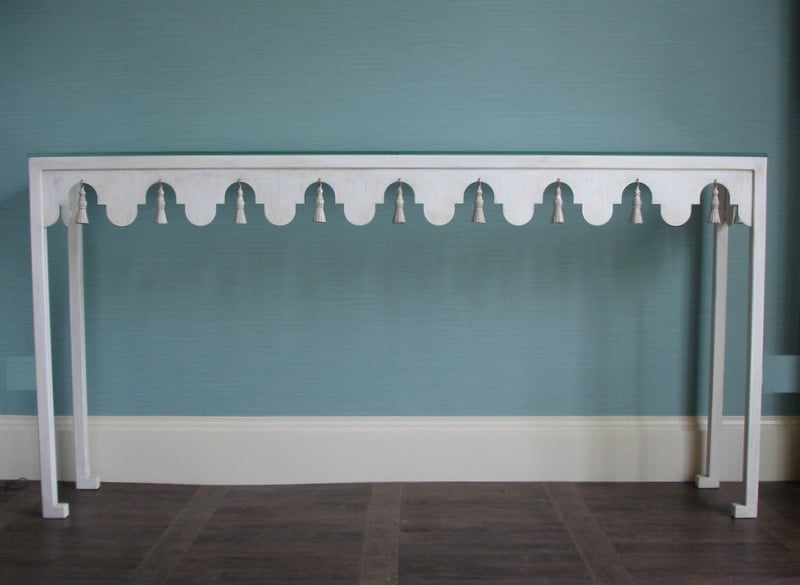 This steel and bronze side/console table is a bespoke piece of furniture and can be supplied in different sizes and with optional table tops, Bespoke Chinoiserie Style Painted Side Table, £2169 (this model), www.decorativecollective.com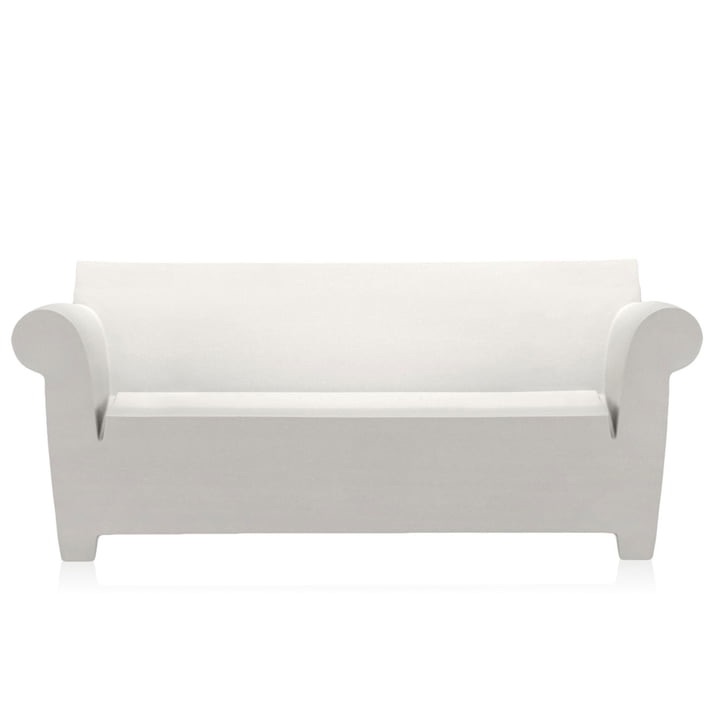 This sleek outdoor sofa is a perfect example, combining contemporary design with a classic element, making it hugely versatile and easy to place, Cartel Bubble Club Couch, £601.80 (current sales price), www.connox.co.uk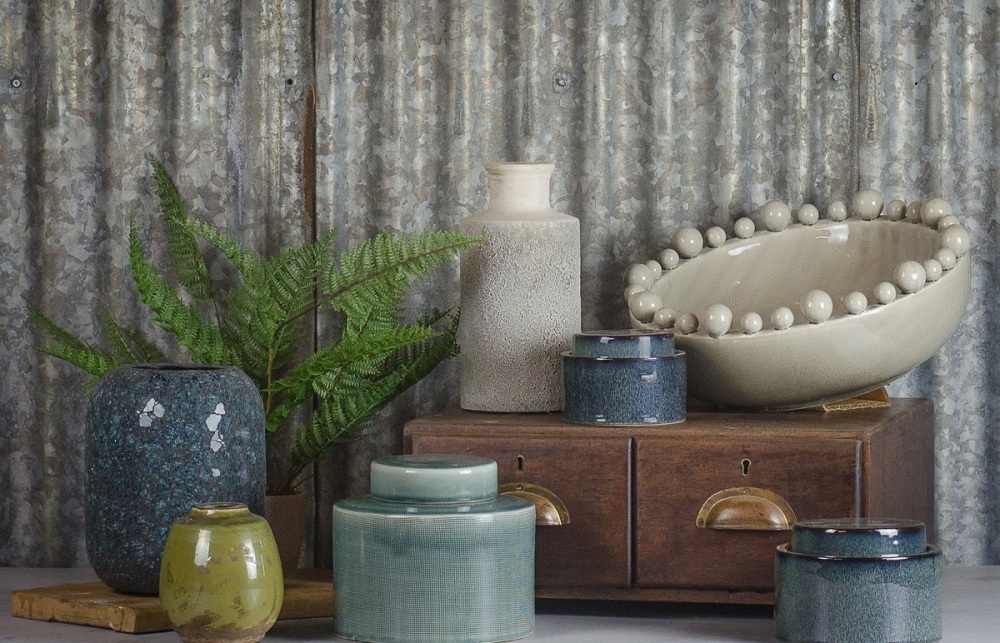 One can't have enough of ceramic pieces such as these, which are decorative as well as useful and always worth adding to your collection, Decorative Ceramic Bowl, Pots and Vases, www.relishlifestyle.com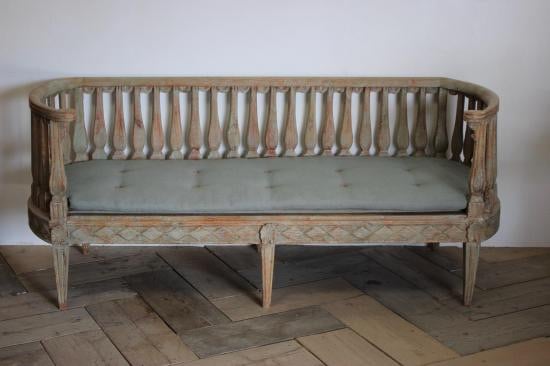 Being a lover of Swedish/Gustavian antiques, I am always on the lookout for yet another stylish and unusual design. this stunning bench caught my eye for its unusual curved design, Late 18th Century Swedish Painted Bench (Ref: 12645), £4500, www.antiquebay.co.uk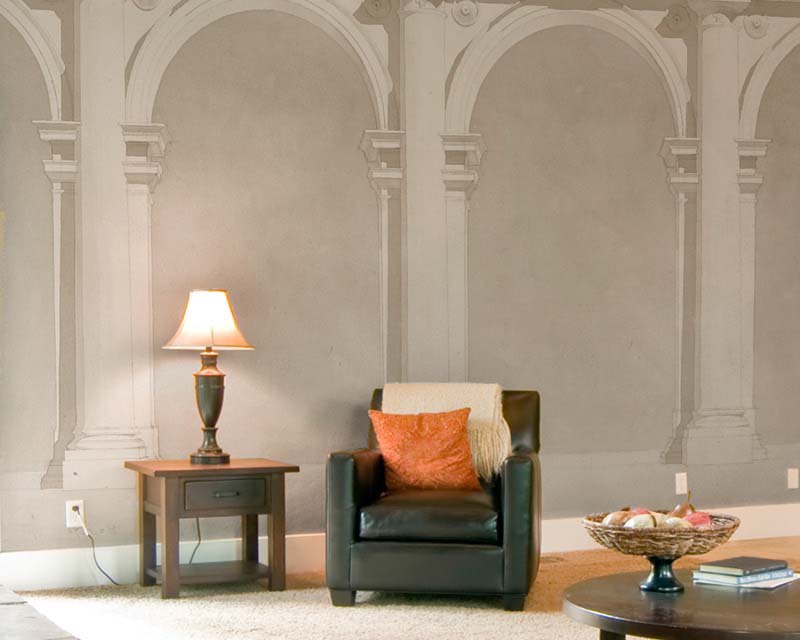 Sit back and enjoy Roman architecture, without having to travel hundreds of miles across Europe, Roman Column Mural Wallpaper (Ref: 05-529002), www.papiersdeparis.com/en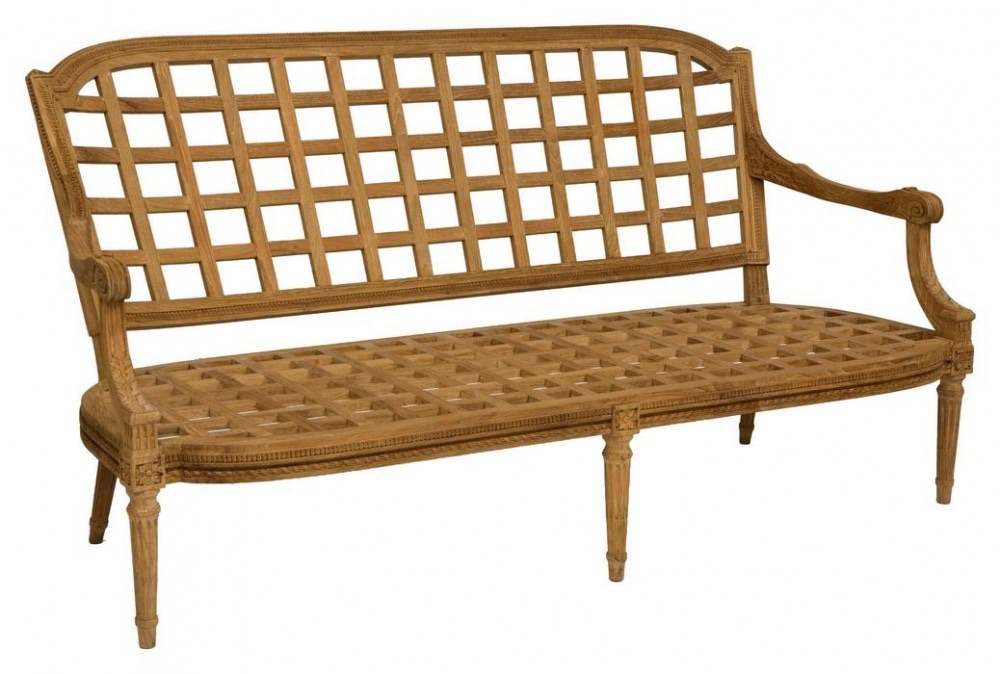 For those, who can't do without the Gustavian look indoors as well as outdoors, this beautiful teak garden bench is the perfect fit and one of a range of designs by Astello, Astello Gardenia Sofa, https://www.archiproducts.com/en/products/astello/2-seater-teak-sofa-gardenia-sofa_114352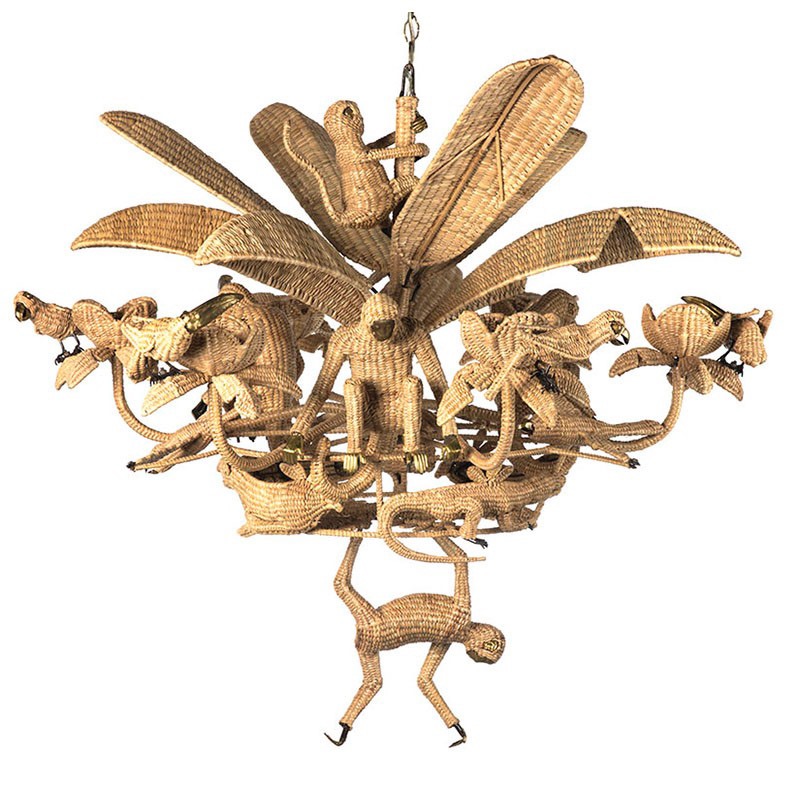 This is no monkey business but an amazing entirely handmade creation projecting monkeys, crocodiles and palm trees onto your ceiling, bringing the jungle straight into your home, Selva Chandelier, EUROS 11700, www.casalopez.com/en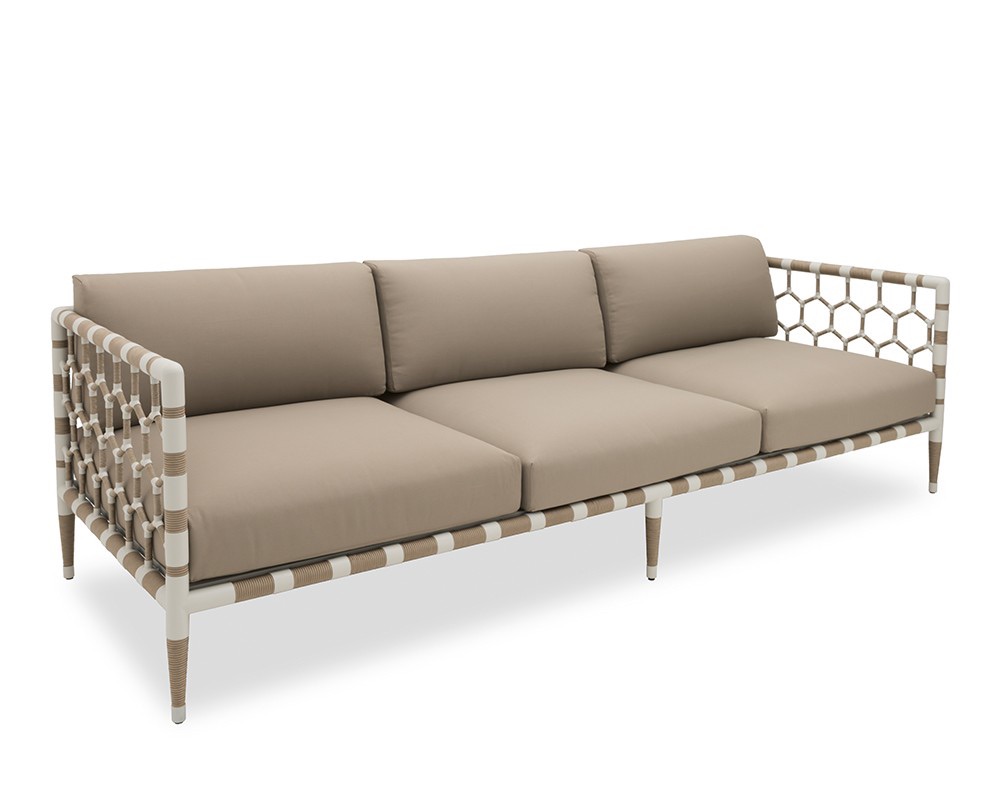 The geometric design and honeycomb pattern of this outdoor sofa brings bold patterning outdoors in a very chic manner, Olympia 3 Seat Sofa, £8995, www.indian-ocean.co.uk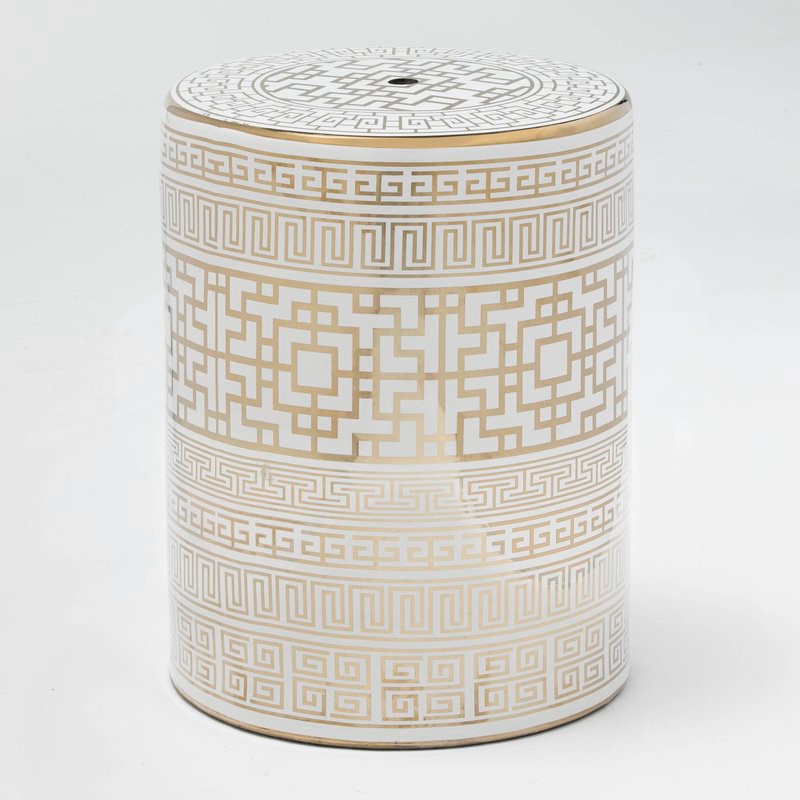 Looking at its very elegant design, this ceramic stool would look just as stunning indoors as outdoors, Luz Stool, £ 229, www.wayfair.co.uk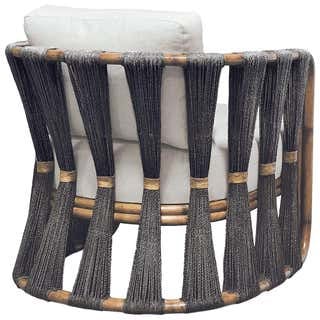 With its natural finish black rope wrapped and bundled around the rattan frame, this expertly crafted armchair is a unique and stunning piece of furniture, Rattan Armchair with Natural Woven Black Rope and Twill Upholstery, £3176.82, https://www.1stdibs.co.uk/furniture/seating/armchairs/rattan-armchair-natural-woven-black-rope-twill-upholstery/id-f_13165671/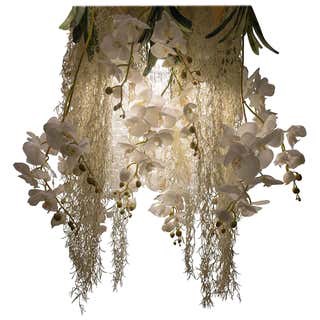 This spectacular design brings drama and nature together. The chandelier features and upside-down landscape of faux orchids falling from the base and enclosing the elegant mouth-blown Murano glass cylinders. LED lights reflect off the surface to illuminate the floral composition for a sublime effect, Flower Power Phalaenopsis Chandelier, £3232, www.artemest.com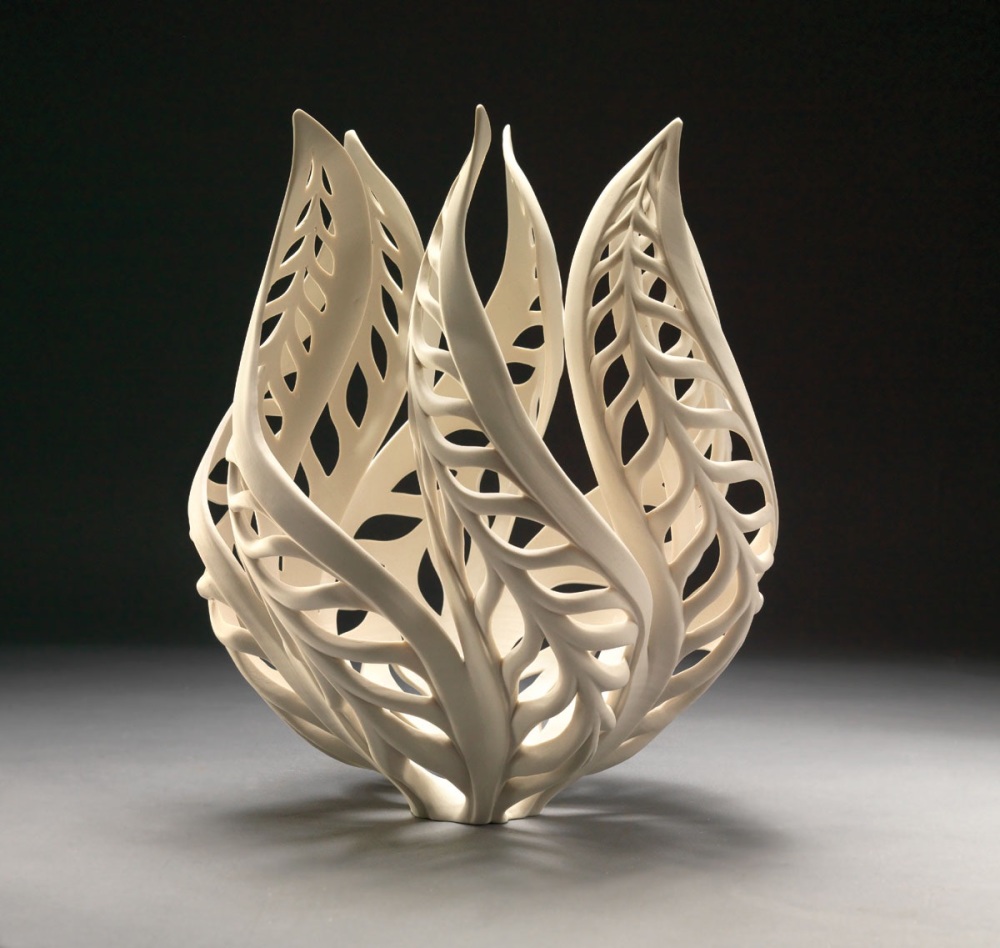 Ceramic artist Jennifer McCurdy who lives on the island of Martha's Vineyard, has it down to a very fine art, working with ceramics, experimenting, how much she can cut away before the material collapses. Her work is exquisite and the pieces she creates are true works of art, www.jennifermccurdy.com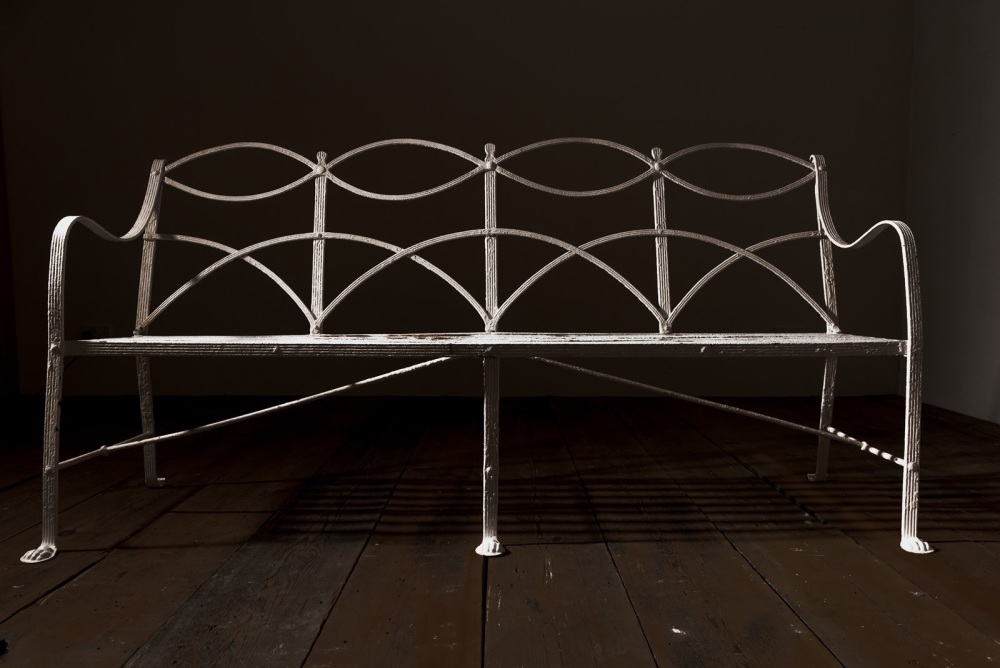 This is not any old wrought iron outdoor bench but a design, which stands out from the 'crowd' , Regency Reeded Wrought Iron Garden Seat, £2600, www.decorativecollective.com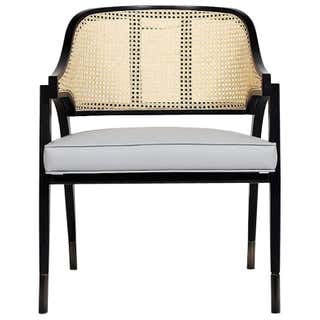 There is something very elegant and stylish about the classic simplicity of this chair which works so well with so many interior styles, Wilton Vintage Chair in Woven Rattan and Solid Wood, £1710.58, www.1stdibs.co.uk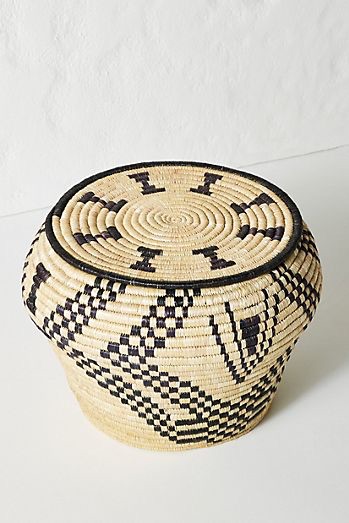 African baskets are not just useful for storage. The same concept of hand woven basketry has been used to create this very stylish and cool looking side table. Silas Woven Side Table, www.anthropologie.com/en-gb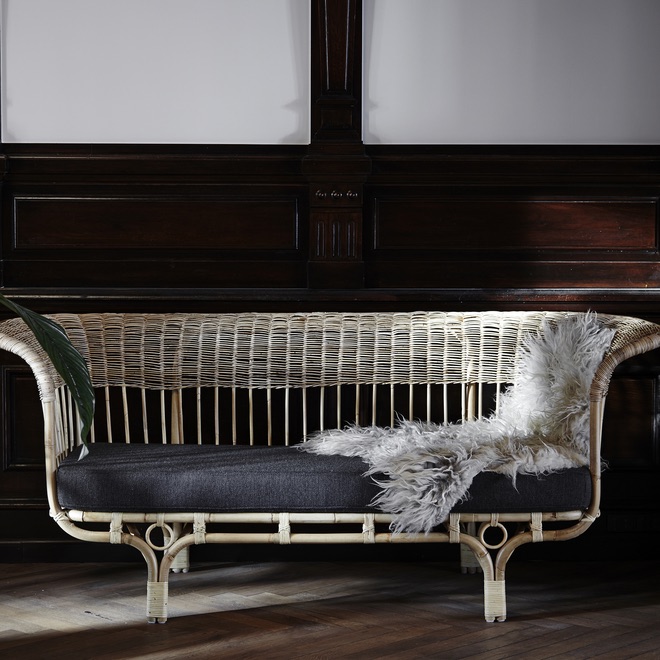 This stunning wicker sofa recreation of one first designed in 1951 by Franco Albini, who broke new ground wen he played with experimental shapes to create sculptural and timeless icons, Franco Albini Belladonna Wicker Sofa, £995 (sales price), www.birford.co.uk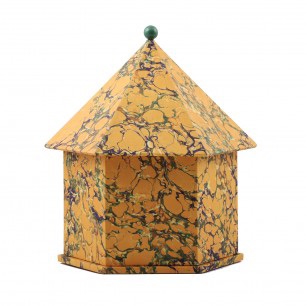 Functional as well as decorative is this marbled hand build desk storage box, ideal to hold your desk accessories or jewellery, Garden Folly Box - French Marble Mustard, £195, www.pentreath-hall.com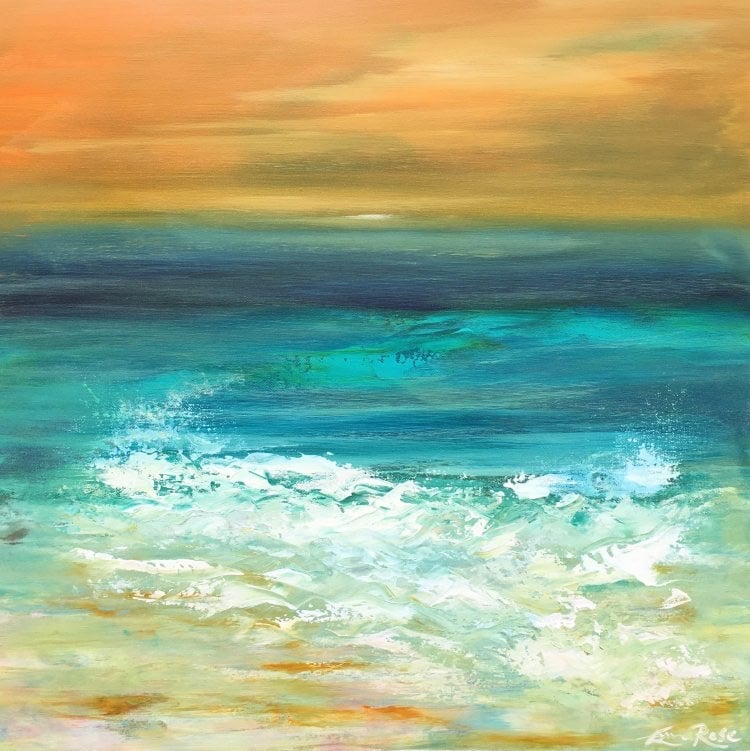 'I wish I was there', is the feeling, when glancing at this vibrant painting by local award winning artist Emma Rose. Many more beautiful paintings on her website! Summer Spray, www.emmaroseartworks.com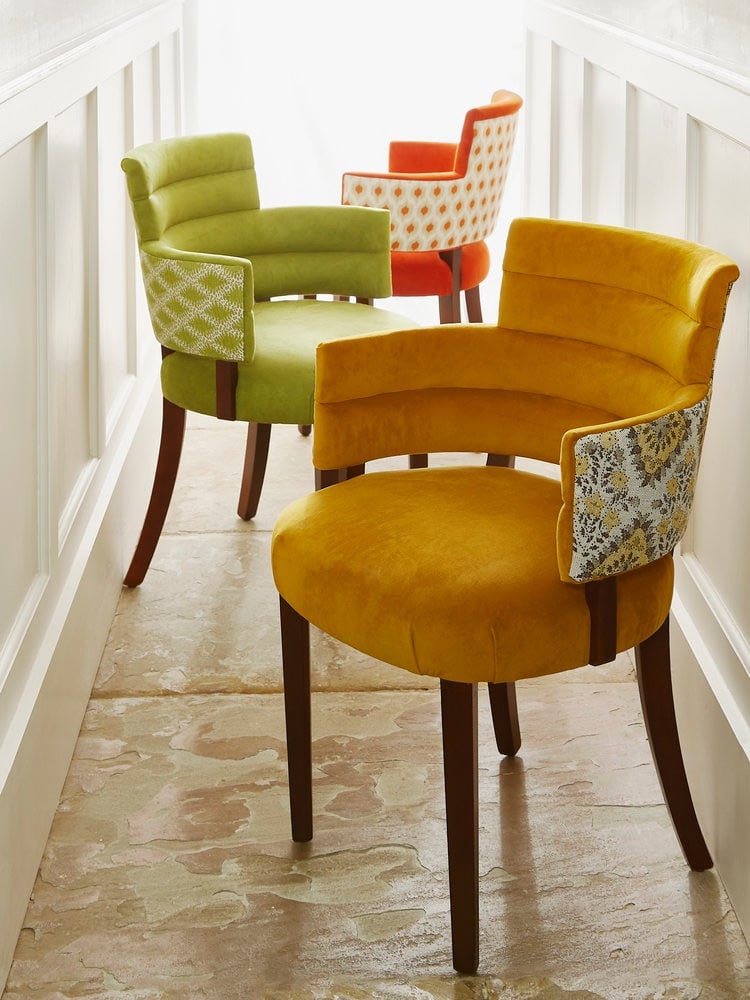 As interiors are returning to embracing colour, Kelling Design have stepped up to the mark by producing this stunning range of chairs, The Kelling Chair, £900 (each), www.kdloves.com
ROOM INSPIRATION FOR SUMMER ITERIORS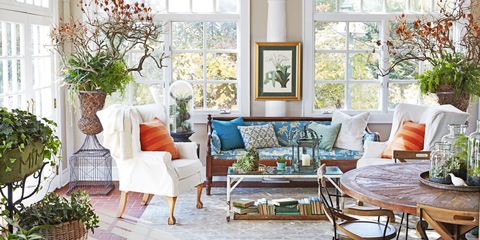 Via: www.goodhouskeeping.com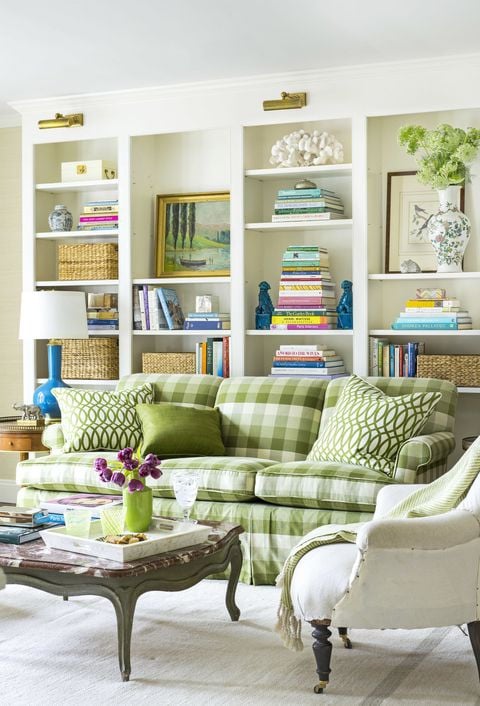 Via: www.countryliving.com / James Merrell c/o Ashley Klinger & Co
Via: www.ecsust.com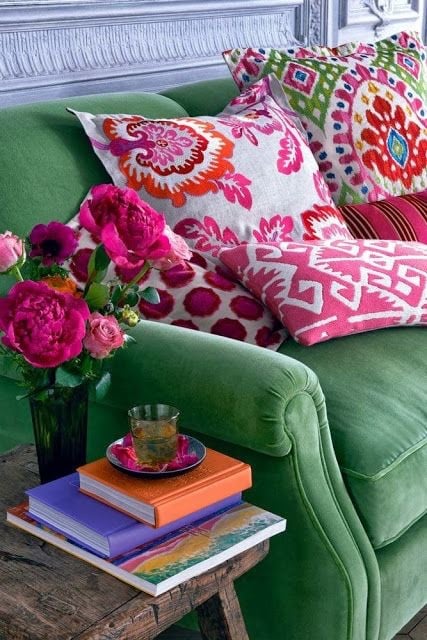 Via: organizesemfrescuras.com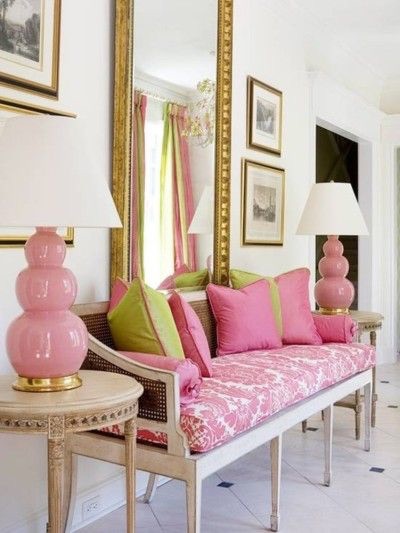 Via: www.obaz.com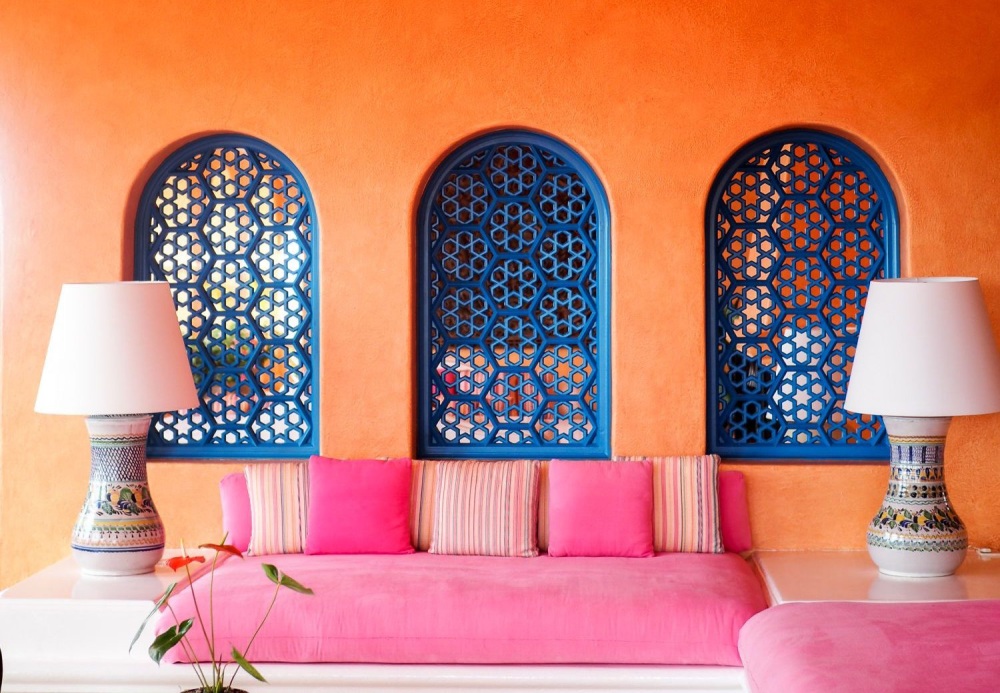 Via: www.donpedrobrooklyn.com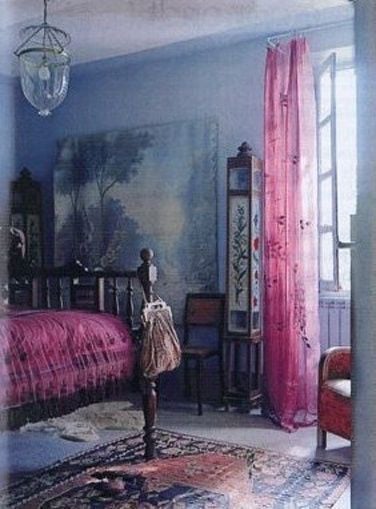 Via: www.hid360.com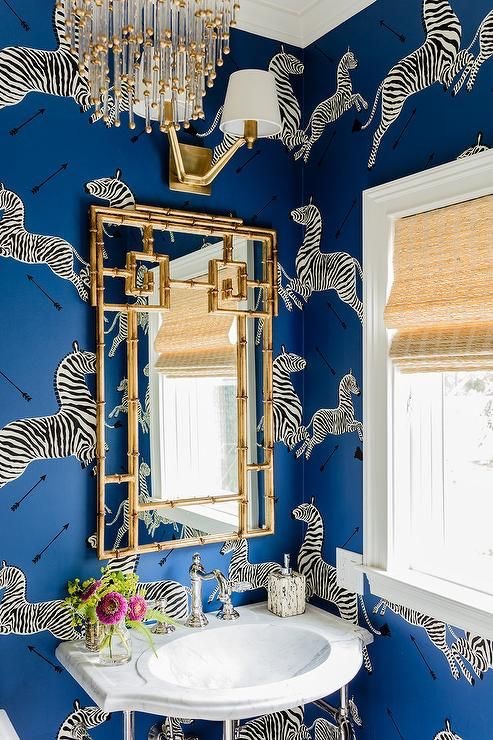 Via: www.decopad.com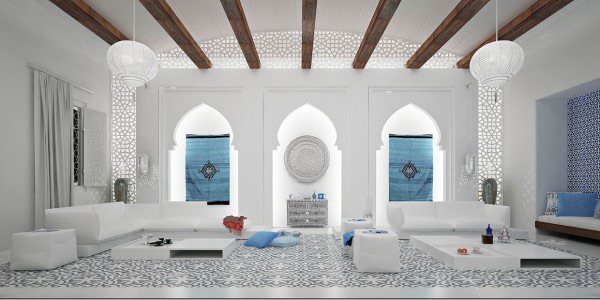 Via: www.home-designing.com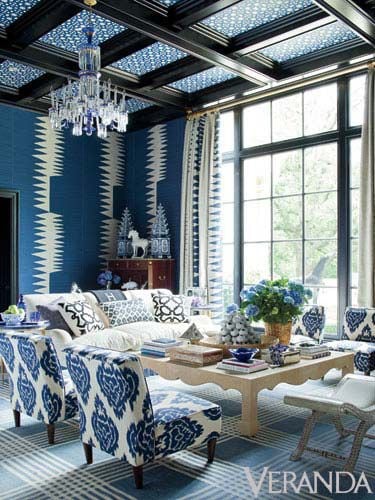 Via: www.veranda.com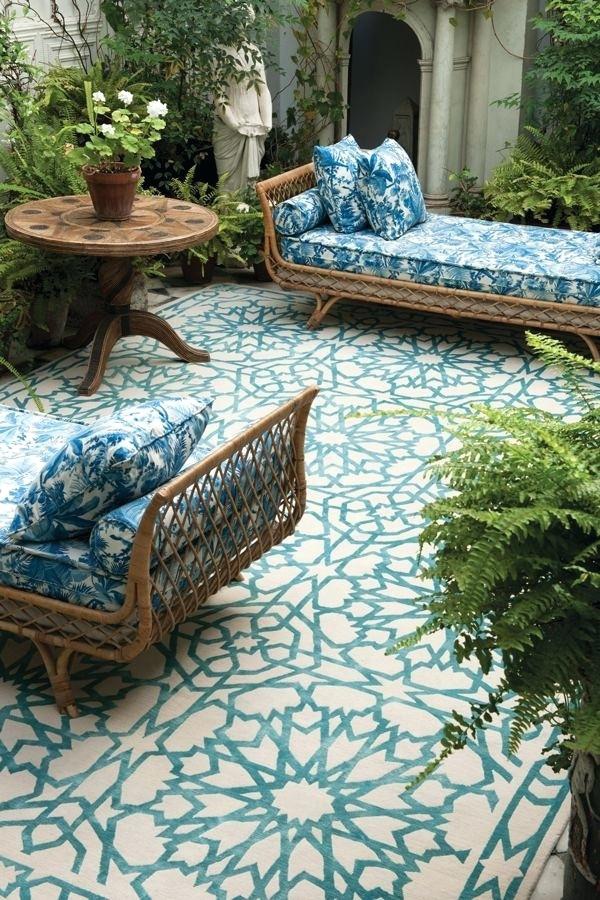 Via: wwwunleashapp.co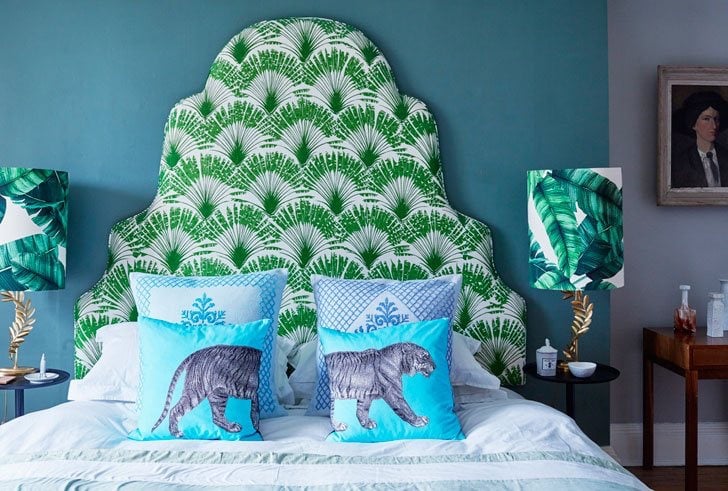 Via: www.google.com
.